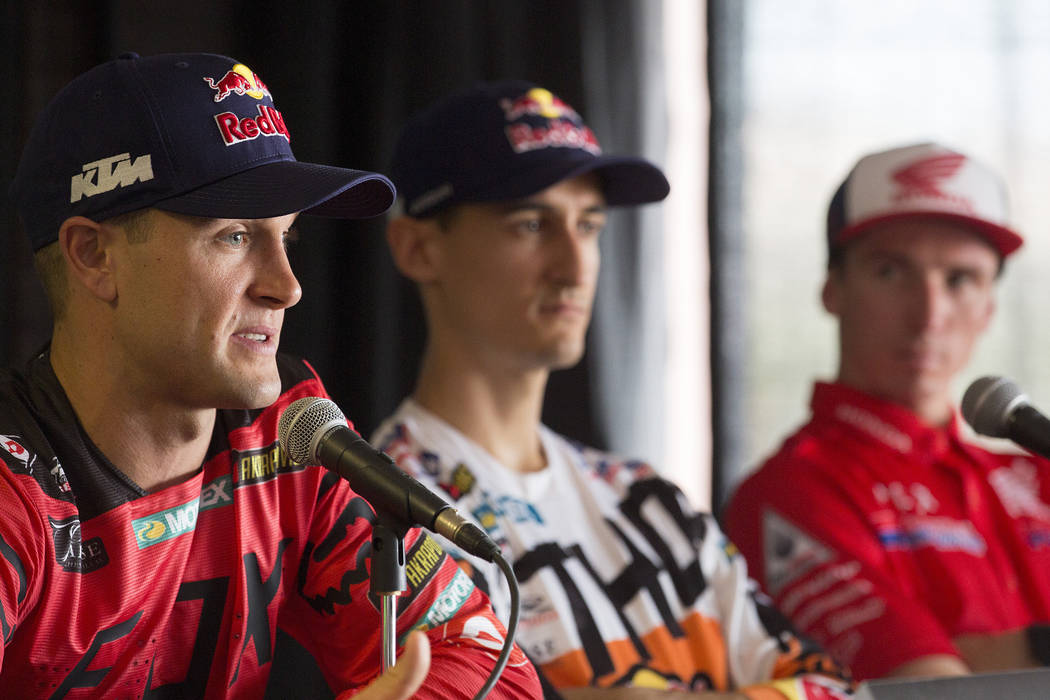 He won the past two AMA Supercross championships in such dominating fashion they could have engraved Ryan Dungey's name on the cup before the season finale at Sam Boyd Stadium.
The only drama for the 27-year-old Minnesota rider came last year. An epic thunderstorm left part of the course under water, and it remained to be seen if Dungey or one of the other riders would drown or be swept away in a mud slide.
This year there's legitimate suspense.
Dungey can clinch his fourth title in the featured 450SX class by finishing fourth or better Saturday night at Sam Boyd, regardless of what closest pursuer Eli Tomac does.
So that's a little drama, and then there was last week's race at MetLife Stadium in New Jersey, which offered lots of it.
The upstart Tomac, winner of a series-high nine races, crashed his Kawasaki, throwing the championship door open for Dungey, who was running second on the final lap to KTM teammate Marvin Musquin. When Musquin "made a mistake"/pulled out of the way, Dungey inherited his third victory of 2017 and added three more points to his championship lead, the difference between first place and second.
The crowd booed as one might expect, given New Jersey's proximity to Philadelphia.
The tension between the top two riders was palpable at Friday's news conference. Dungey might have mentioned Tomac's name once. Tomac never mentioned Dungey's.
When asked about the incident at East Rutherford, they would only address it indirectly.
"If the championship does come down to those three points, that's a bummer for everyone. But, hey, if you want to take that home and sleep on that at night knowing somebody pulled over for you, it is what it is," Tomac, 24, said with the faintest of smiles.
Dungey, whose expression was slightly less dour — probably because he's leading the championship again while the Colorado rider is second — said this about the controversy, and the vitriol it has spawned in social media circles:
"For me, it's just talk. Whether people sway one way or another, whether they're for you, they're not, I really (couldn't) care less. I know what I'm here for. I know what I'm doing — me, my team and my crew. I see the bigger picture, and focus on that, and not get caught up in the drama and the petty stuff."
Tomac then said he mostly felt the same way. He shrugged his shoulders and continued to look straight ahead instead of at Dungey, sitting directly alongside.
Musquin, who is third in the championship, sat next to Dungey. Were there team orders in New Jersey? Musquin didn't say much of anything, other than he was happy to have won two races this season and hopes to be in the championship fight next year.
Contact Ron Kantowski at rkantowski@reviewjournal.com or 702-383-0352. Follow @ronkantowski on Twitter.