Formula One files trademark documents for potential Las Vegas Grand Prix
December 7, 2017 - 6:08 pm
Updated December 8, 2017 - 12:23 am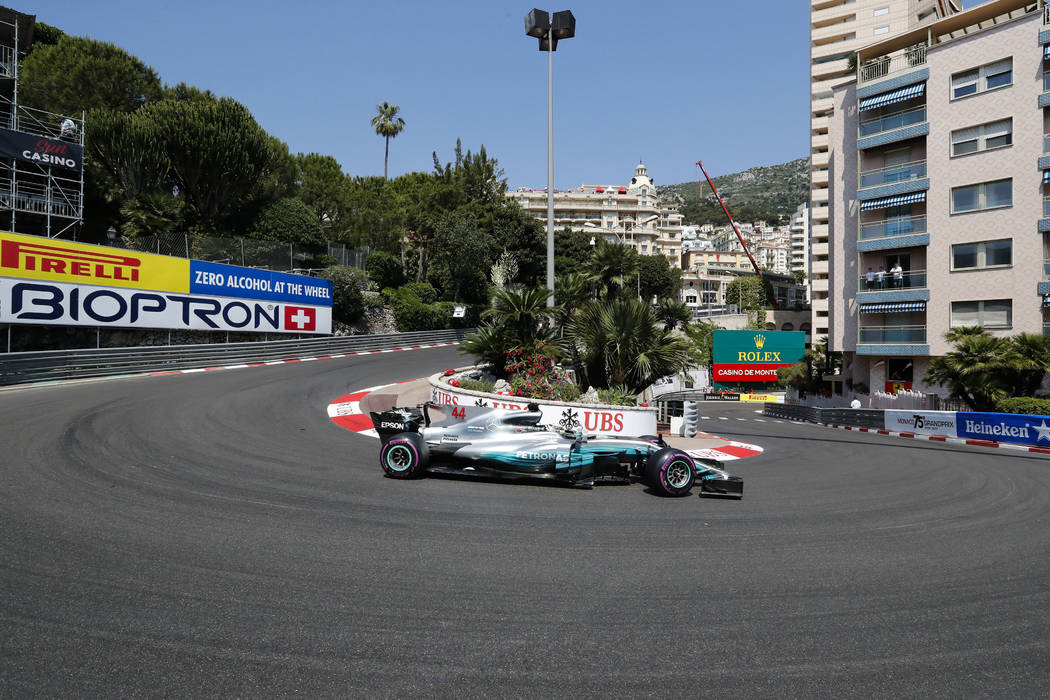 A transfer in ownership has put Las Vegas in the mix to host a Formula One race as the international auto racing circuit seeks to broaden its U.S. footprint.
According to documents obtained by the Review-Journal, Formula One Licensings has filed trademark applications with the U.S. Patent and Trademark Office for merchandise and other items related to a proposed Las Vegas Grand Prix. Similar documents were filed for potential races in New York and Miami.
A city tourism official said the possibility of Formula One returning to Las Vegas is only speculation at this point.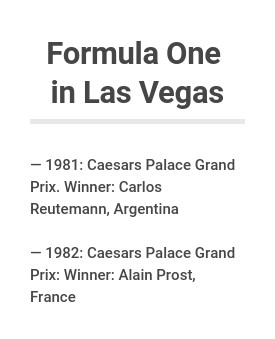 "As far as we know, there is nothing new with Formula One," Las Vegas Events president Pat Christenson said.
But a Formula One spokesman confirmed Las Vegas is on its radar as a future race site.
"We are exploring a number of possible venues for Formula One Grand Prix in a number of countries," wrote Luca Colajanni, senior communications officer, in an email. "We have made no secret that we are looking for destination cities, and regarding the U.S., Las Vegas has been mentioned alongside Miami and New York. They are part of a number of cities worldwide who have expressed their interest in hosting a Grand Prix."
The series in June announced an 18-race schedule for 2018 that includes only one U.S. event, the U.S. Grand Prix at Circuit of the Americas in Austin, Texas.
The timetable for adding a U.S. race or races to the schedule is not known, nor has a location for a proposed Las Vegas race been identified. Published reports have indicated Formula One is interested in racing on the Strip, or at least incorporating a section of it as part of a temporary street circuit. A night race also has been mentioned.
In February, the American company The Liberty Group assumed control of Formula One from London-based entrepreneur Bernie Ecclestone, a former Formula One team owner who built the globetrotting series into a financial goldmine.
A great spectacle
Chase Carey, vice chairman of 21st Century Fox, has been appointed CEO and executive chairman of the Formula One Group. During an October interview with ESPN.com, Carey alluded to New York, Las Vegas and Miami as potential race sites.
"This sport is all about being an incredible spectacle," he said about Formula One's checkered past in the U.S. "Probably no country has done a better job of making sporting events spectacles (than the U.S.). Whether it's boxing events in Vegas, a UFC fight in Madison Square Garden, NBA All-Star games, the U.S. has probably led the world in making spectacles that have sports at the center of it."
Formula One once enjoyed a foothold at Watkins Glen, New York, which hosted the U.S. Grand Prix from 1961 to 1980.
Several U.S. cities have hosted Formula One races in the interim that experienced initial success which ultimately waned. One was Las Vegas, which welcomed Grand Prix racing to Caesars Palace in 1981 and '82. The '82 race decided that year's championship won by Finnish driver Keke Rosburg.
"You can't hold a Grand Prix in a bloody car park," three-time F1 champion Jackie Stewart said after the Caesars race was absorbed by the domestic-based CART series before folding.
Other American cities that have hosted Grand Prix races include Long Beach, California; Detroit; Dallas; Phoenix, Indianapolis and now, Austin, which has had F1 since 2012.
During the 1990s, Phoenix businessman Tommy Baker, acting as a liaison for Ecclestone, lost a bid to develop land on the south Strip into a F1 circuit and public golf course. Golf course developer Billy Walters was awarded the lease and built Bali Hai Golf Club. The land on which the golf club sits has been mentioned as a possible parking solution for the Las Vegas Stadium being built for the Oakland Raiders.
Contact Ron Kantowski at rkantowski@reviewjournal.com or 702-383-0352. Follow @ronkantowski on Twitter.