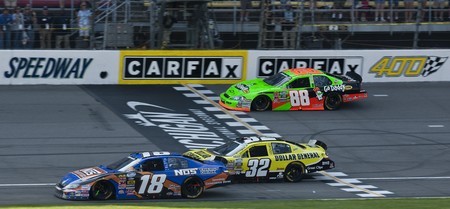 BROOKLYN, Mich. — Brian Vickers didn't see it coming. Brad Keselowski sure did.
With Vickers and Kyle Busch fighting it out on the final lap, Keselowski swooped in to grab the lead in the final turn and hold on to the Carfax 250 Nationwide Series race Saturday at Michigan International Speedway.
"I knew they'd do what they did, and that's why I was sitting there lurking," said Keselowski, a Michigan native. "The two of them together are a recipe for what you saw — that's just putting it the way it is."
Vickers finished second and Busch third, and they exchanged heated words on pit road afterward.
Busch said Vickers' tactics were "just stupid," and Vickers responded by saying that Busch came over to his car on pit road "crying like a little baby" but ran off when Vickers offered to get out and "talk about it like men."
It also was a rough afternoon for Carl Edwards, whose hopes of a title in NASCAR's second-tier series took a hit when he crashed early.
"Man, just early in the race," he said, "and I probably should have been more cautious."
After trading the lead for much of the race, Busch and Vickers pitted with most of the lead-lap cars after a caution with 20 laps to go. They lined up in the second row for the restart behind Justin Allgaier, who didn't pit, and Keselowski, who took only two tires, for a 12-lap dash to the finish.
Busch immediately took the lead when Vickers got hung up behind Allgaier, but Vickers came back to challenge, and the two were side by side when another caution came out with 10 laps left.
Vickers chose the outside lane on the final restart with seven laps to go and was poised to run away with the race. Busch caught back up, and the two appeared ready to fight it out on the final lap when Keselowski came seemingly out of nowhere and passed them both.
Busch bumped Vickers' car pulling onto pit road, and the two exchanged words, but the confrontation didn't escalate. Then came a delightfully awkward news conference where they sat together and talked about one another while staring straight ahead.
"Ever since Richmond, I've had trouble racing with (Vickers), so it's just another escalation of that," Busch said.
Busch criticized Vickers for not giving him enough room or paying attention to Keselowski. "I knew (Keselowski) was coming, and, man, I was stuck," Busch said. "I didn't have anywhere to go."
Vickers said he didn't know Keselowski was coming so quickly and wouldn't entertain Busch's second-guessing.
• NHRA — At Brainerd, Minn., Morgan Lucas raced to his second No. 1 qualifying position of the season in a rain-shortened session at the Lucas Oil NHRA Nationals.
Lucas powered his Top Fuel dragster to a 3.868-second run at 307.16 mph to gain his fourth career No. 1 effort. Larry Dixon was second with a 3.886 at 304.60.
NHRA officials canceled the final qualifying session for all but Pro Stock Motorcycle when persistent rain showers moved into the area.
Mike Neff (Funny Car), Mike Edwards (Pro Stock) and Hector Arana (Pro Stock Motorcycle) also will lead their categories into the final eliminations in the NHRA Full Throttle Drag Racing Series event.