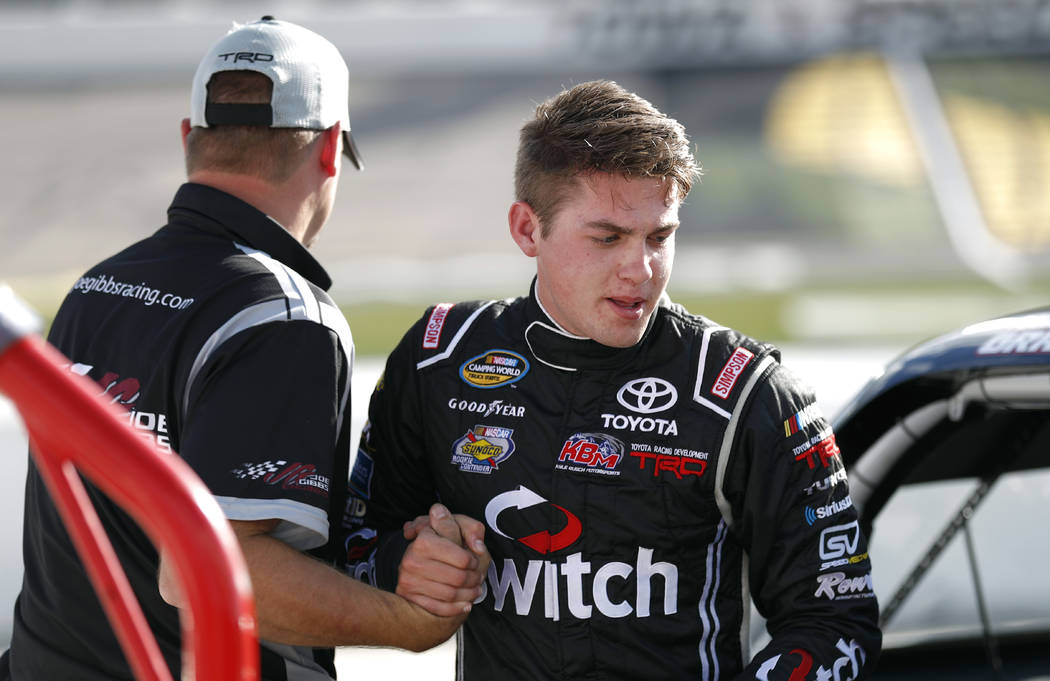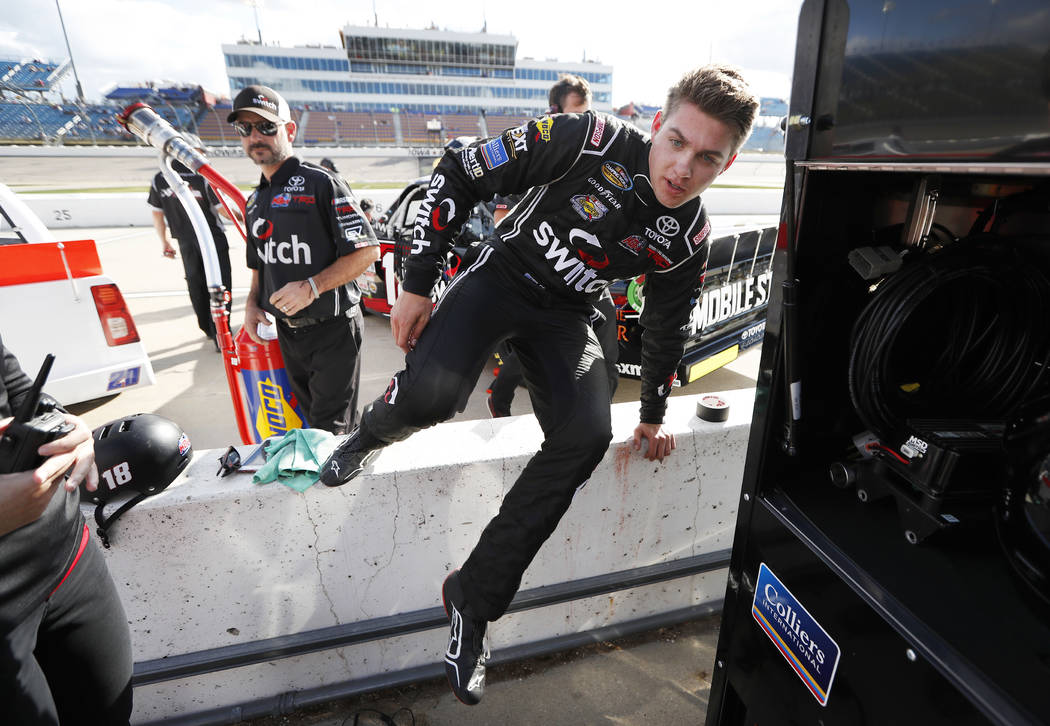 When the NASCAR Truck Series playoffs begin Saturday at New Hampshire Motor Speedway, Noah Gragson will be on the outside looking inward.
Both on the track and in his mind.
The 19-year-old Las Vegan did not qualify for the playoffs, missing the eighth and final spot by three places.
Christopher Bell, Gragson's teammate at Kyle Busch Motorsports, has won five races and leads in playoff points. It has been said the only driver one must beat to remain in good stead of his car owner is one's teammate, owing to both having the same equipment.
Does this mean Gragson is disappointed with his rookie season in the Trucks?
This week he was filmed performing a rap lyric about how he wanted to be Rookie of the Year while a guy wearing a shark head photo-bombed the production. Judging from that, disappointment is minimal. But Gragson admitted there is self-introspection given what Bell has accomplished.
"But I kind of judge myself on what he was able to do last year, his first year in the trucks," Gragson said before winning a super late model race at the Las Vegas Motor Speedway Bullring during his off weekend.
Bell, 22 and much more experienced than Gragson, won once during his rookie season, while teammate William Byron won seven races. Gragson has a top finish of second but still has seven chances to equal Bell's win output of last year, including next week's stop at LVMS.
"Really (Bell) didn't have all that many wins last year, and I feel like I'm on that same kind of pace," said Gragson, who has 11 top-10 finishes in 16 starts in the No. 18 KBM Toyota sponsored by Las Vegas global technology company Switch. "So hopefully moving onward to next year, I can be racing in the Truck Series again and maybe go for some more wins."
I want to win NASCAR Most Popular Driver so badly that I made up a rap about it. Vote for me #NASCARMPD https://t.co/HUkZOric6v pic.twitter.com/HamR55Up0h

— Noah Gragson (@NoahGragson) September 18, 2017
That Gaughan guy
Sometimes you can tell a lot about a guy from his Twitter account.
Take Brendan Gaughan. A check of the Las Vegas racer's Twitter postings will show retweets about Jake Olson, the blind deep snapper for the Southern California football team, and a young basketball player with physical handicaps sinking a shot from the free-throw line.
Like a set of qualifying tires, Gaughan has a soft spot for those who overcome adversity.
The personable veteran, who seems to be inching closer to retirement at age 42, again has qualified for the Xfinity Series playoffs (11th of 12 spots), which start Saturday at Kentucky Speedway.
.@Brendan62 on his future: "I will never be done racing" – https://t.co/1wrRhgxVkm #NASCAR pic.twitter.com/tWJUiTmxbc

— Motorsport.com (@Motorsport) September 20, 2017
Danica for Hall of Fame?
It seems I might have shortchanged Danica Patrick's legacy, according to her Las Vegas teammate — for a few more races, anyway. Kurt Busch says the First Lady of Auto Racing, who will not be returning to Stewart Haas Racing in 2018, warrants consideration for stock car racing's Hall of Fame.
"I see more female racers around our country and around the world interested in racing," Busch said. "She paved the way. She's a true pioneer in this day and age of social media and the power of media recognizing that she's moving the needle, even though she wasn't running consistently up front."
Busch said that before finishing 19th in the NASCAR Cup Series playoff opener at Chicagoland Speedway last week and dropping to 13th place in the standings. Brother Kyle also had a bad day, slipping to fifth in the championship after a 15th-place run.
Shocked this question is being asked, but some believe there's merit to Danica/Hall of Fame talk. Here's Kurt Busch: pic.twitter.com/GtF12jYbXI

— Jeff Gluck (@jeff_gluck) September 13, 2017
Astute observation
Jenna Fryer, The Associated Press auto racing writer, on the taut battle for the IndyCar championship won by young American driver Josef Newgarden on Sunday at Sonoma Raceway:
"Without gimmicks, elimination rounds, stages or bonus points, IndyCar has naturally produced the finale NASCAR yearns for every season: five drivers go into the season finale in contention for the title."
Congratulations to @JosefNewgarden, @Team_Penske and @TeamChevy on an incredible 2017 @Verizon #IndyCar Series Championship! #GoProGP pic.twitter.com/0Xt6dpzXTD

— IndyCar Series (@IndyCar) September 18, 2017
Contact Ron Kantowski at rkantowski@reviewjournal.com or 702-383-0352. Follow @ronkantowski on Twitter.
Schedule
NASCAR Monster Cup
What: ISM Connect 300.
When: Friday, practice, 8:30 a.m. (NBCSN), qualifying, 2:15 p.m. (NBCSN). Saturday, practice, 6 a.m. (CNBC), practice, 8:30 a.m. Sunday, race, 11 a.m. (NBCSN).
Where: New Hampshire Motor Speedway (oval, 1.06 miles), Loudon, N.H.
Distance: 317.4 miles (300 laps).
Last year: Kevin Harvick rallied from 19th to win at New Hampshire.
Last race: Martin Truex Jr. won the playoff opener.
Next race: Apache Warrior 400 presented by Lucas Oil, Oct. 1, Dover International Speedway, Dover, Del.
NASCAR Xfinity
What: Visitmyrtlebeach.com 300.
When: Friday, practice, 1 p.m. (NBCSN), practice, 3:30 p.m. (NBCSN). Saturday, qualifying, 2:35 p.m. (NBCSN), race, 5 p.m. (NBCSN).
Where: Kentucky Speedway (oval, 1.5 miles), Sparta, Ky.
Distance: 300 miles (200 laps).
Last year: Elliott Sadler took first in Kentucky.
Last race: Justin Allgaier won in Chicagoland.
Next race: Use Your Melon. Drive Sober 200. Sept. 30, Dover International Speedway.
NASCAR Camping World Truck
What: UNOH 175.
When: Friday, practice, 10:30 a.m. (FS1), practice, 12:30 p.m. (FS1). Saturday, qualifying, 7:05 a.m. (FS1), race, 10 a.m. (FS1).
Where: New Hampshire Motor Speedway (oval, 1.06 miles), Loudon, N.H.
Distance: 185.15 miles (175 laps).
Last year: William Byron won from the pole.
Last race: Johnny Sauter won for the second time in 2017.
Next race: Rhino Linings 350, Sept. 30, Las Vegas Motor Speedway.
IndyCar
Last race: Josef Newgarden, 26, became the youngest series champion in 14 years at Sonoma.
Next race: Season complete.
Formula One
Last race: Lewis Hamilton won for the fourth time in five races.
Next race: Malaysia Grand Prix, Oct. 1, Sepang International Circuit, Kuala Lumpur.
NHRA
What: Dodge Nationals.
When: Friday, qualifying, 11:30 a.m., 2 p.m. Saturday, qualifying, 10:30 a.m., 1 p.m. Sunday, finals, 10:37 a.m. (FS1).
Where: Maple Grove Raceway, Mohnton, Pa.
Last year: Antron Brown took first at Maple Grove.
Last race: Doug Kalitta (Top Fuel), Robert Hight (Funny Car), Tanner Gray (Pro Stock) and Eddie Krawiec (Pro Stock Motorcycle) won in Charlotte.
Next race: Midwest Nationals, Sept. 29-Oct. 1, Gateway Motorsports Park, Madison, Ill.
The Associated Press