Las Vegas' Riley Herbst named to NASCAR Next list again
Updated May 17, 2018 - 2:23 pm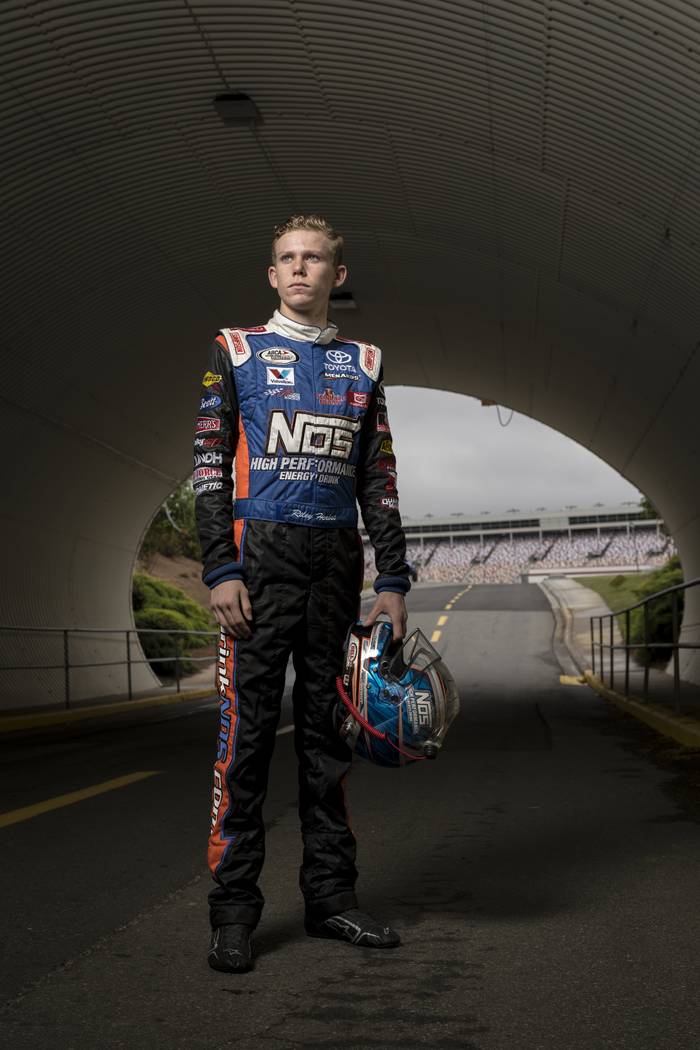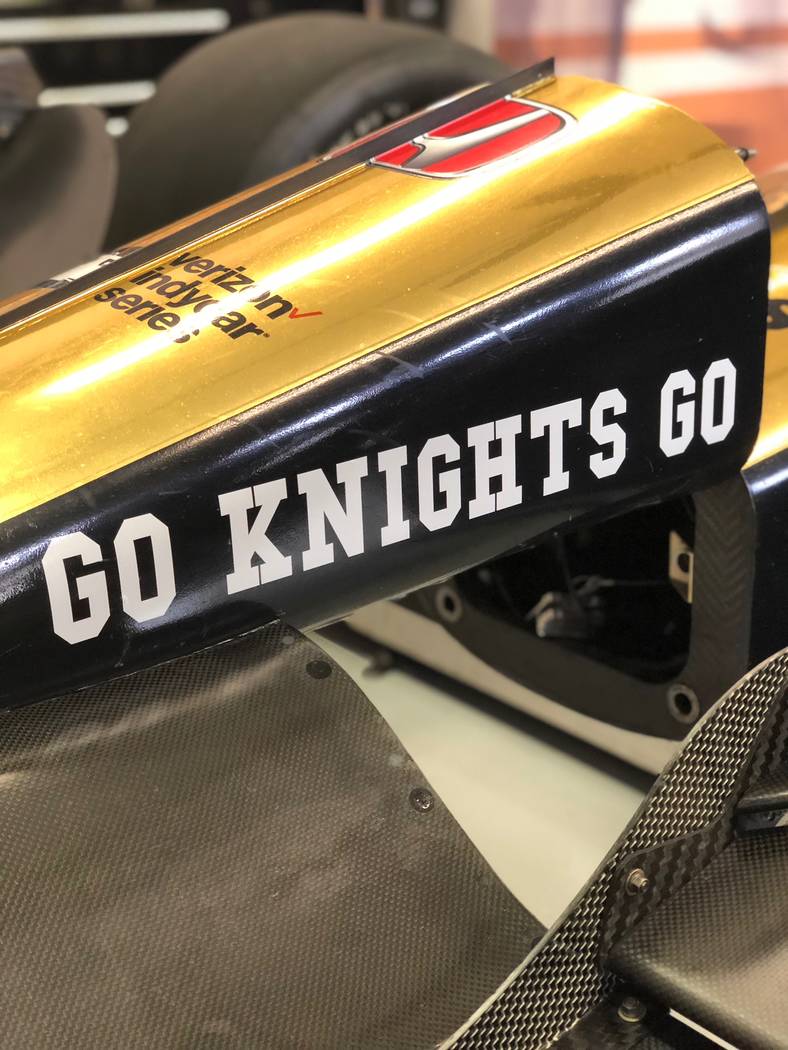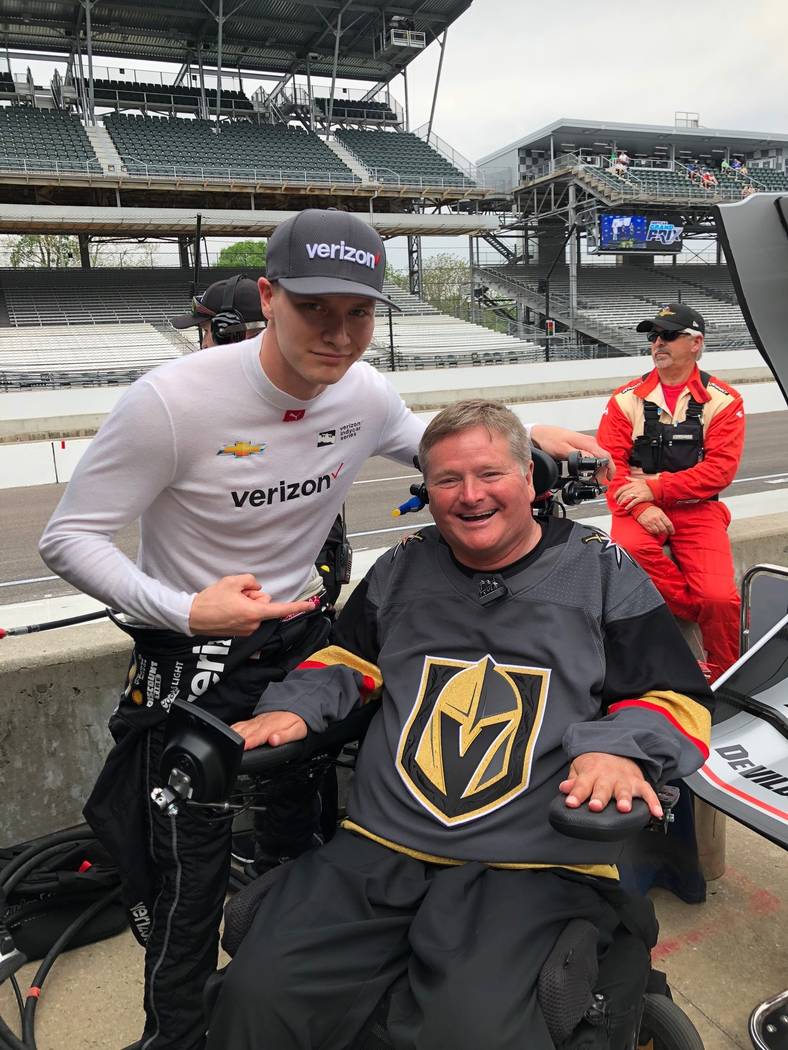 Who's next?
Why, it's Riley Herbst of Las Vegas.
Again.
For the second consecutive year, the 19-year-old has been named to the NASCAR Next list identifying young drivers thought to be on the fast track to stock car racing stardom.
"Yeah, it's super cool to be in the class for the second year, especially when you look at the names who have made it to the top level," Herbst said of a NASCAR Next honor roll that includes Cup Series regulars Ryan Blaney, Alex Bowman, William Byron, Chase Elliott, Erik Jones, Kyle Larson, Daniel Suarez and Bubba Wallace.
"But you've still got to perform."
The descendant of Las Vegas' famous off-road racing Herbst family has done a nice job in that department. Driving for NASCAR team owner Joe Gibbs, he was named Rookie of the Year in the ARCA Series last season and won on the big track at Pocono, Pennsylvania, on NASCAR weekend.
After four races, he's third in 2018 ARCA points.
Having aligned with Gibbs, Herbst is in good position to continue climbing the NASCAR ladder, a trend that will continue in September when he makes his Truck Series debut in a Kyle Busch entry at Las Vegas Motor Speedway.
"There's a lot of talent coming up, and a lot of young racers chasing the dream in Las Vegas," said Herbst, tracing a local lineage that started with Kurt and Kyle Busch. "It was great being raised in Las Vegas, and if it weren't for the Bullring and the drag strip and Las Vegas Motor Speedway, nobody would know what Las Vegas (has become) in racing out West."
It's time to write history. #NASCARNext

Meet the class: https://t.co/A2LiW31GnO pic.twitter.com/z9mI34HFqH

— NASCAR (@NASCAR) May 15, 2018
Gragson sweeps Kansas
Noah Gragson turned the competition at last weekend's NASCAR Truck Series race at Kansas into cowardly lions, winning pole position, all three stages and then the race to clinch a spot in the playoffs at season's end.
"Last week's win was a huge confidence booster," said the 19-year-old Las Vegan, who led 128 of 167 laps and improved one spot to third in Truck Series points. "Going to the racetrack this weekend at Charlotte, I'm going to be at the top of my game — I haven't felt more confident before going to a racetrack."
It was Gragson's second Truck Series win in 31 career starts and his fifth pole position as his breakout season behind the wheel of fellow Las Vegan Kyle Busch's No. 18 Toyota truck continued. He also has two top five finishes and a top 10 in three starts in a Joe Gibbs Racing Xfinity Series car.
Noah Gragson's racing game is strong. His Tinder game, though … not so much. 😂 pic.twitter.com/TDl7EsOX2b

— FOX: NASCAR (@NASCARONFOX) May 12, 2018
Schmidt happens for Knights
You'll probably have to wait until it slows down to see it, but one of the cars running for Indianapolis 500 pole position this weekend has been flying a special Golden Knights decal.
"Go Knights Go" it says on the nose cone of the No. 5 Schmidt Peterson Motorsports race car owned by Henderson's Sam Schmidt and driven by Canadian James Hinchcliffe.
Hinchcliffe grew up in the Toronto suburbs a Maple Leafs fan and said his favorite player was Doug Gilmour.
"That was right during Gilmour's era and, of course, Wendel Clark," Hinchcliffe told NHL.com. "There's not a lot of Leafs games being aired in Indianapolis."
But with the Leafs having been eliminated in the first round of the playoffs by the Boston Bruins, it appears Hinchliffe has temporarily switched allegiance in hockey teams.
"Didn't know if you were aware of how I am promoting the Knights at IMS, even against the wishes of my Canadian drivers and co-owner," Schmidt wrote in an email.
This is pretty cool, and very, very fast: The car owned by Henderson's Sam Schmidt and driven by Toronto native and Maple Leafs fan James Hinchcliffe is flying a #GoKnightsGo decal at the #Indy500. pic.twitter.com/HSrU5B4zLh

— ronkantowski (@ronkantowski) May 17, 2018
Contact Ron Kantowski at rkantowski@reviewjournal.com or 702-383-0352. Follow @ronkantowski on Twitter.
Schedules
NASCAR Monster Energy Cup
What: All-Star Race.
When: Friday, qualifying, 3:05 p.m., 3:35 p.m. (FS1). Saturday, All-Star Open, 3 p.m. (FS1), All-Star Race, 5 p.m. (FS1).
Where: Charlotte Motor Speedway, Concord, N.C.
Defending champion: Kyle Busch.
NASCAR Camping World Truck
What: North Carolina Education Lottery 200.
When: Friday, qualifying, 1:40 p.m. (FS1), race, 5:30 p.m. (FS1).
Where: Charlotte Motor Speedway, Concord, N.C.
Defending champion: Kyle Busch.
NHRA Mello Yello Drag Racing
What: Heartland Nationals.
When: Sunday, finals, 12:30 p.m. (FS1).
Where: Heartland Motorsports Park, Topeka, Kan.
Defending champions: Antron Brown (Top Fuel), Ron Capps (Funny Car), Tanner Gray (Pro Stock).