NASCAR revs up over talk of possible sale
Updated May 10, 2018 - 8:11 pm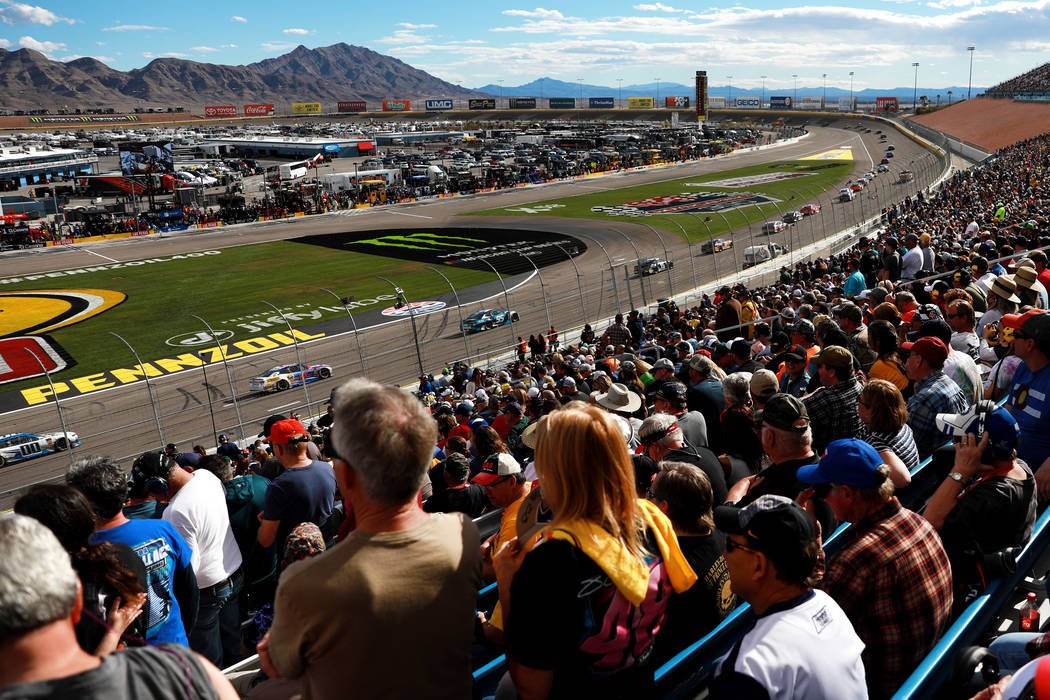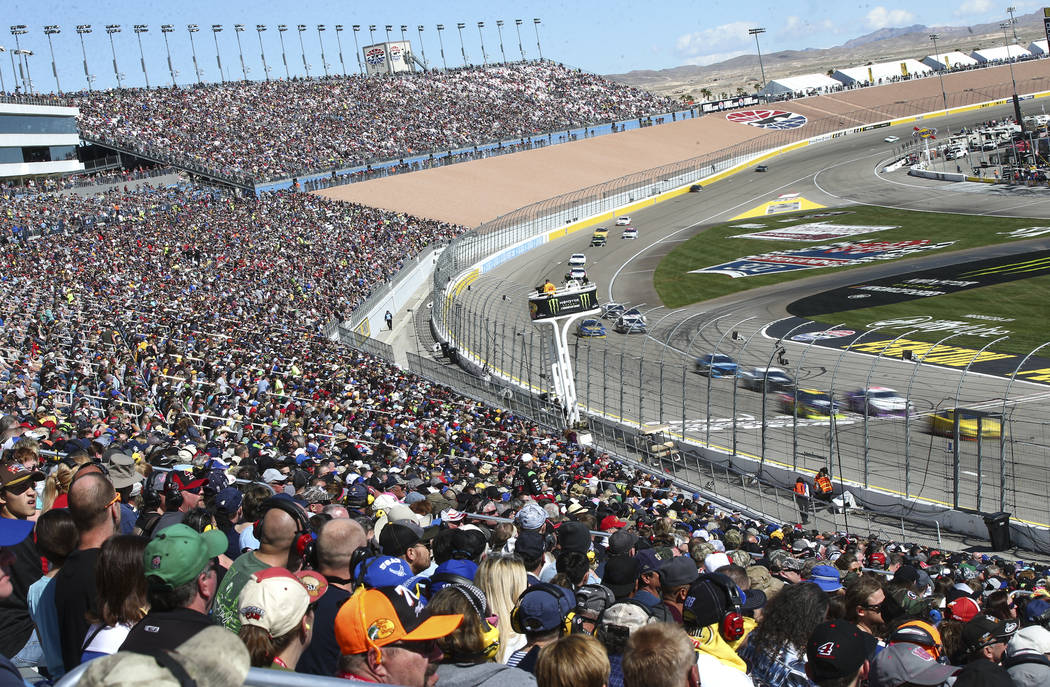 Is this just another "one of them racin' deals," as the stock car racing announcers say on TV?
Or are reports that NASCAR may be for sale something more than that?
A Charlotte TV station was first to speculate about such a possibility in January during NASCAR's Media Tour. The home office denied it, and that was that.
Additional details since have been learned, such as NASCAR working with the investment bank Goldman Sachs Group to identify a potential buyer. Now NASCAR isn't commenting, which is different from a denial.
While the potential sale remains mostly speculative, that it even is being discussed is not a positive situation for a series that continues to see attendance and TV ratings plummet and has failed to attract new sponsors.
After the new details were disclosed, NASCAR types were kicking the idea of a sale up and down pit road on TV, with former driver Bobby Labonte calling it a "shock."
Speaking on the "Race Hub" show on Fox Sports 1, Labonte said it would be business as usual. Drivers will be focused on winning races, Labonte said, but perhaps car and track owners would have more to say.
Officials at Las Vegas Motor Speedway had nothing to say.
But driver Kevin Harvick let it rip.
During his weekly "Happy Hours" satellite radio show, the 2014 Cup Series champion lapped the track with thoughts about what a potential sale would mean. These included downsizing and shuffling the schedule and separating NASCAR from the two major owners of its racetracks. Or perhaps bundling them as part of selling and restructuring the sport, which Harvick believes could lead to more stability for racing teams.
He said there are people smarter than him who probably will figure out what's best.
But they haven't figured it out thus far, and so the sport's downward spiral continues. Insiders say this second round of reports that NASCAR could be sold are more than speculation on a slow day in the pits.
At second blush, it seems more than just another one of them racin' deals.
Gallagher sent home
NASCAR driver Spencer Gallagher of Las Vegas was asked to leave the garage area during a Xfinity Series test Monday at Charlotte Motor Speedway.
Gallagher was suspended indefinitely May 2 for violating NASCAR's substance abuse policy and has agreed to take part in a rehabilitation program. The positive test and penalty were revealed four days after the 28-year-old posted a breakthrough victory at Talladega Superspeedway.
When Gallagher was asked to leave the track, he did so without taking questions. Former Chip Ganassi Racing driver Brennan Poole drove Gallagher's No. 23 Chevrolet during the test.
Spencer Gallagher is here at the Xfinity test. Declined to take questions. #NASCAR pic.twitter.com/OnOVjbPc3q

— Daniel McFadin (@danielmcfadin) May 7, 2018
At the Bullring
The starting field at Las Vegas Motor Speedway's three-eighths-mile paved oval will soon increase via cyberspace.
The Bullring will be one of the featured tracks in NASCAR's new esports series conducted in association with iRacing, an online auto racing simulation platform. Aspiring teenage drivers ages 13-16 will compete in a 12-week racing season via computer software in a series designed to identify young talent.
William Byron, rookie driver of the iconic No. 24 Hendrick Motorsports Chevrolet in the Cup Series, started his career in iRacing when he was 14.
The Bullring at LVMS will be featured in NASCAR's newly launched youth esports racing series this summer! Story: https://t.co/448cNNJ3hU pic.twitter.com/JGhUKrBKt7

— Las Vegas Motor Speedway (@LVMotorSpeedway) May 9, 2018
Contact Ron Kantowski at rkantowski@reviewjournal.com or 702-383-0352. Follow @ronkantowski on Twitter.
Pro schedules
NASCAR Monster Energy Cup
What: KC Masterpiece 400.
When: Friday, qualifying, 3:45 p.m. (FS1). Saturday, race, 5 p.m. (FS1).
Where: Kansas Speedway, Kansas City, Kan.
Defending champion: Martin Truex Jr.
NASCAR Camping World Truck
What: 37 Kind Days 250.
When: Friday, qualifying, 2:05 p.m. (FS1); race, 5:30 p.m. (FS1).
Where: Kansas Speedway, Kansas City, Kan.
Defending champion: Kyle Busch.
Verizon IndyCar
What: IndyCar Grand Prix.
When: Saturday, race, 12:30 p.m. (KTNV-13).
Where: Indianapolis Motor Speedway.
Defending champion: Will Power.
Formula One
What: Spanish Grand Prix.
When: Saturday, qualifying, 6 a.m. (ESPN2). Sunday, race, 6:05 a.m. (ESPN2).
Where: Circuit de Barcelona-Catalunya, Barcelona, Spain.
Defending champion: Lewis Hamilton.