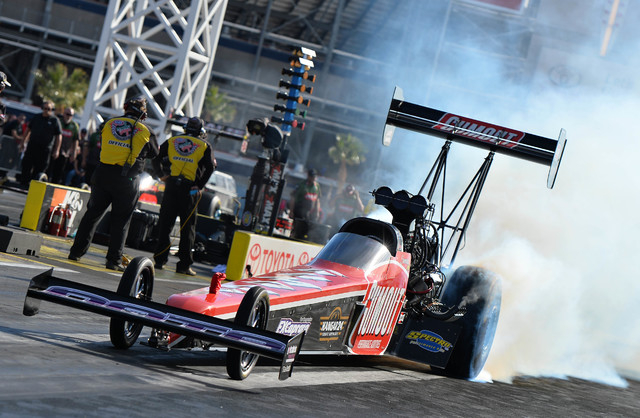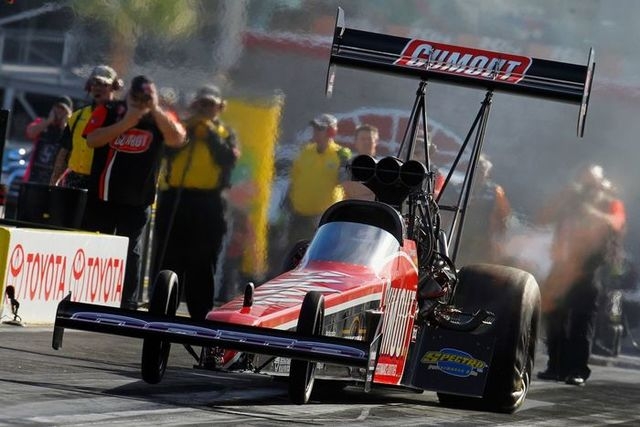 It was a very exciting day for me Sunday at Las Vegas Motor Speedway.
We qualified best career best time on Saturday at 3.75 seconds and started sixth in the fastest Top Fuel field in NHRA drag racing history.
But Sunday's eliminations are always difficult to predict with different weather and track conditions. Some of the top contenders like point leader Tony Schumacher, No. 2 Doug Kalitta and No. 3 Steve Torrence all lost in the first round. So it's always unpredictable.
Our Gumout/Dote Racing team turned in its best performance of the year. We nearly made it to the final round Sunday. And the NHRA Toyota Nationals was my first Top Fuel race ever at The Strip.
I beat former champion Antron Brown is a tight race with a 3.79 seconds to his 3.80 in the first round. In the second round, I ran a 3.84 to defeat Brittany Force, John's daughter, and I was really pumped to get into the semi-finals. But eventual Top Fuel race overall winner Spencer Massey beat me in the semi-finals with a run of 3.77 seconds to my 3.80 seconds. It was close.
My semi-finals run felt great until I saw the win light go on his side of the track. I never saw him in front of me. It was a close race with Spencer. We made seven consecutive full passes this weekend without smoking the tires. That is a great accomplishment for our team. I never had final round hopes for this year with our Gumout team but, as I got closer to the final round, I felt our team had a chance today. I'm not going to hang my head after our performance here at Las Vegas. It been tremendous weekend for the Dote Racing team.
We had the big Gumout announcement on Friday and we really did very well overall. This was our last race of the year and it is a great way to go into 2015. With the big Top Fuel field and the quickest times ever for the Top Fuel lineup, we performed as well as we could have expected. I'm very pleased how this team as grown and become a contender to the bigger Top Fuel teams. I don't think we were considered a contender at the beginning of the year but the big teams know to watch out for us now. We earned every run we had this weekend and every round win too. This performance raises our expectations for the 2015 season.
We can feel good about our team during this off-season about this weekend's showing. We have a new Hadman chassis for 2015 and we want to test that new car in the near future. We have a great baseline to work from as we go with our new chassis. I think we were at a bit of a disadvantage with the older chassis this year. We'll have to do some serious homework on the new Hadman chassis as its characteristics are much different from the McKinney chassis. I have never driven a Hadman chassis before and I hear they are little more difficult to drive.
The fans were really behind us Sunday as we were winning rounds in competition. The crowd were growing around our pits area and the excitement was there for them too. Sunday's showing put us on the radar for the fans and the media. And I'm sure we are on the radar now from the Top Fuel competition too. The teams that took us lightly aren't doing that now. That is a good feeling for a driver and the team.
It is gratifying for us to see the drag racing community really take notice of the Gumout/Dote Racing team now.
In the last five years or so that I have race at The Strip at Las Vegas Motor Speedway, I don't think I have lost before the semi-finals and that held true again today in my first Top Fuel race here. It is the same conditions and the same time of the year for the NHRA Toyota Nationals. So there was a lot of familiar things for me today.
I actually feel more nervous before the first round of competition as I wait all night until the next day's final eliminations as well as the race morning. Then, if I win the first round, I gain more confidence with each round I advance. I felt we had a great chance to race to the final round when we pulled up to the starting for the semi-finals against Spencer (Massey). And I felt good about the race against. He was just a little quicker and then he went to win the race overall. So we actually lost to the eventual winner. There is nothing wrong with that kind of performance.
Everything gets more natural for my driving as the day goes on. I get a more 'Badass' attitude as we continue to win. I guess that is the racer inside of me. I knew if we made it to the final round that I would be ready to go and win the race. It just didn't fall that way for us Sunday. But as they say, 'they knew we were here today.'
It's like your first at bat in baseball with that first round of action. Once you have been at bat for that first time, you feel more comfortable and in a rhythm. That is the way I feel with my drag racing. I'm looking for forward to keeping back to the The Strip again next year. Thanks for letting me tell you about my drag racing weekend with you.