Leah Pritchett, Brittany Force took different routes to NHRA success — VIDEO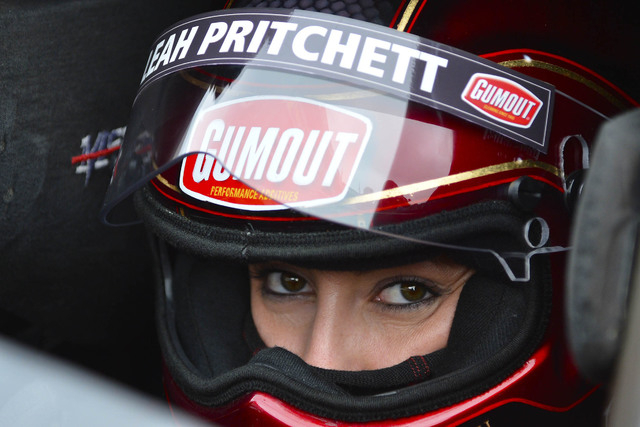 It was Feb. 28 and there they were, two up-and-coming Top Fuel drag racing drivers, lined up side by side at Wild Horse Pass Motorsports Park in Phoenix.
Leah Pritchett vs. Brittany Force.
Fast woman vs. … another fast woman.
And though the NHRA is among the most progressive of the pro sports when it comes to women and minorities competing on level playing fields — a couple of years ago there even was a driver named Khalid alBalooshi who drove for a successful Top Fuel team funded by Arab sheikhs — it suddenly dawned on old-timers that it had been some time since two women had squared off in a final elimination.
It had been 34 years, in fact. The last time it happened, Shirley Muldowney defeated Lucille Lee in Columbus, Ohio, in 1982.
Neither Leah Pritchett nor Brittany Force was thinking about rewriting history when they tucked their, long blond hair into racing helmets.
Pritchett had the slightly faster reaction time. She edged Force, 3.775 seconds at 323.12 mph to 3.774 at 321.35. This was the second race of Pritchett's first full season as a NHRA Top Fuel driver. The 27-year-old racer said it was the happiest day of her life, next to her wedding day.
Force is not married. She would have to wait for the next race to enjoy the happiest day of her life. The next time out, she beat Terry McMillen at the Gatornationals in Gainesville, Florida, to join Pritchett as a first-time Top Fuel winner.
The 29-year-old daughter of Funny Car legend John Force has the lead in Mello Yello points entering this weekend's DENSO Spark Plugs NHRA Nationals at The Strip at Las Vegas Motor Speedway.
Driving for her father's team, she posted the third-fastest qualifying time (3.768 seconds at 316.90 mph) on Friday afternoon. Pritchett, at the throttle for Bob Vandergriff Racing, did not have a clean pass and will start from scratch today.
During Thursday's news conference at the Palm Restaurant at the Forum Shops, two of the fastest women on the planet sat next to each other on the dais. It's easy to think of them as sisters of speed — Force's real-life sister, Courtney, is a top Funny Car driver — but they took much different paths to get there.
Force, as mentioned, is a second generation driver. Her father is a drag racing legend. That may have opened doors, but sometimes when your name is Force (or Earnhardt or Andretti or Unser), there's also pressure to drive through doors.
"It still seems so surreal to me," Brittany Force said. "That first win; I was chasing it for so long. I've been to the winner's circle so many times — with my dad, with Courtney, with our teammate, Robert (Hight). To be standing there with the Monster Energy team holding that Wally (first-place trophy), that was so huge."
Pritchett has a somewhat famous racing father, too — Ron Pruett set several land speed records zipping across the Bonneville Salt Flats. But this father and daughter don't speak much anymore.
She said it's one thing to drive through doors, it's another to have to keep knocking on them to sell yourself to teams and sponsors. One year she was so desperate to keep her racing dream alive that she drove a vintage dragster sponsored by a strip club.
Pritchett went back to college; she got a degree in communications and marketing. She figured those skills would help her promote herself. They also would give her something to fall back on in case she didn't make it as a drag racer.
And now that she has made it?
"I know that I am extremely proud of everything that has come to fruition," Pritchett said with a movie-star smile.
As for the contrast between her path to the fast lane and that of the Force sisters — and of a budding rivalry between her and Brittany Force — she said this:
"I can't compare it, because they are under pressures that I'm not under, and I'm under pressures that they're not under.
"So at the end of the day, being on the racetrack is where we get to blow it all out."
Friday's qualifying
Jason Line (6.687 at 205.98 mph), Jack Beckman (3.916 at 322.88 mph) and Steve Torrence (3.728 at 325.30 mph) were Friday's top qualifiers in Pro Stock, Funny Car and Top Fuel on a bright and breezy afternoon at The Strip. Beckman's ET was a track record; Courtney Force, who was paired with Beckman, set a track speed record with a pass of 326.08 mph. Qualifying rounds 3 and 4 begin at 1 p.m. today.
Las Vegas Review-Journal sports columnist Ron Kantowski can be reached at rkantowski@reviewjournal.com or 702-383-0352. Follow him on Twitter: @ronkantowski
NHRA Nationals
When: Saturday and Sunday. Qualifying 1 p.m. Saturday; final eliminations 11 a.m. Sunday.
Where: The Strip at Las Vegas Motor Speedway
TV: Saturday, Fox Sports 1, 6 p.m.; Sunday, FoxSports 1, 2 p.m.
Tickets: www.lvms.com