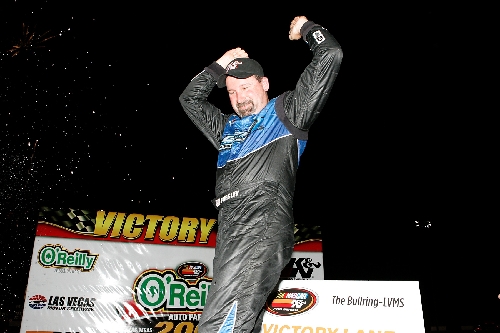 Greg Pursley clearly recalls his race at the Bullring nine years ago when he led nearly half the 222 laps before a flat tire relegated him to a sixth-place finish.
Nothing deflated his effort Saturday night when he started on the pole and never gave up the lead in the 200-lap O'Reilly 200 in the K&N Pro Series West regional stock-car race at Las Vegas Motor Speedway before about 2,500.
It was a dominant night for Gene Price Motorsports and Pursley, who has won four of five races this year to pull out to the biggest points lead in 20 years.
"This is completely opposite of our year last year," said Pursley of Newhall , Calif. "Last year we had no luck. Everything that could happen, happened. I'd rather be lucky than good and right now we're both."
He also didn't have a teammate last year and the one he has now, 16-year-old Dylan Kwasniewski of Las Vegas, was runner-up by about a second behind him. It was Kwasniewski's best finish in the series.
"Dylan is going to be a great, great driver. All he needs is seat time," Pursley said.
Kwasniewski ran second for most of the race and overcame a stiff test from veteran Jason Fensler, 35, whose 1993 debut in the series came two years before Kwasniewski was born.
The last of 10 cautions that slowed the race for 67 laps came with 32 laps left and Kwasniewski running fourth behind Fensler. Kwasniewski was able to pass after Fensler got loose when he was tapped by Kwasniewski.
A few laps later, Fensler was third and running behind Kwasniewski when Fensler tapped the rookie's rear bumper a couple of times.
"Our brakes went out and I got into the back of him and he thought I was trying to take him out," said Kwasniewski, who moved to 10th in points despite missing the year's first race.
"It was unintentional. He retaliated and tried to spin me out. I race everybody clean. (But) if you let these guys intimidate you they'll run all over you and think you're just the little 16-year-old kid who can be pushed around."
Three-time series champion Eric Holmes swapped the runner-up spot several times with Kwasniewski through the first half of the race until Holmes' car developed a mechanical problem.
David Mayhew of Atascadero, Calif., was running fifth when he was collected in a crash with Las Vegan Spencer Gallagher, who finished 24th in the 28-car field. Mayhew finished third the night before in the NASCAR Camping World Truck Series at Fort Worth, Texas.
In other Saturday races, Bear Rzesnowiecky, 19, got his first Super Late Models win of the season with a dominant run. Scott Gafforini was second and Jay Beasley third in the NASCAR All-American Series race. James Wingard (Chargers), Pete Meyer (Bombers) and Justin Irwin (Legends Cars) also won.
Contact reporter Jeff Wolf at jwolf@reviewjournal.com or 702-383-0247.