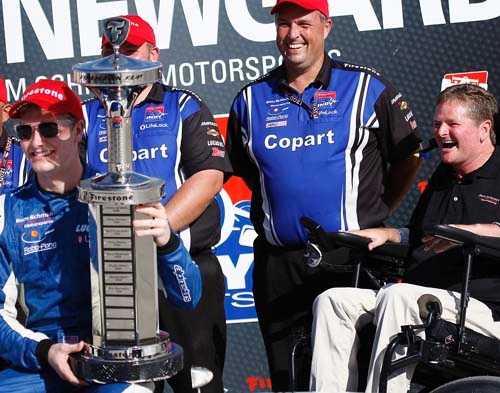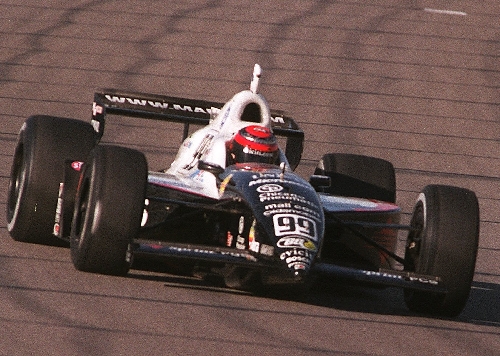 James 1:12 — "Blessed is the man who perseveres under trial, because when he has stood the test, he will receive the crown of life."
This is a glorious day for Sam Schmidt, and the above Bible passage best describes his philosophy.
The racing team owner will leave Las Vegas Motor Speedway a winner regardless of how any of his teams does today in the inaugural IndyCar World Championships.
The last time he raced at the track was Sept. 26, 1999, when the Henderson resident won his only title in the Indy Racing League. He started that weekend with dyed jet-black hair and extended sideburns, marking the only time an Elvis impersonator has won a major auto race.
"Yeah, I've been thinking back to that day a lot this week," he said. "We won the pole and the race. We just had an incredible day. My daughter, Savanah, was 2½, and Spencer was 6 months old. It's a little surreal. It doesn't seem like 12 years ago."
The masquerade seemed odd for a professional racecar driver, especially for one graduated from Pepperdine University with an MBA in international finance.
But that was — and remains — Schmidt's personality.
It seems a lifetime ago.
He entered the IRL race in Fort Worth, Texas, a few weeks after winning. He was third in points and contending for the season championship. His hope came crashing down when a wreck left him with a serious foot injury that required hospitalization.
Not to be deterred, he eagerly prepared for the coming season by testing a car for Treadway Racing on the following Jan. 6 at a track in Orlando, Fla.
That's where his life changed. Another crash left him in extremely critical condition with damage to his spinal cord at the C-3/C-4 levels. He was a quadriplegic.
Twelve years ago he roamed the LVMS infield pedaling a bicycle.
Today he gets around adeptly, and quickly, in a motorized wheelchair he maneuvers by moving his head side to side.
"Occasionally I think of the negative side of what happened in Florida," the 47-year-old said. "I'd be lying if I said I didn't. I'd like to have been able to drive a racecar for at least a little longer, but the option of not being here is far worse."
Schmidt has found time to become a successful team owner in IndyCars, but his greatest accomplishment has been the Sam Schmidt Paralysis Foundation he started six months after the paralyzing crash.
"I've been able to see my kids grow up, and with the foundation we can help hundreds of thousands of people," he said. "As a racecar driver, you couldn't help that many people. I'm reminded of that regularly. That's inspirational."
The foundation's mission is to find a cure for paralysis by funding scientific research, medical treatment, rehabilitation and technological advances. It also "provides quality of life grants" to organizations to benefit people with paralysis and other life challenges.
Between racing and efforts for the foundation, such as speaking before Congress, he travels about 100 days a year on commercial flights.
"Let's face it, my motivation with the foundation is somewhat selfish," he said. "It was started out of my desire to walk again, but if I can help myself and thousands of others achieve this goal, that would be fantastic."
He noted money raised by the foundation does not support his race team operation.
Schmidt's big weekend is not limited to the speedway. He will host a benefit concert tonight for the foundation at the House of Blues at Mandalay Bay and a fundraising golf tournament at 10 a.m. Monday at Southern Highlands Golf Club.
But this afternoon Schmidt is a racer.
His teams have dominated the Firestone Indy Lights Series in which driver Victor Carbone will start today on the pole at 9:45 a.m. Another of Schmidt's teams in the development series has clinched this year's championship, which gives Schmidt five titles with 46 race wins.
Schmidt will have two cars in the Indy-Car race, including Las Vegas resident Alex Tagliani, who won the pole for this year's Indy 500 before finishing 28th. At the next race, Tagliani won another pole and placed fourth.
Schmidt also is co-owner of the IndyCar in which reigning Indy 500 winner Dan Wheldon will start last in the 34-car field. If Wheldon wins, he will earn $2.5 million each for his team and a lucky fan.
"Good things happen when you're racing and doing good things," Schmidt said."
If Wheldon wins, Schmidt will give his one-third share to the family of the late Chris Griffis, who worked with Schmidt since 2006 on the Indy Lights operation. Griffis was 45 when he died while playing basketball on Sept. 12.
Just another example why just living is so precious to Schmidt. 
Jeff Wolf is a freelance reporter. He can be reached at (702) 406-8165 or nitrorodeo@gmail.com.