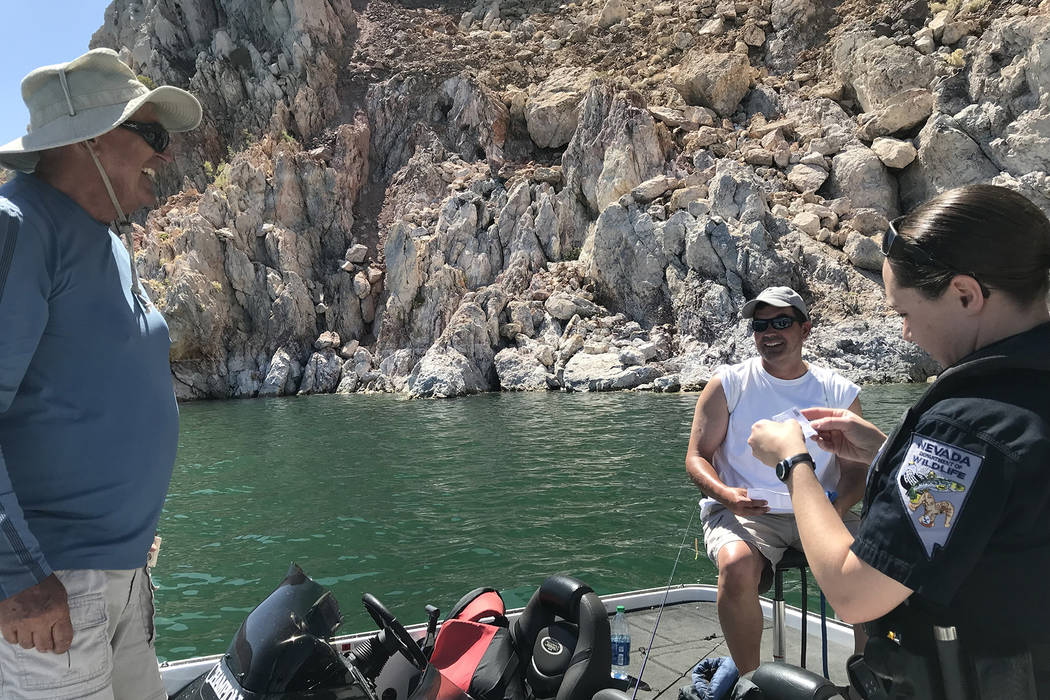 LAKE MEAD — Stripers and catfish as large as 3 pounds are taking anchovies fished off the bottom. Continuing high temperatures are keeping them down low. Black bass are hitting plastic worms in the Overton Arm. Anglers are doing best in the early mornings and at sunset.
LAKE MOHAVE — Anglers have found good action fishing for stocked rainbow trout, stripers and black bass. Trout are hitting worms and PowerBait below Willow Beach where water temperatures remain cold year round. The fish are staying near the bottom. Black bass are hanging in the shadows of water vegetation and rocky drop-offs. Stripers are cruising up and down the river but out from shore. Anchovies will bring in the stripers and catfish near Willow Beach.
LAUGHLIN — Catfish are biting on anchovies and chicken liver near the Avi. Look for the catfish on the bottom in the marshy areas and just above them for stripers. The line sides also are biting right below the dam and through Casino Row. Use plastics for along the edges of shelves for largemouth bass.
LAS VEGAS URBAN PONDS — Sunfish action continues to be good in most of the ponds with the fish taking mealworms and chunks of night crawlers on small hooks. The best action is during the morning hours before the daytime temperatures hit triple digits. The next catfish plant is scheduled for the week of August 20, but is dependent on water temperatures.
KIRCH WILDLIFE MANAGEMENT AREA — All the reservoirs, with the exception of Tule, continue to be productive for bass and crappie. Adams-McGill and Dacey are showing more trout action for those using spinners and flies. Aquatic vegetation along the shorelines has been making shore fishing difficult.
EAGLE VALLEY RESERVOIR — Aquatic vegetation continues to make shore fishing a challenge. The best action has been found in the open water toward the center of the reservoir. Trout are taking PowerBait in rainbow or green with glitter, while bass are taking soft plastic worms and jigs. The crappie bite has been slow.
ECHO CANYON RESERVOIR — Despite monsoonal storms, the water level remains low and aquatic vegetation continues to be a problem for shore anglers. Boaters are finding good fishing for rainbow trout and largemouth bass. Trout are taking PowerBait in rainbow or green with sparkles, and bass are hitting on soft plastics in green or brown.
UPCOMING FISHING EVENTS — The Nevada Department of Wildlife will hold a Family Fishing Clinic at 9 a.m. Saturday, Aug. 18 at Floyd Lamb Park. In addition, Fly Tying Tuesday is set for Aug. 21 at 6 p.m. For more information and registration visit http://www.ndow.org/Education/Angler_Ed/Classes/.