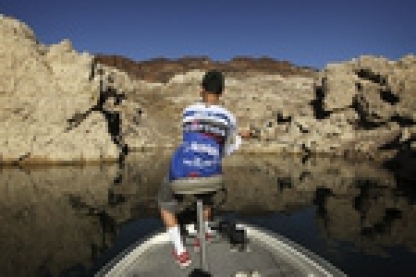 LAKE MEAD — Striper action has been OK during the morning and evening. Windy conditions have made boating and fishing difficult for much of the past week. Live shad and swimbaits are catching most of the fish, some pushing 5 to 6 pounds. Look for shad and stripers in deep water.
LAKE MOHAVE — The upper Mohave has offered the best fishing recently. Some of the best action has come in the coves with top-water baits. According to one report, a 40-pound fish was pulled in last week.
LAUGHLIN — Cooler weather changes fishing habits, so a change in approach might be necessary. Fishing from shore has proven successful for stripers. Look for fish holding in holes near structure. Be wary of low water conditions.
LAS VEGAS URBAN PONDS — The year's first trout plant took place last week at Sunset Park, Veterans Memorial Park in Boulder City, Hafen Park in Mesquite and Beatty Pond. Floyd Lamb Park is to receive fish sometime this week, along with Lorenzi Park, Sunset Park, Veterans Memorial Park and Cold Creek.
KIRCH WILDLIFE MANAGEMENT AREA — Due to colder temperatures and winter storms systems, few people have been seen on the management area, and fishing pressure has been light. The reservoirs remain ice free, which is mostly due to the high winds and not the temperatures.
EAGLE VALLEY RESERVOIR — Fishing remains good at the lake despite storm systems moving through the area over the past week. Three anglers who braved the elements did well for rainbow trout and tiger trout while throwing Lil Jake lures and night crawlers. The lake remains free of ice, but contact the park for updated conditions (775-962-5102).
ECHO CANYON RESERVOIR — Fishing pressure was low over the past week as winter storms systems moved through the valley. The reservoir remains free of ice, but contact the park for updated conditions (775-962-5103).