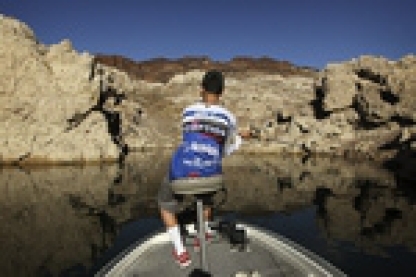 • LAKE MEAD — Striper fishing continues to be good throughout the reservoir. Anglers have had the best success in the early mornings. Jigs and other artificial lures have been the most effective in the upper Boulder Basin. There have been reports of smallmouth bass being caught as well.
• LAKE MOHAVE — Largemouth and smallmouth bass have been biting in the mornings and evenings. Stripers in the 1- to 4-pound range have been caught toward the southern end of the reservoir. Bluegill and redear sunfish are taking night crawlers. Catfish action has been good as well. Fish are taking anchovies during the night.
• LAUGHLIN — Catfish action has been good. Anglers have reeled in several fish that have weighed in at more than 5 pounds. Striper fishing has not been far behind. Both species are taking cut anchovies. One angler brought in a 7-pound striper near Davis Dam this past week.
• LAS VEGAS URBAN PONDS — The season's last catfish plant is scheduled for next week. Warm temperatures are keeping the bluegill and bass bite active. Mealworms and night crawlers have been getting the best action from the warm-water fish.
• KIRCH WILDLIFE MANAGEMENT AREA — Conditions remain much the same as last week, though good weather over the weekend improved the bass action. Hay Meadow and Dacey reservoirs were fishing well for trout and bass. Cooling temperatures will change things. Expect the trout action to pick up and the bass fishing to slow.
• EAGLE VALLEY RESERVOIR — Night crawlers were the ticket this past weekend for bait anglers targeting trout and bass. Rooster Tails also were working well for the trout, and, with the warmer weekend temperatures, the bass were hitting good. One lucky angler caught a 5-pounder near the tules.
• ECHO CANYON RESERVOIR — Action picked up this past weekend with the warmer temperatures. Trout, bass and crappie were hitting well. Night crawlers were the most productive bait for all species. The aquatic weeds are beginning to die off, and that is making fishing much easier for bass anglers.
• UPCOMING EVENTS — The annual One-Fly fly-fishing tournament at Spring Valley State Park (Eagle Valley Reservoir) is set for 9 a.m.-noon Saturday. The entry fee is $30. Contact Ranger Ben Johnson at 775-962-5102 for more information.