Nevada fishing report, Oct. 31, 2018
October 31, 2018 - 3:06 pm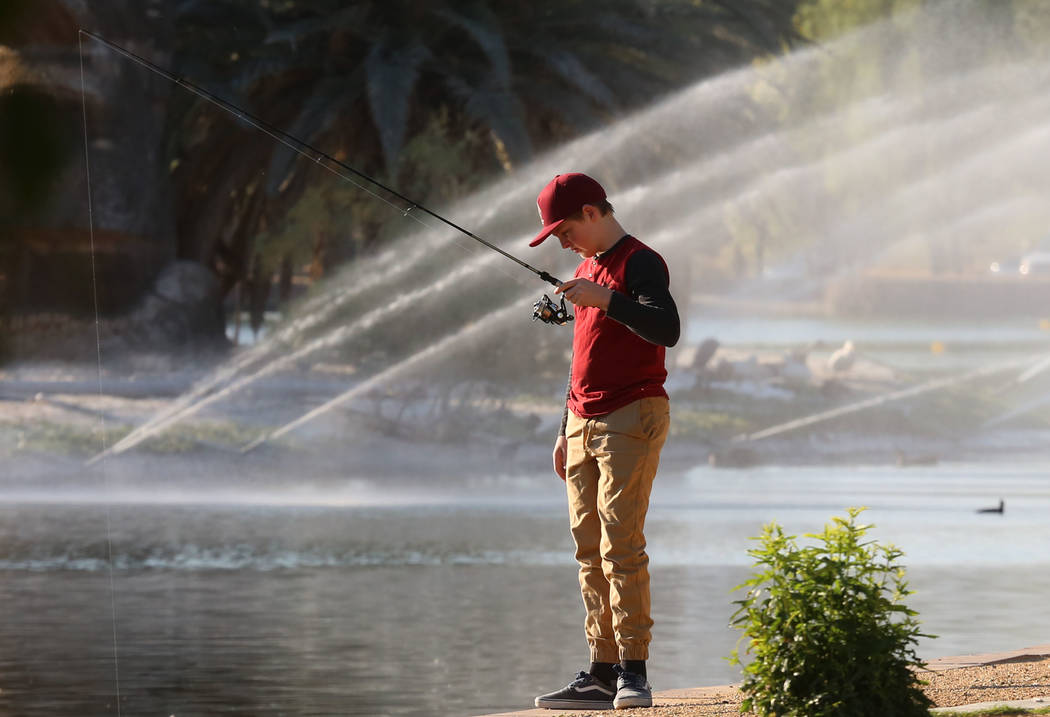 LAKE MEAD — As temperatures hover around the 75-degree mark, anglers should continue to find good fishing for black bass. Look for some good top-water action as black bass and stripers enter feeding mode. The fish are hitting shad imitation lures, like prop baits. Spinnerbaits and square bills are other options. Anglers are having success for catfish and stripers in the Overton Arm and Government Wash using anchovies fished off the bottom.
LAKE MOHAVE/WILLOW BEACH — Smallmouth bass are hitting on Zara Spooks and dark plastics above Davis Dam and near Cottonwood Cove. Anglers are having moderate success for striped bass from Willow Beach to Telephone Cove. The line sides are following stocked rainbow trout from Willow Beach downstream to Cottonwood Cove. Best fishing has been in and at the edges of cove openings.
LAUGHLIN — Anglers are enjoying the benefits of stocked rainbow trout with fewer caddis flies along the river. Fly-fishing with an elk hair caddis or throwing a Rooster Tail on a spinning rod are great options to bring in the rainbows near Big Bend. Stripers in the 1- to 3-pound range are trailing schools of trout below Davis Dam. Anglers are catching stripes between 3 and 8 pounds while trolling through Casino Row.
LAS VEGAS URBAN PONDS — If the weather cooperates, anglers may have the chance to catch trout by the Thanksgiving holiday. Action for bluegill and largemouth bass has slowed down, but the best time to catch those fish that are still active is late afternoon when the water is at its warmest.
KIRCH WILDLIFE MANAGEMENT AREA — Water levels remain low with aquatic vegetation along the shoreline making fishing from shore difficult. Adams-McGill is so low that fishing by boat is difficult and probably should be avoided until water levels rise. All reservoirs have been stocked with rainbow trout, and the fish are biting very well. The trout are taking PowerBait, spinning lures and spoons. Along with trout, the largemouth bass are still hitting. Anglers also are seeing a few crappies.
EAGLE VALLEY RESERVOIR — The trout action has been great this past week following recent fish plants. The fish are taking PowerBait and Power Eggs in orange, green, or rainbow sparkle colorations. They also are taking spinning lures, such as a yellow Mepp's with red dots. Super-Dupers and Kastmasters are catching fish as well. One angler this past week caught 15 fish within an hour using spoons.
ECHO CANYON RESERVOIR — Action around the lake has been very good following recent trout plants. The fish are taking the usual orange, green or rainbow PowerBait, mostly off the dam. Boaters have been doing well throwing small lures, such as a Mepp's or Panther Martin.
UPCOMING FISHING EVENTS — The Nevada Department of Wildlife is offering two free fishing classes. The first is a family fishing clinic from 9 a.m. to noon Saturday, Nov. 17 at Floyd Lamb Park. The second class is Fly Tying Tuesday Nov. 20 starting at 6 p.m. at the NDOW Las Vegas office. For more information and registration visit https://register-ed.com/programs/nevada/210-angler-education.