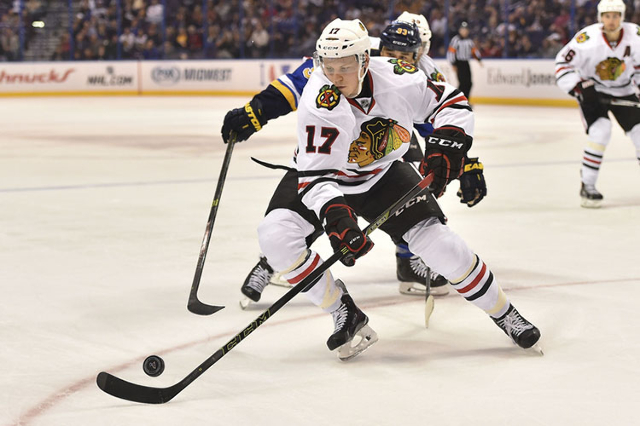 After a busy summer off the ice with a major rule change for overtime and serious discussion about expansion to Las Vegas, it's time for the NHL to get busy on the ice.
The puck drops on the league's 99th season Wednesday with the Chicago Blackhawks looking to win their fourth Stanley Cup in six years. The defending champs lost some of their core in the offseason as Patrick Sharp was traded to Dallas and Brandon Saad was dealt to Columbus. The team also is dealing with Patrick Kane's off-season sexual assault case. But there remains plenty of talent in Chicago and the Blackhawks don't figure to go away anytime soon.
The sports books agree. Wynn Las Vegas has the Blackhawks as 6-1 favorites to repeat as Stanley Cup champs in its future book. Tampa Bay, which lost to Chicago in last year's Cup finals, are next at 8-1 along with the New York Rangers, followed by the Anaheim Ducks at 9-1 with the St. Louis Blues and Los Angeles Kings both at 11-1.
Meanwhile, the rest of the league stayed busy trying to upgrade their rosters in the hopes of knocking Chicago off its perch. Pittsburgh dealt for Toronto's high-scoring right wing Phil Kessel. Los Angeles got power forward Milan Lucic from Boston. Washington got more scoring and grit by signing free agent Justin Williams and the Bruins looked to replace Lucic by signing Anaheim's Matt Beleskey.
Fans are also curious about the debut of the NHL's top two picks from June's draft — center Connor McDavid of the Edmonton Oilers and Buffalo Sabres center Jack Eichel. Both are being counted on to make an immediate impact and are considered the best pair of prospects to come along in years. Both McDavid and Eichel can score and that skill will be accentuated with the NHL's decision to implement 3-on-3 overtime.
The major rule change is expected to reduce the number of shootouts and if the preseason was any indication, that will be the case. In the 59 3-on-3 opportunities in the preseason, 42 goals were scored, a success rate of 71.2 percent. Last year, playing 4-on-4, 136 goals were scored in 306 overtime periods, a 44 percent rate.
"It's going to be entertaining in a lot of ways," Blackhawks captain Jonathan Toews said of the 3-on-3 overtime. "It's a new element to the game that we're going to have to get used to. But it's going to be fun."
Nashville Predators general manger David Poile added: "Every hockey guy that I've talked to believes it's going to be a dynamic five minutes, if it lasts that long."
The NHL also instituted a coaches' challenge which can be used to dispute goals scored involving interference with the goaltender. And with seven teams having changed coaches, most notably in Toronto where Mike Babcock takes over after a long run in Detroit, it will add another intriguing element to the game.
There also was a change in venues as the New York Islanders have moved from Nassau Coliseum, their home for 43 years, to the Barclays Center in Brooklyn. The Isles' loyal fan base was re-energized last year and a big question is if many of those fans make the trip from Long Island to Brooklyn.
While the 30 teams go about their business competing for the Stanley Cup, Bill Foley, who is behind the Las Vegas expansion bid, and Quebecor, which is attempting to return the NHL to Quebec City, are currently in a holding pattern as the league debates internally whether to grow or stand pat.
Foley and Quebecor made presentations to the league's executive committee last Tuesday in New York and Foley remains optimistic he will have the chance to operate the first major professional sports franchise in Las Vegas. Quebec City's new 20,000-seat arena, the Videotron Centre, is open for business. Meanwhile Las Vegas' venue, the $375 million MGM-AEG arena which will seat 17,500 for hockey, will open its doors in mid-April.
Both Foley and Quebecor want to get started right away. However, commissioner Gary Bettman said last week there is no timetable to expand and that the owners will ultimately decide whether or not to add two more teams.
The NHL's Board of Governors is scheduled to meet Dec. 7-8 in Pebble Beach, Calif. Potentially, they could make a determination at that meeting. For now, Foley and the Quebec City group will have to wait and see what happens while watching the current 30 teams have at it over the next nine months.
Contact reporter Steve Carp at scarp@reviewjournal.com or 702-387-2913. Follow him on Twitter: @stevecarprj
NHL OPENING NIGHT SCHEDULE
Montreal at Toronto, 4:30 p.m.
N.Y. Rangers at Chicago, 5 p.m. (Cable 38)
Vancouver at Calgary, 7 p.m.
San Jose at Los Angeles, 7:30 p.m. (Cable 49)