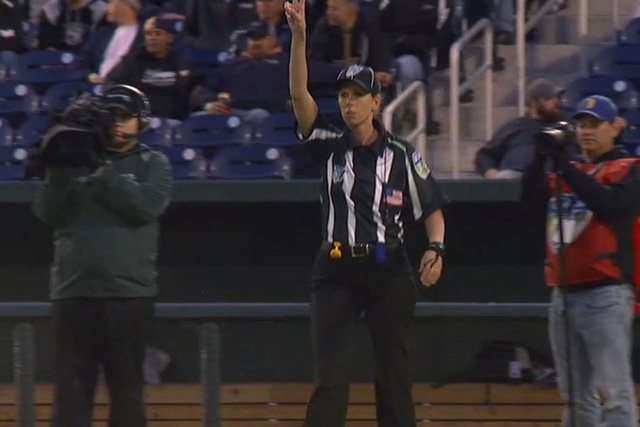 The NFL officially hired Sarah Thomas as the league's first full-time female official in a groundbreaking announcement Wednesday.
Thomas, who became the first female to officiate an NCAA football game in 2007, has previously been a finalist for an NFL job. She has been working in the NFL's Officiating Development Program.
Thomas joins eight other referees granted first-time employment for league games. She initially will be a line judge.
"Our incoming officials have all demonstrated that they are among the best in college football," NFL vice president of officiating Dean Blandino said in a statement. "We are excited about having them join us."
Thomas has done some sideline work for the Cleveland Browns, New Orleans Saints and Indianapolis Colts during minicamp practices in the past. She also officiated an NFL preseason game last August.
Thomas is a native of Mississippi who began her officiating career in high school in 1999. She began working football games for Conference USA in 2007 and became the first woman to officiate a bowl game in 2009.
The other new officials will be side judge Walt Coleman IV (son of referee Walt Coleman), line judge Kevin Codey, head linesman Hugo Cruz, head linesman Bart Longson, umpire Clay Martin, side judge Aaron Santi, field judge Shawn Smith and side judge Jabir Walker.
Thomas technically won't become the first female to officiate an NFL regular-season game. In 2012, Shannon Eastin was hired by the NFL as a non-union official during the 2012 lockout by referees and was the first woman to officiate an NFL game.