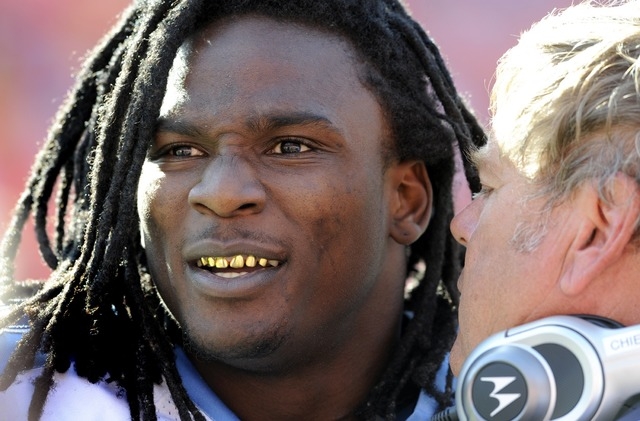 Free-agent running back Chris Johnson is at home resting and "is expected to make a quick and full recovery," according to a statement released by his agents Monday.
Johnson was shot in the arm in a drive-by Sunday morning in Orlando, Fla., and was released from a hospital later that day.
The driver of Johnson's vehicle, Dreekius Oricko Johnson, was shot in the head and killed, and another passenger, Reggie Johnson, was shot in the triceps and thigh, according to a report from the Orange County Sheriff's Department.
EAG Sports Management said he is "doing well."
"He thanks everyone for their support surrounding this unfortunate incident, as well as their condolences regarding the passing of his good friend," the statement said. "He is expected to make a quick and full recovery and is looking forward to being back out on the field training as soon as possible."
Chris Johnson was described as "uncooperative" toward deputies after the early-morning shooting, giving a vague description of the attack.
Dreekius Oricko Johnson had a long criminal history, including 10 arrests and a four-year prison sentence for cocaine possession and aggravated battery with a deadly weapon, according to court records.
This was the second gun-related incident for Chris Johnson this year. In January, he was arrested in Orlando and charged with carrying a firearm, a second-degree misdemeanor.
Johnson will become a free agent Tuesday because the New York Jets declined to exercise an option for 2015. Johnson ran for just 663 yards and one touchdown in 2014, his first season in New York after signing a two-year, $8 million deal.
The former 2,000-yard rusher has 8,628 rushing yards in his seven-year career. He was the Tennessee Titans' first-round pick in 2008.