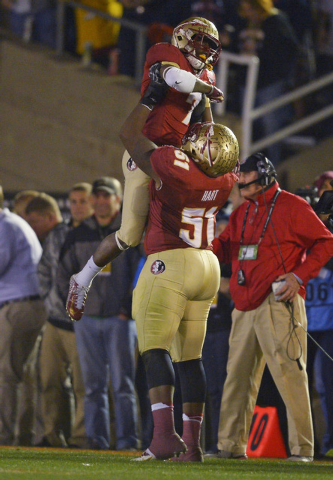 PASADENA, Calif. — Good riddance to the Bowl Championship Series but what a way to go out.
Lead changes.
Dramatic last-minute touchdown.
Two teams refusing to give in.
The right champion. An end to a conference reign.
The last BCS title game was one of the best, a game that will be used as a measuring stick as college football moves to a playoff system.
Florida State is the national champion, but the Seminoles had to work for it unlike they have all season.
They hadn't trailed since Sept. 28, but fell behind 21-3. No team had won a BCS title while trailing at halftime, and the Seminoles were behind Auburn 21-10. And no team had ever come back from more than 12 points to win.
But this was a team that during the regular season played like the old Showtime Lakers, burying opponents with overwhelming runs. And so Florida State ended this game by outscoring the Tigers 31-10 to win 34-31.
Texas' 41-38 victory over Southern California in 2006, also right here in the Rose Bowl, remains the gold standard for BCS championship games. With three lead changes in the final 4:31 and five touchdowns in the final 10:55, however, this game is right there.
The fourth quarter was supposed to belong to Auburn, a team that used two miracle plays just to get to this game.
Florida State didn't know what it meant to take a meaningful snap in the fourth. Heisman Trophy quarterback Jameis Winston and his teammates were used to relaxing in that quarter, the Seminoles having steamrolled through opponents.
They made the final period in BCS history their own, scoring three touchdowns.
Florida State took a 27-24 lead with 4:31 left on Kermit Whitfield's 100-yard kickoff return. Then after Auburn went back in front on Tre Mason's 37-yard touchdown, the Seminoles had just 1:19 to find the other end zone.
It was just enough time.
Winston threw a pass into the right flat to Rashad Greene, and the receiver did the rest, dashing down the right sideline to the Tigers' 23-yard line, a 49-yard catch and run. A pass-interference penalty later put the Seminoles at the 2, and Winston threw a strike over the middle to Kelvin Benjamin with 13 seconds remaining.
Florida State was so dominant during the season, Winston never had the chance for a Heisman moment on his way to winning the award. Does it count if that moment occurs after the awards ceremony?
A touchdown pass to win the national championship can't be topped, especially how much Winston struggled early in the game. He finished 20 of 35 for 237 yards, after completing 11 of 24 passes for just 120 yards through the first three quarters.
"It's the best football game he played all year because for three quarters he was up and down, and he fought," Florida State coach Jimbo Fisher said. "And just like any great player, some nights, you don't have it.
"Anybody can do it when it's their A-game night. A lot of guys can do that. Very few can do it when it's not their night. To pull it out in (this) atmosphere and environment and with what was on the line tonight, if that's not a great player, I don't know what one is."
Winston knew his season would be defined by what happened on the final drive.
"I was ready," Winston said. "I wanted to be in that situation because that's what great quarterbacks do. The Tom Bradys, the Peyton Mannings, the Drew Breeses, the Cam Newtons, that's what they do. Any quarterback can go out there and perform when they're up 50-0 in the second quarter.
"That's what you're judged by, especially by your teammates. I'm pretty sure I got more respect from my teammates and the people around me than I got the whole year."
The 2013 season will still be remembered most for Chris Davis' 109-yard return of a missed field goal that beat Alabama. That play, as well as the tipped pass for a 73-yard touchdown to beat Georgia, put Auburn in this game.
But it was Winston who delivered the championship play, and that tops anything the Tigers did, as spectacular as those moments were.
This is how the BCS should go out, with the season's most overpowering team being stretched to the limits by a Southeastern Conference team upholding the pride of a league that had won seven championships in a row.
A playoff is coming, and it's long past time. The fact the most visible college sport was the only one without such a system could never be properly explained.
Give the BCS credit, though for this: The right teams played Monday night.
They played a game that won't be forgotten.
The team that was the best all season is the champion.
So good riddance, BCS, but what an amazing final night. This game had it all.
Contact reporter Mark Anderson at manderson@reviewjournal.com or 702-387-2914. Follow him on Twitter: @markanderson65.