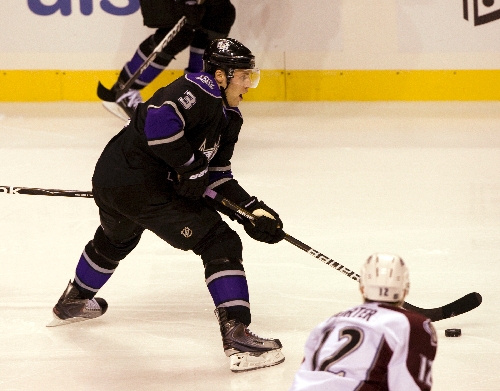 When Jack Johnson looks back on his 2009-10 hockey season, it's hard for him not to smile.
The 23-year-old Los Angeles Kings defenseman had his best campaign to date, finishing with eight goals and 36 points to help the Kings make the Stanley Cup playoffs for the first time since 2002.
But Johnson's fondest memory of 2010 was being a member of the U.S. Olympic hockey team, which played for the gold medal Feb. 28, only to lose to host Canada in overtime, 3-2.
"It was the greatest experience of my life," said Johnson, who was joined on Team USA by Kings teammates Dustin Brown and Jonathan Quick. "Nobody expected us to do anything, but we nearly won the whole thing. I still get chills thinking about it. Amazing."
Johnson, who was in Las Vegas on Saturday for the Kings' annual Frozen Fury preseason game against Colorado at the MGM Grand Garden, which Los Angeles won 3-2, said other than winning the gold medal at the 2014 Games in Russia, only one thing would be better — holding the Stanley Cup.
"Hopefully we took a good first step in that direction by making the playoffs," Johnson said. "We've got a great group of guys, and everyone's buying into the system. Now we have to build on that success and keep moving forward."
Johnson said his already-solid passing and puck-carrying skills along with his improved decision-making are allowing him to play more relaxed for Kings coach Terry Murray.
"I think everyone is more confident and trusting each other more," he said. "It's allowing us to be more creative."
Johnson used his creativity in a different way last winter as he became the first American NHL player to participate in an Olympic opening ceremony. The Kings had an off-day scheduled the night of the Opening Ceremony in Vancouver, and once Johnson knew he made the team, he hatched a plan that would allow him to get to Canada in time to walk with the other athletes and still make it back to Southern California in time for the Kings' game the next night.
He chartered a plane, flew from Los Angeles to Bellingham, Wash., took a limousine across the Canadian border and made it to B.C. Place Stadium in time to be part of the ceremony.
Immediately afterward, Johnson was driven back to Washington state, got on the plane and made it to L.A. in time for the morning skate. He played that night for the Kings and then flew back to Canada the next day to join Team USA.
"Definitely. No question," Johnson said when asked if it was worth all the trouble, including the skeptical customs agent at the Canadian border who initially wasn't convinced he was an Olympic athlete. "It's a once-in-a-lifetime thing."
The ending of Johnson's Olympic experience, while bittersweet in getting beat by Sidney Crosby's goal in overtime, also was pretty special.
"It was the greatest game I ever played in," said Johnson, who was born in Indianapolis, played prep school hockey in Minnesota, was a college star at the University of Michigan and is in his fifth NHL season with the Kings. "We battled back from 2-0, and we felt pretty good about things."
The silver medal he earned at Vancouver in February is at Johnson's home in Ann Arbor, Mich. He hopes to someday bring another piece of silver back there, a piece weighing approximately 35 pounds.
"That would be nice," Johnson said of spending a day with the Cup.
Contact reporter Steve Carp at scarp@reviewjournal.com or at 702-387-2913.
LOS ANGELES 3
COLORADO 2
KEY: Ryan Smyth's goal with 1:34 broke a 2-2 tie.