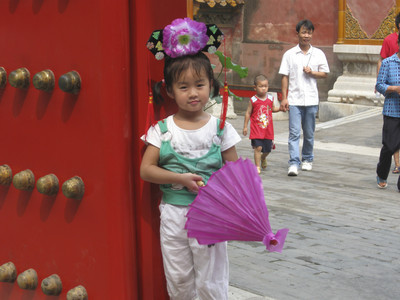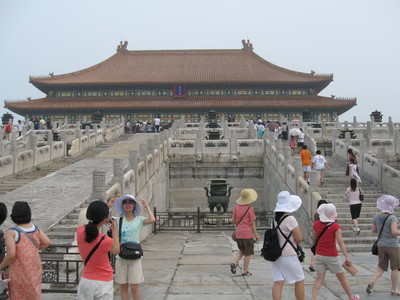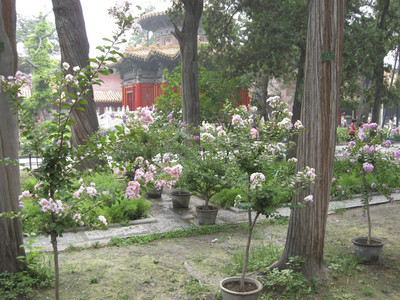 BEIJING — Maybe you saw the movie. Maybe you didn't.
The story goes like this: In 1909 at age 3, Pu Yi was chosen emperor of China. When first sitting on the Dragon Throne and seeing thousands of costumed servants bowing before him, Pu began wailing. His father tried calming the boy, telling him the ceremony was nearly over and that everything would turn out well.
Pu, it seems, knew better.
He was overthrown four years later (most likely by taking away his toy drum and banishing him to one corner of the Imperial Palace), and relegated to a powerless figurehead until age 24, before being ousted from the Forbidden City.
Talk about your tough breaks. The kid inherited a kingdom one minute and lost it by his 7th birthday.
This is one of the many tales you hear when strolling the grounds that for nearly five centuries were home to the Ming and Qing dynasties. It was built in the 14th century and consists of 980 buildings and 8,707 rooms and the sort of remarkable architectural pieces that put America's age of skyscrapers in its proper inferior place.
We are a fairly young country, and never is that more obvious than when visiting one whose ancestral lineage dates anywhere between 500,000 and 2 million years. China has paper fans older than us.
In a setting soaked with cultural history like your shirt from extreme humidity here, the Forbidden City is Beijing's most famous and hallowed location. It stands just north of Tiananmen Square, and you really can't get a feel for how big it is until walking the entire fortress. It can take hours. Bring an extra shirt.
"It is my first time here," said Cici, a 25-year old woman from the Sichuan province of western China. "It is splendid, wonderful, unbelievable. We can walk and see where the royal families lived. It is a secret, magical place."
Tourists like it for the design and artwork and artifacts and garden of trees and flower beds and sculptures.
The Chinese love its history.
Commoners weren't allowed near the place when emperors ruled, so the opportunity for them to examine and experience the museum is an invaluable pleasure.
Tourists marvel at its 32-foot stone walls.
The Chinese are in awe of folklore within them.
It's one reason Starbucks rightfully closed its coffeehouse inside the palace last year — what's next, an In-N-Out at St. Peter's Basilica? — after protesters said such a presence was an insult to Chinese civilization and a "symbol of low-end U.S. food culture."
Imagine if they got a taste of Little Caesars.
Emperors were treated like gods and actually considered sons of heaven. Think of the masses following Tiger Woods on a Sunday, and you get the idea of how captivated people were with their leaders. Forever changing the face of a sport is a pretty significant form of influence, but try being the one person alive believed capable of determining time and measure.
How is that for clout?
"It is an incredible place," said Kalkidan Shawel, a mayoral aide in Ethiopia here for the Olympic Games. "I had seen it in movies and read about it in books, but to think they built all of this in the 14th century … incredible."
Drawings and statues of dragons are everywhere, with accompanying myths about the figure that symbolizes wisdom and power. One emperor was said to have had a dragon's tail. Another was supposed to have been fathered by a dragon, which I assume made for good story lines on ancient Chinese soap operas.
In fact, emperors rode in dragon boats and slept in dragon beds. On wedding nights, the bride was greeted with images of dragons and a phoenix. You wouldn't think that set much of a mood, but it actually symbolized 100 children and never-ending generations of family.
In a nation of 1.3 billion people, creating the right ambiance has never appeared much of an issue.
"I am here to see the beds and antiques," 8-year-old Willard said. "I want to see where emperors slept."
Willard is an Olympics reporter for the Singapore Children's Newspaper, one of millions of Asian schoolchildren who embrace the chance at experiencing a place their history books portray with prodigious respect. Willard knows all his Forbidden City facts and figures. He just needs a little help when it comes to Olympic traditions.
"I hope," the boy said will all sincerity, "that your country wins a medal."
We can't claim architectural marvels like this, kid. But the medal thing usually seems to work itself out.
Ed Graney can be reached at 702-383-4618 or egraney@reviewjournal.com.