Henderson's Connor Fields wins BMX gold at Rio Olympics
August 19, 2016 - 6:56 pm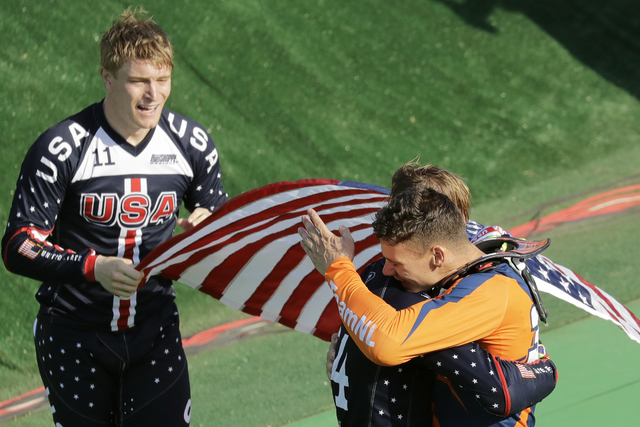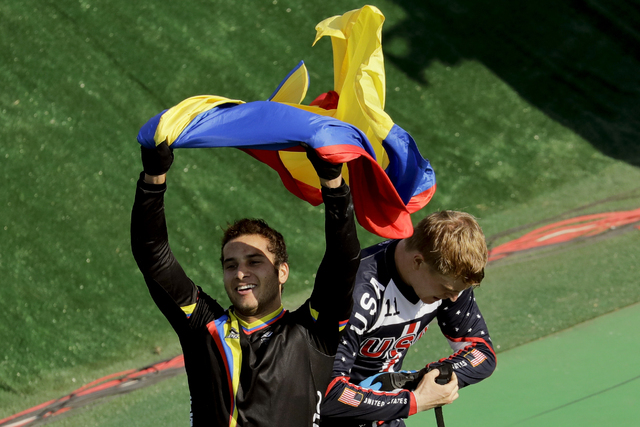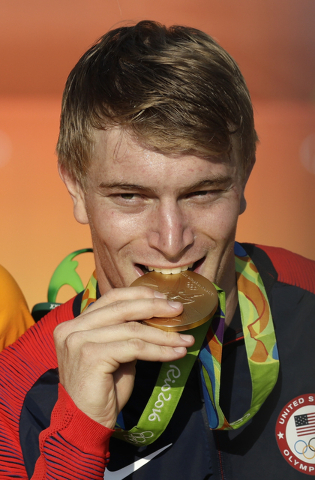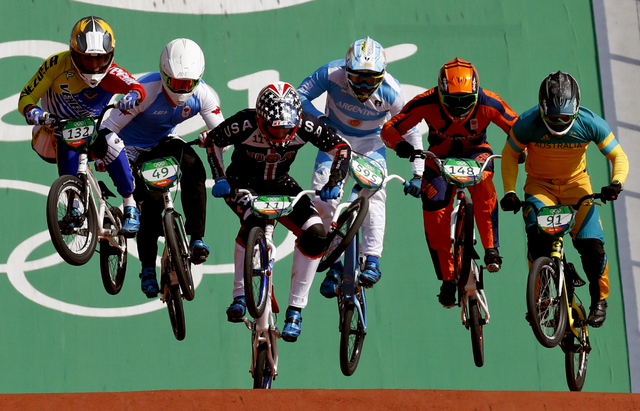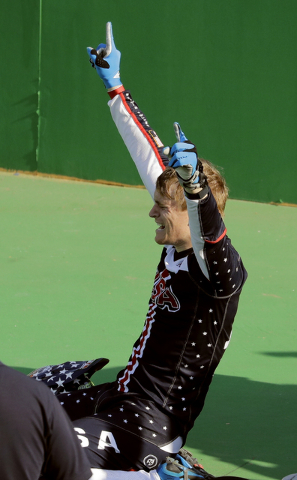 RIO DE JANEIRO — Connor Fields was pushing his bike up the hill toward the starting gate of the BMX final at the Rio Olympics on Friday when Sean Dwight, his coach, approached him with some final instructions. He didn't talk about the first jump or crucial first turn or the tricky straightaways or anything else about Rio's unique green track.
He talked about London.
"He told me, 'Remember that feeling you had in London? Here's your chance. Go take it,'" Fields said. "That kind of lit a fire under me."
Said Dwight: "There might have been a few swear words in there."
PG-13 or R, it worked. Fields took the lead on the second turn and became the first U.S. gold medalist in BMX history. He's also believed to be just the second Southern Nevadan to win an individual Olympic gold after Andre Agassi in men's singles tennis in 1996.
"I (bleeping) did it," Fields screamed moments after crossing the line and plunging into Dwight's arms.
Fields was just 19 in London and raced brilliantly in every race except the one that mattered most, winning five of a possible six preliminary heats before finishing seventh in the eight-man final. It was a harsh lesson about the cruelty of Olympic competition, and four months ago it looked as if the Henderson resident, who graduated from Green Valley High School and now is a UNLV junior, might not be able to draw from that experience in Rio.
Fields broke his left wrist — shattered it — from the impact of landing a huge jump during a World Cup event in England. He required five hours of surgery, and doctors told him the bone wouldn't fully heal by August. He shrugged and pushed ahead with Rio preparations anyway, receiving the coaches' discretionary pick in mid-June for the third and final spot on the U.S. team.
He also reunited with Dwight after a "falling out" after the London Games.
"We started talking and rekindled that friendship," Dwight said. "I was just talking to him as a friend. We finally said, 'Where are we going with this?' and we hatched a plan."
Added Fields: "We just put all the previous issues behind us and put our heads down and focused on the task at hand. He's a really tough coach, more of a football-style. He's a hard ass and demands a lot out of people. He pushes you. Sometimes it leads to arguments, but we only had two months to get ready for the Olympics and I let him push me. I'd say it paid off."
The plan they hatched was different from London. The idea was to conserve emotional and physical energy in the semifinal heats because, well, you don't get gold medals for winning them. Instead, 2012 silver medalist Sam Willoughby of Australia won all three while Fields was second twice and sixth once after nearly crashing.
"I've been asked by a lot of media: What's your secret on race day?" Fields said. "I've been answering that by saying there are essentially two races. There's a race to get into the final, and then there's the final. Everything you've done up to that point is wiped off the board. In London, I won five of six heats and didn't win a medal.
"Once you're in the final, you put all your cards on the table and just go for broke."
So what happens in Rio? Willoughby and fellow Aussie Anthony Dean each win all three of their semifinal heats, get favorable lane assignments in the final … and finish sixth and eighth.
Fields wins only one of his quarterfinal and semifinal heats, gets an outside lane in the final … and is wearing a gold medal.
U.S. teammate Nic Long had a holeshot in the final, meaning he burst through the field to hit the opening turn first. Fields tucked in behind him and looked for an opening, much as American Alise Post did behind Colombia's Mariana Pajon in the women's final a few minutes earlier.
Post never found an opening. Fields did.
"A little drift in the turn, hit my pedal, nothing you can do about it," is how Long described it.
"Unfortunately, he made a mistake," said Fields, who finished in 34.622 seconds, "and I was able to capitalize on the second turn. Coming out of the last turn, it hit me: 70 meters and there's the Olympic gold medal."
The crowd at Centro Olimpico de BMX, part of the sports complex in a hilly area of Rio's Deodoro zone, was decidedly pro-Colombia, which apparently has taken quite a liking to BMX. Pajon is responsible for that, becoming the nation's only double gold medalist in any sport. They waved flags, they chanted "Ole, ole, ole," they danced, they sang.
The women's medal ceremony was first, and they robustly belted out the Colombian anthem.
Then it was the men's turn. Fields held up his gold medal and they roared, adopting him like their own, perhaps cognizant that he's also from a place that hasn't produced many gold medalists.
"At the end of the day, there are a million cool things that happen if you win a gold medal," said Fields, who considered wearing a Vegas-themed helmet but was worried it would violate Olympic sponsorship regulations. "And that's definitely one of the things that I think could be cool, to go back to Las Vegas with a gold medal.
"I'm proud of being from Las Vegas."