Las Vegan Amy Purdy wins 2 medals in Paralympic Games
Updated March 23, 2018 - 9:33 pm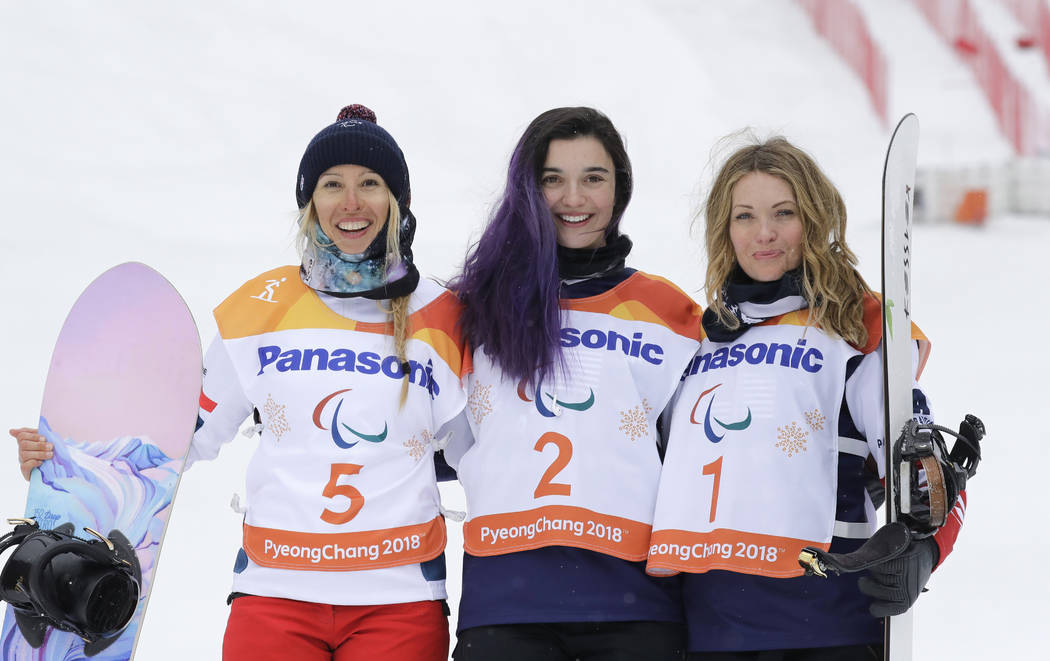 Amy Purdy's last four years have included two trips to the Paralympic Games, a stint on "Dancing with the Stars," authoring a best-selling book and a wedding.
And after returning this month from Pyeongchang, South Korea, with two medals, the 38-year-old snowboarder from Las Vegas is ready for a vacation.
Purdy, who was born and raised in Las Vegas and now lives in Colorado, has medaled in two straight Paralympics, winning a silver and two bronze.
Purdy took to snow sports at a young age despite growing up in the desert. Her family would take trips to Brian Head, Utah, and Lee Canyon to ski. At age 15, she picked up snowboarding and would go to Lee Canyon with her friends after school or on weekends.
She loved the sport, its lifestyle and the community surrounding it, so she decided to become a massage therapist with the idea that she could travel the world to snowboard and have the job to support her snowboard habit.
But those plans quickly shifted. When she was 19, Purdy contracted a form of bacterial meningitis and was given less than a 2 percent chance of survival. She lost both legs below the knee.
After that, she started focusing more on the sport.
"It wasn't until then that I started focusing my sights on the Paralympics, because first of all, snowboarding wasn't yet a Paralympic sport," Purdy said. "It was just brand new as an Olympic sport, and I kept thinking it would be amazing if snowboarding was in the Paralympics."
In 2005, Purdy and her husband, Daniel Gale, founded Adaptive Action Sports, and through their organization, they pushed for snowboarding's inclusion in the Paralympics.
Purdy won a bronze medal in snowboard cross at the 2014 Sochi Paralympic Winter Games, the sport's first time at the games.
While there, she would snowboard in the morning and then practice with Derek Hough, her partner on "Dancing with the Stars," in the afternoons and evenings.
Purdy finished second on the show. Later that year, she released a memoir that became a New York Times bestseller.
She also traveled around the world as a motivational speaker, a career that took off after a speech was featured on TED's homepage in 2011, got married and trained for another Paralympics.
"Four years later, so much has changed for me," Purdy said. "The level of competition is so much bigger. We have so many athletes. It's much more challenging these days to make a podium throughout the World Cup season, let alone at the games, so I'm incredibly grateful I was able to bring two medals home from the games."
Purdy won a silver in snowboard cross and bronze in banked slalom in March with her family there cheering for her.
"It was just really special having my family get to experience all this with me," she said.
Now, Purdy has more speaking events, another book she'd like to start writing and some TV projects in the works.
But first, vacation.
"There's always something fun around the corner, but at this point I'm kind of just going to let all of this sink in and spend some quality time with my family," Purdy said.
Contact Betsy Helfand at bhelfand@reviewjournal.com. Follow @BetsyHelfand on Twitter.
Amy Purdy file
Age: 38
Born: Las Vegas
Lives: Summit County, Colo.
What: Paralympic snowboarder, motivational speaker, author