Las Vegan Inbee Park silences doubters with gold medal in Rio
August 20, 2016 - 11:22 pm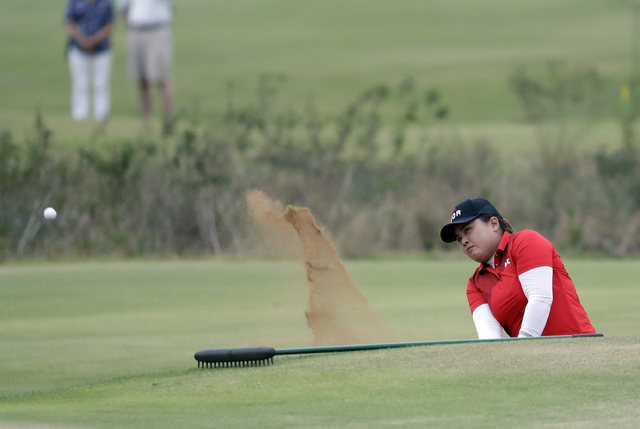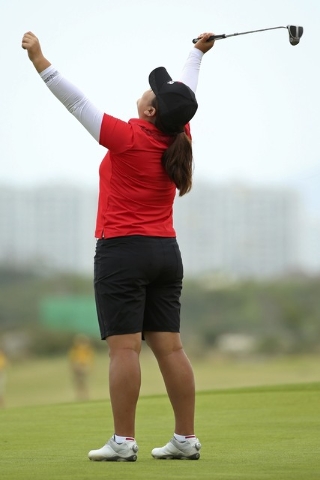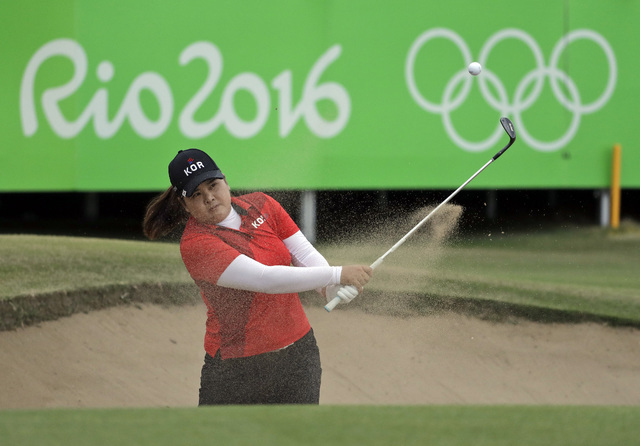 RIO DE JANEIRO — The crowds watching Inbee Park seemed to multiply with every swing she took. By the final hole, spectators scrambled over the sand dunes at the Olympic Golf Course and raced ahead of her ball, as if staying in one place would make them miss the best part.
It turned out that Park's final putt — the short one for par that gave her the gold medal in women's golf Saturday — was broadcast on an enormous screen, visible to everyone wearing the red shirts of South Korea and the white national flags in the bands of their hats.
Park thrust her arms in the air. The cheers she heard sounded like validation.
Park, a two-time state high school individual champion at Bishop Gorman, came to the Rio Olympics as the subject of doubt. She hadn't competed since June, when she missed the cut at the KPMG Women's PGA Championship. She was hurt. There were rumors she was considering retirement to start a family. Some wondered if she should, for the good of her country's Olympic hopes, decline to play.
Then Park shot a 5-under-par 66 on Wednesday in the first round. She shot another 66 the next day.
A third-round 1-under 70 put her ahead by two shots for the final round, which began under a thin bank of clouds and little wind.
Park went out in 31 shots — five birdies, four pars and the rising expectation that the 28-year-old Las Vegas resident who is a member at TPC Summerlin would confirm the belief in herself that she had been explaining all week. By the 10th hole, her supporters were three-deep at every tee and green.
They watched her stretch her lead to six strokes over Shanshan Feng of China with half of the course remaining. They fidgeted when a bogey at the par-3 14th cut it to three.
They looked at her face — stoic and blank — for signs of panic. Park betrayed no emotion.
"I can't compare it to any other week," she said later of the pressure and nerves. She summoned what she called "some kind of extra energy and power."
A man named Yong Joon Rhee, 45, stood at the 17th tee and craned for a look at Park. He had taken a bus overnight from Sao Paulo, six hours away and where he has lived since moving from South Korea in 1978. Twenty other native South Koreans joined him. They wore stickers of the flag on their shirts.
He wanted to witness this moment in women's golf, its first appearance in the Summer Olympics since 1900, in case Park won.
"We take our love of the country very proudly," he said.
Park birdied that 17th hole and opened a generous five-shot lead on the 59-player field. A misplayed third shot from a bunker on the par-5 18th meant she had to get up and down from a different bunker behind the green. Park wanted to end it cleanly. She made the par.
The three other players for South Korea waited for her behind the green. So did the coaches. They granted interview after interview, even though none of them had won a medal. They signed autographs on flags and hats and umbrellas. They smiled broadly. Seiyoung Kim, In Gee Chun and Hee Young Yang had finished inside the top 25 — and their teammate had won.
"All of our country is proud of Inbee," said Se Ri Pak, the famous South Korean golfer who retired in 2016 and served as an Olympic coach.
Pak watched the medal ceremony on the big TV screen near the 18th green.
"She had a hard time, saying yes or no (to playing)," Pak said. "She knew she has to be very strong. I'm very glad she made it."
It was another 5-under 66 for Park, her third of a trying week in South America when "nothing was guaranteed," the gold medalist said. In her many post-tournament interviews, which kept her at the course as rain approached, Park never mentioned a sense of bitterness, resentment or validation about the suggestion that she wasn't fit to play.
It might be that she never had any.
"I prepared very hard in the last month," Park said.
That was that. She beat Lydia Ko of New Zealand by five strokes, and Feng, the bronze medalist, by six. She became the first woman to have won an Olympic gold and a major championship in golf since Mildred Ella "Babe" Didrikson Zaharias, who won gold in two track and field events in the 1932 games in Los Angeles. Zaharias later became a 10-time major champion in the early days of the LPGA.
No one asked Park about that. But a reporter did request she rank her Olympic victory among the 17 titles she has won on the LPGA Tour and her seven major championships since her rookie year in 2007. Park paused to gather an answer.
"This is something I've never done before," Park finally replied. The gold medal dangled on her neck.
"Being able to hear the national anthem on the golf course," she added, "was unforgettable."
Kevin Robbins is reporting from the Rio Olympics for the University of Texas at Austin School of Journalism.