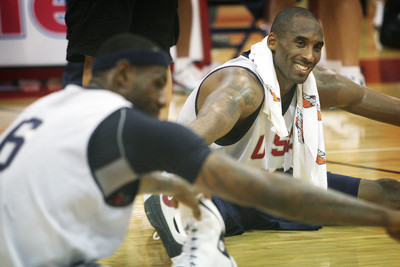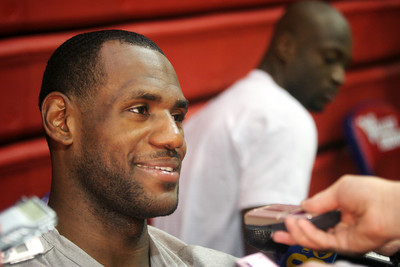 LeBron is winning court cases thanks to fortified water.
Kobe is jumping over pools filled with poisonous snakes in high-tech sneakers.
D-Wade is phoning his "Fave 5" friends on his cell.
For the U.S. Olympic men's basketball team, pursuing the gold medal might be all about red, white and blue. But in the end, it's also about the green.
LeBron James, Kobe Bryant and Dwyane Wade are pitchmen for various products in North America, but they're hoping to expand their brands internationally. And there's no bigger stage for an athlete to cash in on endorsements than the Olympics.
"I'm sure there will be opportunities if we win," Wade said. "But nobody is thinking about that. Everyone's focus is on winning. We win, those things will take care of itself."
All three members of Team USA are dealing with or recovering from injuries. James played with a sore back during the postseason, Bryant still has a broken pinky and Wade had knee surgery in March.
But there was no way any of them would miss the chance to play in Beijing next month.
Yes, they want to win a gold medal and atone for Team USA's bronze finish in the 2004 Athens Games. But they also realize gold around their necks could mean more corporate gold in their pockets.
"Those opportunities will be there," Bryant said. "When you win, things fall into place."
James has talked about amassing a Warren Buffett-like fortune. If he's serious about becoming a billionaire, it will be his commercial enterprises that get him there.
It's no coincidence that James has learned to speak Mandarin to help him communicate while he's in China. That can only enhance James' potential for business opportunities in Asia.
But the only business James wants to discuss right now is on the court.
"I think it's important to focus on basketball," he said. "You don't want to be worrying about the business side of things."
Bryant has been steadily rebuilding his marketing profile since his 2003 sexual assault case in Colorado was dropped. He is getting more endorsement opportunities since being voted as the NBA Most Valuable Player. If he can carry Team USA to a gold medal, more corporate doors are likely to open for him.
"I look at it as a challenge," Bryant said. "I've been there and done that. The endorsements I have, they're partnerships. They're friendships that have lasted over the years."
Wade said because most Team USA members are recognizable worldwide, they already are being branded outside the United States.
"Our game is global," Wade said. "Some guys in our game, like LeBron and Kobe, are global. There's always opportunities like that. That's why we play those preseason games overseas.
"But this is the big stage and, yeah, I'm sure there will be opportunities if we win. But it's hard for me to think about it because I lost last time (2004)."
Jerry Colangelo, Team USA's managing director, made it clear to the players that he doesn't want outside business interests to be a distraction. He said he hasn't seen anything to get concerned about.
"Look, let's be realists, we know it's a big platform," Colangelo said of the Olympics. "But we've talked to the players and they understand why they're here. To me, it's a nonissue."
But with potential millions to be earned, the players know what could await them. James insists, bad back or not, it was gold medal first, business second, that made him want to play in China.
"I had every intention of playing," he said. "It would have taken more than surgery to keep me out."
Contact reporter Steve Carp at scarp@ reviewjournal.com or 702-387-2913.
View the slideshow