Randall Cunningham fails to advance in Olympic trials high jump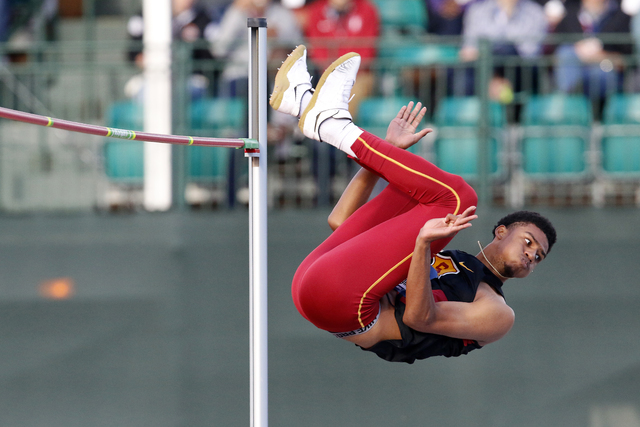 EUGENE, Ore. — Randall Cunningham II has spent his life high jumping in Las Vegas and, more recently, Los Angeles while attending Southern California.
"I don't think," he said with a smirk, "I've jumped in rain like this."
Cunningham didn't advance in the men's high jump preliminaries at the U.S. Olympic Track and Field Trials at rainy Hayward Field on Friday, failing to clear the opening height of 7 feet, ¼ inch. He wasn't alone. Eleven others couldn't figure out how to jump over a bar above their heads in a torrential downpour, and no-heighted as well.
"It was raining pretty heavy, there were a couple puddles, the pit was wet," said Cunningham, who as a USC sophomore won the NCAA title on this same track last month by clearing 7-4½. "When you landed on the pit, your whole body got drenched in water. I was expecting a little bit of rain. Nobody thought it would rain this much. But you've got to go out there and compete in any conditions.
"So I don't blame it on the rain or the weather at all. I just blame it on myself."
There are separate head referees for men's and women's field events, and the women's referee deemed the conditions dire enough to suspend the women's pole vault preliminaries until the rain abated. The men's field referee did not, and the discus and high jump continued in the deluge.
The marks reflected the decision. In the discus, all of the top eight finishers had their best throws in the first or second (of six) rounds, before it really started pouring, and there was no movement in the standings over the final 35 throws. In the high jump prelims, held on adjacent pits, they never got past the modest opening height, which was a full 14 inches under Javier Sotomayor's world record.
The 26 competitors attempted 64 total jumps on the two pits. Fifty were misses.
The 14 men who managed to clear 7-0¼ advanced to Sunday afternoon's final. The top three who have also achieved the Olympic qualifying standard make the Rio team, which includes Cunningham's 18-year-old sister, Vashti.
She finished second last Sunday in far different conditions — clear, dry, warm. The ideal weather held for a full week, but this is Oregon and it was only a matter of time before Mother Nature showed why the lawns are so green here.
"Whenever you're in conditions like this, it's different and you have to make adjustments," said Randall Cunningham Sr., who watched the competition with Vashti. "I think my son's mature enough to try to go get it. He got his three jumps. He just didn't get it done. It's as simple as that.
"There were a lot of guys who didn't clear a height today, and it really shocked me. That goes to show it was probably worse down there than we thought (in the stands). I'm just glad he didn't slip and hurt himself. He got out of it healthy."
The jumping apron quickly became a small lake, despite efforts to squeegee the pooling water. Cunningham said the same thing happened on all three attempts — decelerating before the bar and not carrying enough speed into the jump for fear of slipping.
"You just have to make sure you execute your run as if it was dry," said RC2, as his USC teammates call him. "I think that messes up people mentally more than anything. It's just a learning experience, that you can't let the weather change how you jump."