USA Basketball has plenty of able bodies to win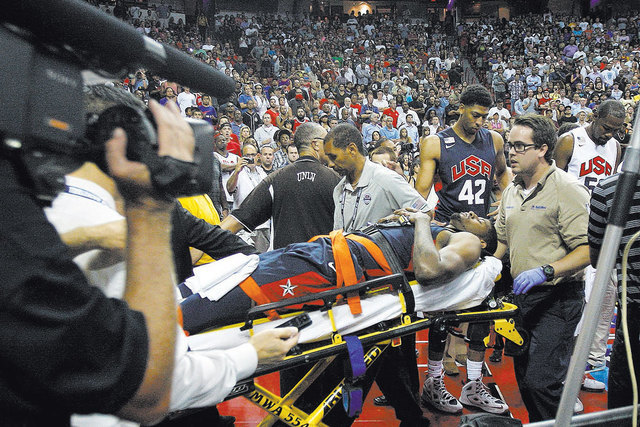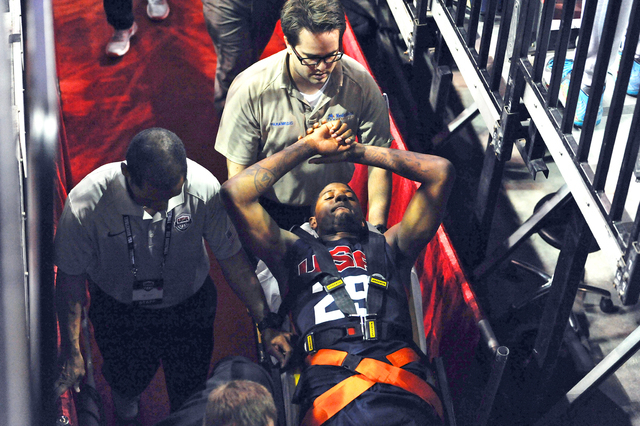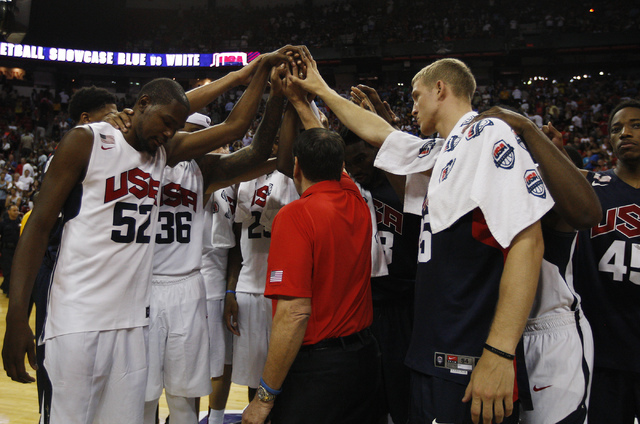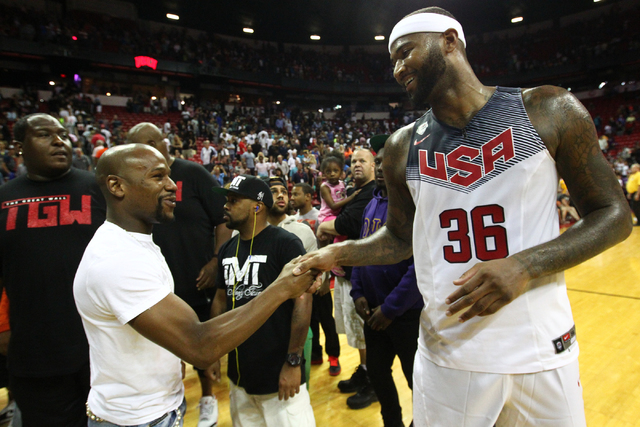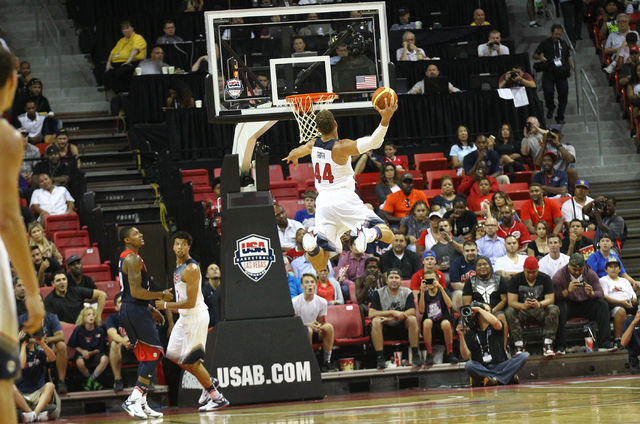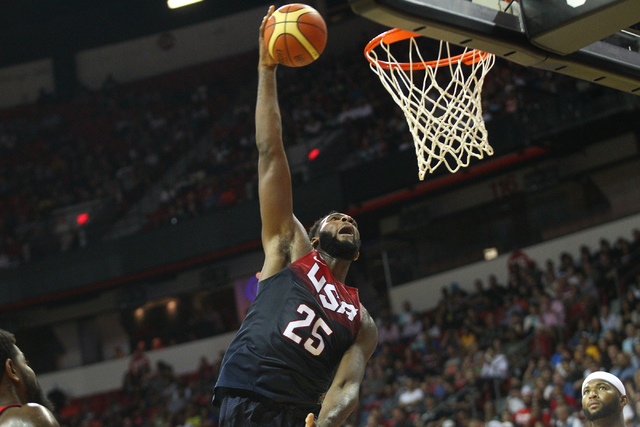 Not every NBA superstar bailed on the 2016 U.S. Olympic men's basketball team as the final roster for Brazil was announced Monday.
While NBA stars LeBron James, Stephen Curry, Chris Paul, James Harden, Anthony Davis, LaMarcus Aldridge and Kawhi Leonard opted not to play, there's still plenty of firepower for Team USA.
The team will train at UNLV's Mendenhall Center July 18-21, then play Argentina in a pre-Olympic exhibition at 6 p.m. July 22 at T-Mobile Arena. The Rio basketball competition runs from Aug. 5-21.
At the top is Carmelo Anthony, the New York Knicks veteran who will be playing in his record fourth Olympics. Anthony won a bronze in 2004, then gold in 2008 and 2012. Kevin Durant also is back. The Oklahoma City forward was Anthony's teammate in London in 2012 and was Team USA's leading scorer, averaging an Olympic record 19.5 points.
Klay Thompson, who shares the explosive Golden State backcourt with Curry, will play in Rio. So will James' sidekick, guard Kyrie Irving. Toronto's outstanding duo of Kyle Lowry and DeMar DeRozan will also play along with Chicago's Jimmy Butler and Golden State's Harrison Barnes.
"This is a team with a lot of versatility, outstanding shooters and a lot of outstanding defenders," said Jerry Colangelo, Team USA general manager and managing director for USA Basketball. "I think Coach K (Mike Krzyzewski) is looking at it as a team that can play a lot of different styles and he'll have a lot of flexibility."
The daily practices at UNLV are closed to the public, but tickets are on sale for the exhibition game through the T-Mobile box office or through USA Basketball's website, usab.com/showcase.
Krzyzewski is coaching in his third and final Olympics before handing the reins to Gregg Popovich for 2020.
"Looking at this team, our overall balance is what strikes me. We have lightning-quick guards who can score as well as distribute the basketball," Krzyzewski said. "We have great shooters and explosive scorers, we're big and athletic, and I think we'll really be able to defend. I'm anxious to get to work."
But the best story for Team USA is the return of Paul George. The Indiana Pacers' star forward broke his leg at the Thomas & Mack Center on Aug. 1, 2014, just a couple of weeks before the FIBA World Cup in Spain. He has fully recovered, and his presence figures to inspire everyone connected with the team.
"He has a great story," Colangelo said. "It was a devastating moment for all of us when Paul got hurt. But we promised him that if he recovered and was ready to play we'd have a spot for him.
"Not only is he back playing, but he's earned his spot. So we're obviously thrilled to have Paul with us."
If there's going to be any hand-wringing with the Rio roster, it's at center. Sacramento's DeMarcus Cousins will start, and the Clippers' DeAndre Jordan will back him up. Both are prone to foul trouble, and that could leave Team USA thin in the middle.
Colangelo didn't seem worried.
"Jordan was first-team (All-NBA); Cousins was second team," Colangelo said. "They're quality players and we'll be fine."
If things get dicey, Golden State's Draymond Green can play center, among a variety of roles. Green, one of nine NBA All-Stars on the Rio roster, provides the ability to shoot with range as well as finish at the rim, making him one of Team USA's more important players.
"I think (Krzyzewski) is going to have a lot of fun with all the different lineups," Colangelo said. "I love our depth and I love our talent. We've got experience and we have outstanding youth. It's a team I believe is built to win."
Contact Steve Carp at scarp@reviewjournal.com or 702-387-2913. Follow on Twitter: @stevecarprj
TEAM USA 2016 OLYMPIC BASKETBALL ROSTER
(Name, Pos., NBA Team)
Carmelo Anthony, F, New York
Harrison Barnes, F, Golden State
Jimmy Butler, F, Chicago
DeMarcus Cousins, C, Sacramento
DeMar DeRozan, G, Toronto
Kevin Durant, G, Oklahoma City
Paul George, G, Indiana
Draymond Green, F, Golden State
Kyrie Irving, G, Cleveland
DeAndre Jordan, C, Clippers
Kyle Lowry, G, Toronto
Klay Thompson, G, Golden State
Head coach: Mike Krzyzewski (Duke)
Assistants: Jim Boeheim (Syracuse), Tom Thibodeau (Minnesota Timberwolves), Monty Williams