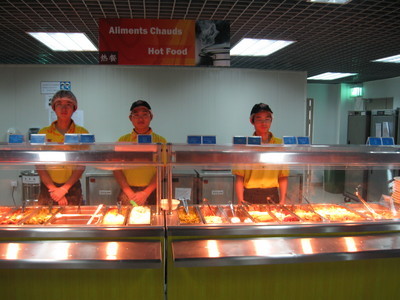 The information you are about to read is highly confidential and might put those in the food service industry here in danger:
They serve eggs for breakfast.
They just don't want you to know it. Or anything else about how they feed tens of thousands of Olympic athletes and coaches and media and various officials from all over the world. More BOCOG secrets.
Those in charge of serving meals can't tell you how many people stroll through food lines each day or whether the guys from Spain are always asking for someone to make a spicy sausage and cheese tortilla. Some pre-Olympic numbers were reported about needing 800 recipes and 1 million apples and 44 tons of eggs, but who knows?
In fact, the gentlemen in the picture might not be real. They could be mannequins hoping to throw off any nosy Americans who ask probing and intrusive questions about how they get those small pieces of chocolate inside the croissants.
"I'm not allowed to give out any information," said the manager at an Olympics cafeteria not to be named for fear of its milk supply being cut off. "It is the direction we have been given. I am sorry."