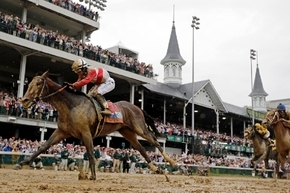 LOUISVILLE, Ky. — Orb splashed through the slop to win the Kentucky Derby, coming from way back in the pack and giving Hall of Fame trainer Shug McGaughey his first victory in the 3-year-old classic.
When the field turned for home on the cool, overcast Saturday afternoon at Churchill Downs, Normandy Invasion grabbed the lead while Orb was gearing up. But in the deep stretch, Orb prevailed, carrying Joel Rosario to his first Derby win.
Long shot Golden Soul was second with Revolutionary third.
Normandy Invasion faded to fourth.
"I was really far back," Rosario said. "I said hopefully he can go faster than that. I was saying maybe I was too far back, but it was so easy."
Orb, the 5-1 favorite, ran the 1¼ miles in 2:02.89
Orb paid $12.80, $7.40 and $5.40. Golden Soul returned $38.60 and $19.40 while Revolutionary paid $5.40 to show.
McGaughey said the victory meant everything to him.
"I'm thrilled to death for (the owners), thrilled to death for the people who put so much time into this horse, and, of course, I'm thrilled to death for me," he said.
Todd Pletcher had a record-tying five runners. Revolutionary was the best of the "Todd Squad," followed by Charming Kitten (ninth), Overanalyze (11th), Palace Malice (12th) and Verrazano (14th).
Goldencents, owned in part by Rick Pitino, coach of Louisville's national basketball champions, finished a 17th. His jockey, Kevin Krigger, was trying to become the first black rider to win the race since 1902.
Rosie Napravnik was also bidding to make history as the first woman jockey to win the world's biggest horse race. She finished fifth aboard Mylute, the highest finish by a female rider.
D. Wayne Lukas, who won the Derby four times and would have been the oldest trainer to saddle a winner, sent out two runners. Oxbow, with three-time Derby winning jockey Gary Stevens aboard, finished sixth. Will Take Charge was eighth.
Lines of Battle from Ireland finished seventh, denying European champion trainer Aidan O'Brien the international victory.
KENTUCKY DERBY NOTES
— The 139th running of the Kentucky Derby at Churchill Downs had a field of 19 horses, with Orb topping the field in just over two minutes.
He's the newest contender for a Triple Crown in thoroughbred racing.
The Preakness follows in two weeks and the Belmont Stakes is June 8. The last horse to sweep all three races was Affirmed in 1978.
Black Onyx was scratched from the race on Friday.
NBC televised the 1¼-mile race from 4 p.m.-7 p.m. The purse is $2,199,800, with $1,439,800 to the winner.
Here's a running account of the event and everything going on around it, with journalists from The Associated Press bringing the flavor and details of everything surrounding the race.
QUICKQUOTE: JOEL ROSARIO
"I was so far behind and I just let him be calm and let him be relaxed and he was available to do it all." — Orb jockey Joel Rosario after winning the Kentucky Derby.
MONEY SURGE
The moments before the running of the Kentucky Derby included a 7-figure avalanche of betting on Orb, the winner. According to live odds on the Kentucky Derby website, more than $4.7 million was wagered on Orb of $36.6 million gambled on the race, making the horse a 5-1 favorite as betting closed.
Just minutes before, Orb pulled even with Revolutionary as a 6-1 favorite even though more than $4 million was bet on Revolutionary and around $3.5 million on Orb.
QUICKQUOTE: HAVE A CIGAR
"I saw a lot of men doing it today and I thought I'll try one. … It might be a once-a-year thing." — Missy Reynnolds of Cincinnati, Ohio, as she puffed on a thick cigar in the paddock area with some friends. Women smoking cigars is a common sight at Churchill Downs on Kentucky Derby day.
WOODFORD RESERVE TURF CLASSIC
Wise Dan, the Horse of the Year, overcame a boggy turf course to easily win the $500,000 Woodford Reserve Turf Classic.
Jose Lezcano was aboard as the 6-year-old extended his winning streak to six, a span that began when he switched from the main track to the turf last August at Saratoga. Wise Dan, the 3-5 favorite, beat Optimizer by 4 ¾ lengths with Middie third.
CHURCHILL DOWNS STAKES
Delaunay, the 9-5 choice, powered to a four-length win in the $443,600 Churchill Downs Stakes for his sixth straight victory.
Rosie Napravnik was aboard as the 6-year-old gelding improved to 4 for 4 here. Long shot Pass the Dice rallied to take second.
Trinniberg, last year's Breeders' Cup Sprint champion, set the early pace before fading to seventh.
CHURCHILL DISTAFF TURF MILE
Stephanie's Kitten rallied from eighth to edge Hungry Island by a neck in the $288,750 Churchill Distaff Turf Mile.
Julien Leparoux swung the 4-year-old to the far outside with a five-wide move turning for home over the rain-soaked course. She improved to 3 for 3 on the turf here, including the 2011 Breeders' Cup Juvenile Turf Fillies.
QUICKQUOTE: RICK PITINO
"You think about it: A state of 3 million people. Last year Kentucky wins the (NCAA basketball) championship, we win it this year, the Derby is part of our fabric and we have a horse in it. It's really special. … We have no professional sports, this is it." — Louisville coach Rick Pitino to NBC anchor Bob Costas when asked whether people outside Kentucky can truly understand the influence of basketball and horse racing in Kentucky.
DISAPPOINTING SCRATCH
For trainer Kelly Breen, it's not the Derby Day he was expecting.
Breen was forced to scratch Black Onyx from the Derby on Friday morning when an X-ray showed a chip in his right front ankle. His absence leaves the field at 19 horses.
"Disappointment is probably the best word to describe it," Breen said Saturday morning. "I thought he had legitimate chance and I was going to bet my money. I was ready to put my money where my mouth was. Now we'll never know."
The injury is unlikely to require surgery, Breen said, but the Spiral Stakes winner will need at least 60 to 90 days of time off before returning to training.
The New Jersey-based trainer will stick around for Derby but may pass the glitz of the frontside and just watch from the barn area.
He wasn't the only member of his family looking to put money on the horse.
"My son is 9 years old. He'd saved up 20 bucks to bet on Black Onyx. He's even disappointed," Breen said.
HUMANA DISTAFF
Aubby K, the 7-2 favorite, rallied past Burban to win the $345,600 Humana Distaff for fillies and mares. Edgar Prado guided the 4-year-old through the slop to get up by 1 ½ lengths for her second straight stakes victory.
MORE SLIDING, FEWER CUFFS
The normally rowdy infield crowd at the Kentucky Derby appeared well behaved.
As the rain came down earlier, fans took to sliding across water-slickened tarps and muddy stretches in a makeshift slip-and-slide.
Louisville Police Officer Carey Klain said as of mid-afternoon, only two people had been arrested and three cited for ticket scalping.
"So far, so good," Klain said.
STAT CHECK
This stat check comes from ESPN sports business reporter Darren Rovell. According to Rovell, roughly 5.1 million ounces of beer will be consumed at the Kentucky Derby. That's nearly 319,000 16-ounce pours.
UNDERCARD RACE
Berlino Di Tiger held off Chamblerlain Bridge by a nose to win the $138,250 Twin Spires Turf Sprint, the first stakes on the Derby Day program at Churchill Downs.
Making his third start in the U.S. after beginning his career in Brazil, Berlino Di Tiger pulled the 11-1 upset with Leandro Goncalves aboard.
Chamberlain Bridge showed he is still going strong at 9. He won the Breeders' Cup Turf Sprint here in 2010.
GAMBLERS ABOUND
Among the actors, musicians and athletes arriving on the red carpet are a fitting type of celebrity for a horse race: Poker players.
Imagine that, gamblers at the Kentucky Derby.
Among them is Phil Hellmuth, who's won 13 gold bracelets and $12.2 million at the World Series of Poker and is known to place a bet or two beyond the felt. He tweeted a picture of himself, with "The Voice" contender Nicholas David and actress Jennifer Tilly — all posing with the Stanley Cup. Makes sense, we guess.
Fellow poker player Robert Williamson dressed in all black and white, from his hat to his shoes, with one exception — socks covered in sometimes neon-colored daisies.
"They give me a little color," Williamson said.
Tilly, a poker player herself, glided onto the red carpet to cheers from a large throng of onlookers assembled under a canopy near food and booze vendors at Churchill Downs. Tilley, who voices some characters on "Family Guy," agreeably posed as photographers shouted requests: "Look this way please!" "Can you pose to the right?"
$1M MARK
Revolutionary is the first Kentucky Derby horse with $1 million in bets. The 5-1 favorite passed the mark with $8.3 million in total wagers at Churchill Downs.
CELEBS ARRIVING
Among the sightings: National anthem singer Martina McBride, TV personality Star Jones, basketball greats Julius "Dr. J" Erving and Scottie Pippen, Speaker of the House John Boehner, New England Patriots lineman Vince Wilfork, actor Anthony Anderson and actress Valerie Harper, who was recently diagnosed with terminal brain cancer.
QUICKQUOTE: TIGHT SECURITY
"The more, the merrier, as far as I'm concerned." — Frank Hanlon, 31, of Memphis, Tenn., on added security joining at Churchill Downs in response to the bombings at the Boston Marathon last month. Kentucky National Guardsmen searched bags and passed metal detecting wands over race goers, while raincoats, towels and small cameras were being inspected.
SLOPPY DERBY
The last Kentucky Derby run on a track listed as sloppy was in 2010, when Calvin Borel rode 8-1 Super Saver to victory. That day, 1.32 inches of rain fell at Churchill Downs. Borel also won on a sloppy track in 2009 when 50-1 shot Mine That Bird splashed home first. The jockey nicknamed "Bo-rail" because of his rail-hugging rides at Churchill will be aboard Revolutionary in the Derby.
I'VE GOT A SYSTEM
Betting strategies at the Kentucky Derby vary as wildly as the hats.
Some racing fans plan out their wagers days in advance, poring over statistics and previous races to make an informed decision. But many fly by the seat of their pants, choosing an interesting looking horse or colorful jockey silks.
"I love cats," said Shelly Dozier-McKee of Atlanta, who decided to bet on Charming Kitten in the Derby. It's her first trip to Churchill Downs, and Dozier-McKee said she received some betting tips from former University of Louisville coach Denny Crum during a party Friday night.
She said Crum, who won two NCAA basketball championships, showed her how to bet exactas and trifectas, she said.
"I got some good insider tips from him," Dozier-McKee said from under a black, wide-brimmed hat adorned with a feather.
Jeremy Hewson learned how to bet horses from his grandfather back in Greenfield, Ind. He'll study the racing form, looking at speeds and performances in past races.
Hewson said the rainy track would factor into his picks, but so far he likes Verrazano in the Derby.
"Unless I see something that changes my mind," he said.
BACK TO THE SCENE
Steve Cauthen recalls the night before he won the 1978 Kentucky Derby with Affirmed, he slept on the floor of a motel room that housed five people.
"I slept like a baby," he said. "I knew no one would bother me down there."
Cauthen, then 18, got up the next day and won the race, setting him and Affirmed on an odyssey that culminated in winning the Triple Crown. No one horse has swept the Derby, Preakness and Belmont since then.
"It was a great time in my life," said Cauthen, who turned 53 this week. "I was living my dream."
He was at Churchill Downs on Saturday serving as a celebrity handicapper for Derby Experiences, a custom travel program for racing fans. Cauthen's Derby pick? Revolutionary, if the dirt surface turned sloppy as expected.