Over 71 years separate oldest, youngest Las Vegas marathon runners
November 6, 2018 - 2:59 pm
Updated November 6, 2018 - 5:22 pm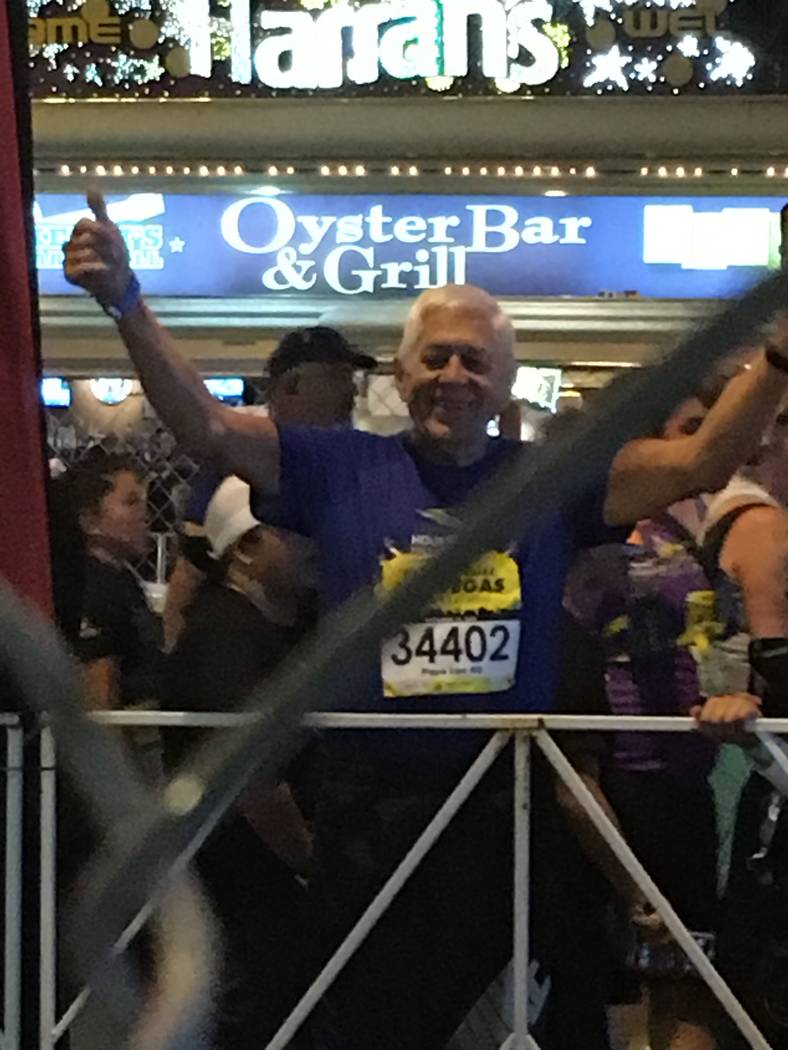 Tens of thousands of runners will line the Strip on Sunday night, packing in tightly to race under the bright lights of casino marquees.
Some are locals, and some will be flying in from halfway across the world. The Rock 'n' Roll Las Vegas Marathon and Half Marathon draw competitors from every state and every skill level, from the very beginners to those who have run more marathons than they can count.
Lee Miksch and Ilan Ahdout probably won't cross paths within the sea of thousands of runners, but the two have the distinction of being the oldest and youngest runners registered for the half marathon as of late October.
Exactly 71 years and one day separate the pair, who both have early February birthdays.
Miksch, an 82-year-old from Houston, will travel to Las Vegas with his wife, Pat, while Ahdout, 11, and his family will come in from Los Angeles.
It will be Ahdout's first half marathon. Miksch has run 96 whole marathons and used to compete in 50- and 100-mile races.
Miksch previously ran in the Las Vegas half marathon in 2016, when he placed first in his age group with a time of 3:08:10.
He picked up running 34 years ago after kicking a smoking habit.
"I used to run quite a bit, but I've kind of cut back on it," Miksch said. "My knees bother me some."
He races in Houston every year and does one or two local races, but this year, he thought it'd be fun to "go up and down the Strip," too.
"At my age, it makes you feel good to be able to do a lot of the things that you used to be able to do when you were younger so I think running and exercising helps that so that's mostly why I do it," Miksch said.
He still runs about two or three times a week, he said, for around four miles per run. He'll do longer runs if he's training for a race. When he's not running, he finds some other form of exercise — be it biking, doing the elliptical, lifting weights or something else — to keep active.
"I've worked hard all my life, and now it's just giving me a chance to do something that's kind of relaxing and different, and Vegas is always exciting," Miksch said. "We're going out there mainly to do the run and spend like five extra days there."
While Miksch's decision to run was "more or less a spur of the moment," Ahdout and his family — his parents and two older sisters — planned to come to Las Vegas to support Chai Lifeline, an organization that has programs to "meet the unique emotional, social and financial needs of families living with serious pediatric illness or loss."
Before he turned three, Ahdout was diagnosed with leukemia. He received treatment until he was six, said his mother, Ronit Ahdout.
Chai Lifeline counselors "were helping us with Ilan's siblings," she said. "Honestly, our condition was not so bad, but there were families with much worse, and I could see how they helped them."
The family has been raising money for the cause. Ilan, now a healthy sixth grader, recently became interested in running, especially with his older sister.
"It started in fifth grade when we started running the mile at our school," Ilan Ahdout said. "My sister would go running just in our neighborhood, and then one day she asked me to come with her, and so I went with her and we kept doing that."
Eventually, he joined the cross country team at his school, where he runs a couple times a week.
The furthest he's ever run, he thinks, is two and a half or three miles, but he thinks he's up for the challenge of the half marathon.
He said he was most excited about running with his sister and "getting to the end."
"Nighttime is really nice, and it's cold so the run won't be as difficult, so I think it's going to be really fun," Ahdout said.
Contact Betsy Helfand at bhelfand@reviewjournal.com. Follow @BetsyHelfand on Twitter.