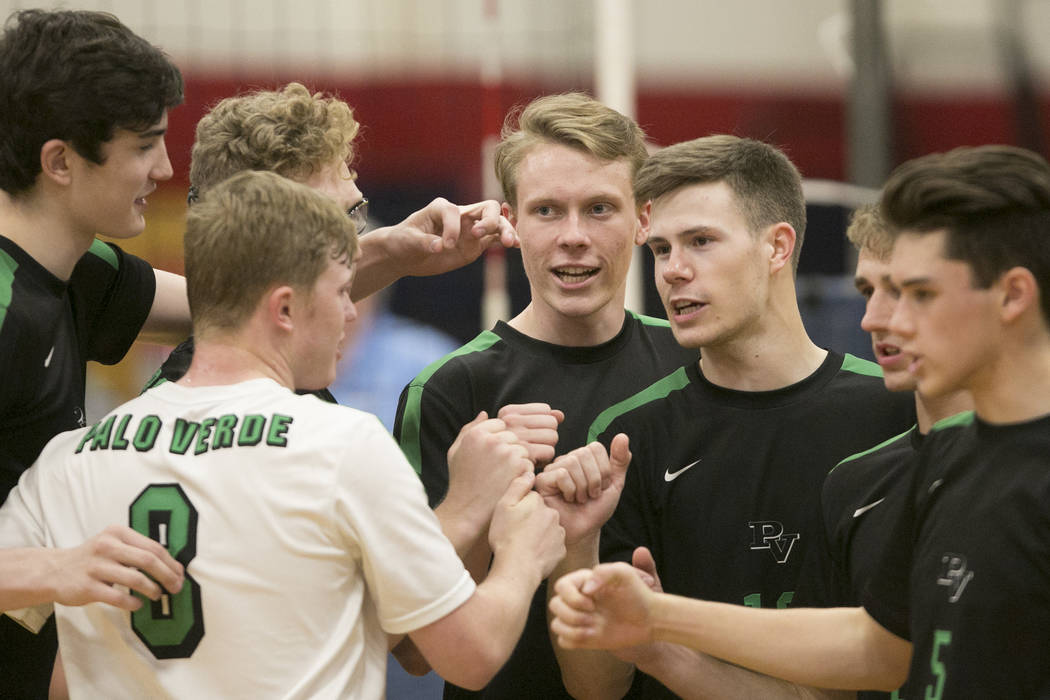 Losing three consecutive volleyball matches to start league play probably would send shivers down any coach's spine and eliminate the prospects for a successful season.
It didn't for Palo Verde's Phil Clarke.
"Never worried," the longtime coach said. "We started 0-3 and were in last place after a week-and-a-half in (Northwest) League play. But two of those matches went five (sets), and the other went four. And the way we lost — sets by two points — there was never any worry. It was just, 'What do we need to work on? What do we need to fix?'"
Turning to experience, the Panthers soon righted the ship, winning their final seven league matches of the season, and captured their first Sunset Region title since 2013.
Now Palo Verde (28-9) will be looking to keep the turnaround going when it visits Sunrise Region runner-up Coronado (27-15) in a Class 4A state semifinal at 7 p.m. on Tuesday. Centennial (32-10) will face Sunrise champ Las Vegas High (21-8) in the other semifinal at 5 p.m. at Coronado.
The Panthers, who have made state appearances in five of the last six seasons, are seeking their first state title since 2015. Last season, they were swept by Green Valley — which went on to win it all — in the state semifinals.
It was experience that helped Palo Verde dig out of its early-season hole this year following losses to Centennial, Arbor View and Shadow Ridge. The Panthers, who returned eight lettermen from last season's team, have 13 upperclassmen on their roster.
"It all goes back to our guys being experienced," Clarke said. "It would've been easy for them to panic (at our 0-3 start). But they never did. They realized they had to work. …
"It actually was good to get a little kick in the butt because that's when we stared turning things around. I don't know if we have the same fight today if we didn't have that to start league play."
But was exactly was the difference?
"We haven't needed one guy in particular," said Clarke, highlighting his team's depth and balance. "There are multiple guys who have stepped up. It's kind of good that no one can pick out a go-to (player). We do have guys that we can ride and that will carry us, but it's been nice not having to just rely on one person. And it makes it even more fun for the players to see contributions from so many different guys."
That balanced attack is something Clarke hopes will continue at state, as it helped in defeating Sierra Vista, Bishop Gorman and Centennial in the region tournament. At this point, though, he knows nothing needs to be said to his players.
As the old saying goes, they have 'been there and done that.'
"It's just different with this group," Clarke said. "You can tell (certain) teams all about it, but it's a little different when they've experienced it themselves as players."
More Preps: Follow all of our Nevada Preps coverage online at nevadapreps.com and @NevadaPreps on Twitter.
Contact reporter Ashton Ferguson at aferguson@reviewjournal.com or 702-383-0430. Follow @af_ferguson on Twitter.