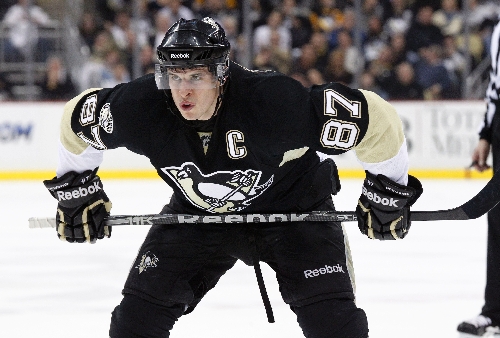 PITTSBURGH — Sid the Kid is back.
Pittsburgh Penguins superstar Sidney Crosby will make his season debut today against the New York Islanders, his first game in nearly a year since being sidelined with concussion-like symptoms.
Crosby hasn't played since taking shots to the head in consecutive games in January against Washington and Tampa Bay.
The 2007 NHL Most Valuable Player spent the last 10 months undergoing a painstakingly thorough rehabilitation that left him wondering when — or even if — he'd play again, and forced the league to take a harsher stance when it comes to policing head hits.
His return ends weeks of speculation that appeared to put the ever-polite Crosby on edge, but hardly bothered his teammates. The 24-year-old declined repeated interview requests in recent weeks as the speculation about a possible return date reached a fever pitch.
The announcement made an immediate splash. Versus (Cable 38) quickly said it would televise the Islanders-Penguins game instead of its previously scheduled broadcast of Boston's trip to Montreal.
Crosby missed the remainder of the 2010-11 season after taking a hit from Tampa Bay's Victor Hedman on Jan. 5. The expected brief absence turned into an extended one that rendered him a spectator for Pittsburgh's loss to the Lightning in the opening round of the playoffs.
He vowed to be ready for training camp but spent much of the summer in seclusion in his native Canada, his silence fueling speculation his career may be in jeopardy.
Crosby came forward in September and — flanked by the two doctors who have overseen his recovery — said it was "likely" he would be back this season.
He began training camp wearing a white helmet to signify he wasn't to be hit, working feverishly for a month before switching to a black helmet after being cleared for contact on Oct. 13.
Penguins coach Dan Bylsma preached caution, though his teammates did their best to accommodate their captain, jostling with him in practice when given the opportunity.
Crosby has traveled with the team throughout the season. He's missed one skate since camp began in September, skipping a practice in Los Angeles on Nov. 5 so he could travel back east to visit with his medical advisers.
His teammates stressed there was no need for Crosby to rush, and the Penguins have been one of the league's top teams through the season's first six weeks behind the goaltending of Marc-Andre Fleury and a dynamic offense led by Evgeni Malkin and James Neal.
Despite a miserable road trip to Florida that ended with losses to Tampa Bay and the Panthers, Pittsburgh (11-6-3) is tied with Philadelphia for the Atlantic Division lead with 25 points.
Crosby was cleared on Sunday after meeting with his medical team, and Bylsma could feel Crosby's excitement when he was finally given the OK.
"He's excited and anxious," Bylsma said.
Bylsma said Sunday he will pair Crosby with Pascal Dupuis and Chris Kunitz. How many shifts Crosby will see today is unclear, though Byslma said it's highly unlikely he'd throw Crosby out there for 20-plus minutes.
Not that it matters. Not this week anyway. Crosby's return coincides with the start of a three-game homestand that will generate the kind of buzz normally reserved for late spring.
"We know what he means to this team, this city," defenseman Kris Letang said. "He's a special player."
One who spent months dealing with "fogginess" that at times made it difficult for him to drive or watch television. He also endured painful migraines and likened the recovery process to a roller coaster.
The ride appears to be finally pulling into the station, sending Crosby out into the great unknown.
For all the steps he's taken during his recovery, the real test will come when he gets hit for the first time at full speed — though the nature of the game might be changing thanks in part to Crosby's ordeal.
New league discipline czar Brendan Shanahan, only three years removed from his playing days, has been suspending players for taking unnecessary head shots at opponents.