Pension is players' safety net
February 15, 2010 - 10:00 pm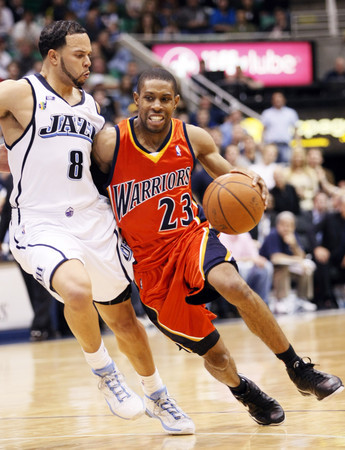 Shawn Marion has had a good NBA career. Not as good as Michael Jordan, but good enough.
Marion has averaged 17.4 points and been an All-Star four times. He has been to the playoffs six times and represented the United States in the Olympics and FIBA World Championships.
Unlike Jordan, Marion has no rings, no Olympic gold. But the former UNLV star is on the same level as Jordan in one area. Marion will be paid the same NBA pension when he turns 62 as Jordan will get — $195,000 per year.
"That's pretty funny. But I don't think (Jordan) is worried about it," Marion said.
Under the NBA collective bargaining agreement, a player becomes vested in the pension plan after he plays three seasons; the annual retirement benefit for a three-year player is $56,988. Players with 11 years of service, a milestone Marion reached this month with the Dallas Mavericks, are entitled to the maximum benefit of $195,000.
Any player who began the season on an NBA roster and was still on the roster Feb. 2 is credited with a year of service in the pension plan. That was an important date for the 31-year-old Marion, because even though he is making a $6.6 million salary this season, he's on the downside of his career and happy to know he has maxed out his rainy-day fund.
"I've always tried to take care of my money and live within my means," he said. "You have to prepare for your life after basketball and it's a great achievement to be in the league that long."
Other NBA players with Las Vegas ties have qualified for pensions. Bishop Gorman product C.J. Watson, in his third season with the Golden State Warriors qualified this month. Former UNLV player Louis Amundson, in his second season with the Phoenix Suns and fourth in the NBA, has accrued enough time to be vested. His one-time Rebels teammate, Joel Anthony of the Miami Heat, has qualified by reaching his third season.
"It was a big deal to me," said Watson, who is making just over $1 million after signing a one-year contract with the Warriors. "During the summer when I was trying to get a three-year deal, I was thinking of that with the pension in mind because I thought you needed six (years). But when I found out I made my pension this year, that was a real relief.
"I always try to think of my financial future because you're not going to be able to play forever and it's real hard to stay in the NBA. There's a lot of guys out there who want your job."
Anthony, making $825,497 this season, said: "It's important to be prepared. I didn't even realize I made (the pension) but when you think about retirement, you want to have a good pension. I see it as a blessing."
In addition to a pension, the NBA offers a 401(k) option in which it matches 140 percent of a player's contributions. (In most workplaces, employers match no more than 50 percent.) A player who invests liberally in his 401(k) could pile up a huge sum that can be tapped into at age 591/2.
"I'm taking advantage," said Amundson, whose salary is $855,189. "I put the maximum amount in because you can't beat 140 percent.
"I'm trying to manage my money and put as much away as possible because who knows if there's going to be a lockout (in 2011)? Now's the time to be smart with your money."
Mike Higgins, a Las Vegas-based agent who represents Watson, Anthony and Marcus Banks, said he encourages his clients to plan for life after basketball.
"I always counsel them on saving as much as possible," Higgins said. "A lot of guys don't think long term, but we try to instill that in them."
Higgins said clients might not regard their pension as a important now, but their attitude will be a lot different when checks start arriving in their mailbox.
"It is a big deal for those guys," he said. "You're talking about guaranteed income that's pretty substantial, especially the longer you stay in the league."
While Marion will get the maximum pension and Watson, Amundson and Anthony are on the lower fringes, Banks has seven years of pension service. The UNLV and Cimarron-Memorial High product is making $4.5 million this season as a reserve guard with the Toronto Raptors.
"Marcus is probably looking at a pension of somewhere around $100,000 (per year) right now," Higgins said. "These next few years are going to be important to him. Even if in two years he has to take a pay cut, if he can stay in the league and make his max pension, that would be big for him."
Contact reporter Steve Carp at scarp@reviewjournal.com or 702-387-2913.