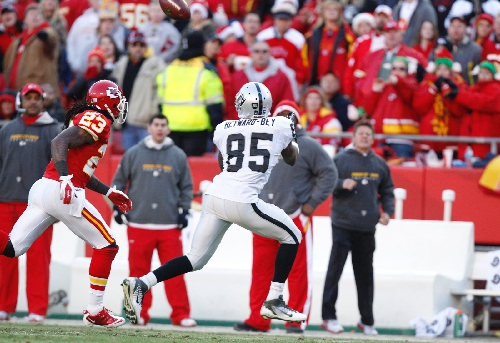 KANSAS CITY, Mo. — Carson Palmer knew that Darrius Heyward-Bey, perhaps Oakland's fastest wide receiver, could beat Kansas City's defense if he went deep down the field.
The Raiders just had to wait for the right moment.
The time came on the first play of overtime.
Heyward-Bey beat safety Kendrick Lewis down the left side, and Palmer hit him for a 53-yard gain, setting up Sebastian Janikowski's 36-yard field goal Saturday for a 16-13 win that kept the Raiders' playoff hopes alive and eliminated the Chiefs from contention.
"It was the right time to call it," Palmer said. "I wanted it earlier, but we saved it for the right time. The protection was flawless, and the route was great."
It was just about the only thing that was flawless.
The Raiders committed 15 penalties for 92 yards, one of them a delay of game that wiped out an audacious fake field goal that would have gone for a 36-yard touchdown pass. Palmer also threw two interceptions, and the Raiders converted only 3 of 11 third-down opportunities.
Oakland overcame all that and won on Janikowski's kick 2:13 into overtime.
"An ugly win is better than a pretty loss," Palmer said.
Especially given the stakes.
Oakland (8-7) can win the AFC West by beating San Diego next week and getting some help from — of all teams — the Chiefs, who travel to Denver.
"The man told me, 'Hue, we'll win it in the end.' I believe that," said Raiders coach Hue Jackson, reflecting on a conversation he had with Al Davis before the Raiders owner died in October. "I don't know how it's going to happen. I don't care how it's going to happen."
Oakland led 13-6 late in the fourth quarter when Kyle Orton connected with running back Dexter McCluster for a 49-yard gain, setting up a short touchdown toss to wide receiver Dwayne Bowe with 1:02 remaining in regulation.
The Raiders went three-and-out in short order, giving Kansas City the ball back with only enough time to get into field-goal range. Orton hit Bowe for 25 yards and wideout Terrance Copper for 11 more to set up Ryan Succop, whose 49-yard try was blocked as time ran out.
It was the second field goal that Succop had blocked.
The Raiders have won five straight games at Kansas City, but perhaps none as important as this one, with all four teams in the division beginning the day with a chance of making the playoffs.
The Chiefs (6-9) struggled to take advantage of drives one week after piling up a season-best 438 yards in a 19-14 victory over previously unbeaten Green Bay. That was their first game with Orton under center and interim coach Romeo Crennel calling the shots from the sideline.
Orton threw two interceptions against Oakland, one in the end zone in the second quarter and the other as the Chiefs were driving in the fourth.
The first half amounted to a cacophony of errors that ended in a 3-3 tie.
The Raiders, the most penalized team in the NFL and on pace to set a season record, were flagged 10 times by halftime for 57 yards, while the Chiefs were flagged eight times for 53 yards.
It wasn't just the quantity of penalties, either. It was the quality.
Cornerback Javier Arenas had an interception of Palmer wiped out by defensive holding in the first quarter, a turnover that would have given Kansas City prime field position.
The Raiders reciprocated on their next possession. With fourth-and-2 at the Chiefs 36, they pulled the fake field goal in which punter Shane Lechler, the holder on the play, threw a shovel pass to tight end Brandon Myers, who ran untouched around the right end for an apparent touchdown.
That was called back by the delay of game call, and Janikowski's 58-yard try hit the crossbar.
Bowe dropped an easy touchdown catch on the Chiefs' ensuing possession, and safety Matt Giordano picked off Orton in the end zone. Palmer gave it right back when Arenas intercepted him.
The Chiefs promptly wasted another scoring chance with a staggering string of penalties: intentional grounding, delay of game and false start, all in succession. Richard Seymour ultimately blocked Succop's long field-goal attempt, his first miss since Sept. 25 at Buffalo.
OAKLAND 16
KANSAS CITY 13
■ KEY: Sebastian Janikowski kicked a field goal in overtime after Ryan Succop's try on the final play of regulation was blocked.
■ NEXT: Chargers at Raiders (-3); Chiefs at Broncos (-3 1/2)