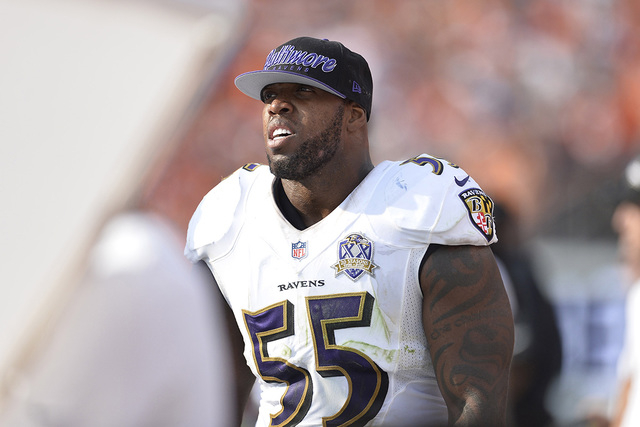 Baltimore Ravens linebacker Terrell Suggs was arrested early Friday morning for leaving the scene of an accident and driving with a suspended driver's license in Scottsdale, Ariz.
The Scottsdale Police Department said officers responded to a call of an accident at 1:20 a.m. and said they found Suggs' BMW with damage in a grocery store parking lot after following a fluid trail.
Police interviewed Suggs and said the six-time Pro Bowl linebacker was not impaired but detained him after determining he had a suspended license.
"This morning Terrell Suggs was involved in a single car collision, no one was injured," Suggs' publicist, Denise White, said in a statement. "Police were called and upon speaking with Terrell found his license to be suspended for speeding tickets. He was detained by the police and released a couple of hours later. Terrell will let the judicial system take its course and fix his license issues."
The 33-year-old Suggs went to Arizona State and lives in the Scottsdale area in the offseason.
"Terrell made us aware of the situation and we are looking into it," Ravens senior vice president of public and community relations Kevin Byrne said in a statement.
Suggs, who has 106.5 career sacks, is coming off season-ending surgery after suffering a torn left Achilles' tendon injury in the 2015 opener against the Denver Broncos.
Ravens general manager Ozzie Newsome said last week at the NFL Scouting Combine in Indianapolis that he expects Suggs to be ready for the regular-season opener in September.
Like Sports News on Facebook: