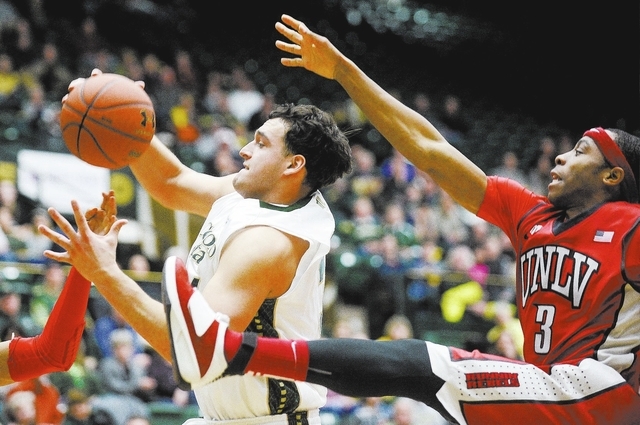 FORT COLLINS, Colo. — Always honest in his assessment of UNLV's performance, junior forward Khem Birch offered a quick response to a question about the team's defensive effort.
"I would give it an 'F.' We didn't come to play at all," Birch said.
It's hard to argue with his grade. The truth hurts sometimes, and the Rebels took a severe beating Wednesday night.
Daniel Bejarano did come to play, and he piled up 24 points, 10 rebounds and seven assists as Colorado State crushed UNLV 75-57 at Moby Arena.
One of the few players to show up for the Rebels, Birch finished with 15 points and 12 rebounds. He needed to make no apologies, but his team's sorry showing was a different story.
"It's one game," UNLV coach Dave Rice said, "but it's a very, very bad game."
Bad things tend to happen in threes, and the Rebels (15-8, 6-4 Mountain West) appeared disinterested, lackadaisical and sluggish. The Rams (13-10, 4-6) led by at least 13 points the entire second half.
"This is probably one of our worst defensive games of the season," Birch said.
It was one of UNLV's worst performances, period. Everything was lacking — the offensive and defensive effort and execution, and coaching adjustments.
A crowd of 3,702 braved subzero temperatures to watch the Rebels' four-game win streak get stopped cold. There were doubts about whether Bejarano would play, but those were answered right away.
Four days after getting benched after a heated confrontation with his coach, Bejarano was back in Colorado State's starting lineup. All was forgiven. Bejarano hugged coach Larry Eustachy and told him he loved him.
Awhile later, it was Rice who benched all of his starters. Midway through the second half, with UNLV hopeless and trailing by 21, Rice put reserves Daquan Cook, Jelan Kendrick, Carlos Lopez-Sosa, Demetris Morant and Kendall Smith in the game.
"When coach Rice does things like that, when he takes you out, there's a problem," Birch said.
The effort was the main problem, according to Rice.
"I wanted to make sure I had guys on the floor who would play hard," said Rice, rubbing his eyes. "I saw a group that was frustrated because we were struggling on the offensive end, and we allowed that to affect our defensive execution."
The Rams shot 25-for-50 from the field in the face of the Rebels' weak defensive resistance. UNLV defenders had little success stopping dribble penetration or cutting off any given player curling off a screen, and the result was a layup drill for Colorado State.
Birch was pulled away from the basket by the Rams' J.J. Avila, who made two 3-pointers and finished with 10 points.
"I didn't have a chance to get back or block shots," said Birch, who had two blocks.
Flaws in the Rebels' defensive scheme were exposed by Bejarano, who shot 6-for-12 from the field, including 3-for-6 on 3s, and 9-for-10 on free throws in 37 minutes. He said he set his differences with Eustachy aside after the Rams' loss at No. 5 San Diego State on Saturday.
"Nothing to prove," Bejarano said. "Move on from it, learn from it and get back out there. It felt good to be back on the court."
Eustachy never hesitated to make amends with Bejarano, Colorado State's leading rebounder and No. 2 scorer.
"He comes up to me before the game when we go to slap hands and goes, 'No, give me a hug,' " Eustachy said. "So, he hugs me and says he loves me in my ear. Now, don't take that too far, but there's a lot of respect there on both ends. That's why I'm coaching, to have those moments and watch a guy bounce back like that.
"I really enjoyed that win as much as I've enjoyed one here in a long time. It was neat. We needed to win this game."
Deville Smith had 13 points for UNLV, which shot 35.6 percent (21 of 59) on a night when starters Bryce Dejean-Jones, Kevin Olekaibe and Roscoe Smith combined for 11 points on 4-for-18 shooting.
"We had been playing good basketball," Rice said. "It was a very disappointing defensive effort. We allowed way too many easy baskets. We didn't do anything well."
Contact reporter Matt Youmans at myoumans@reviewjournal.com or 702-387-2907. Follow him on Twitter: @mattyoumans247.