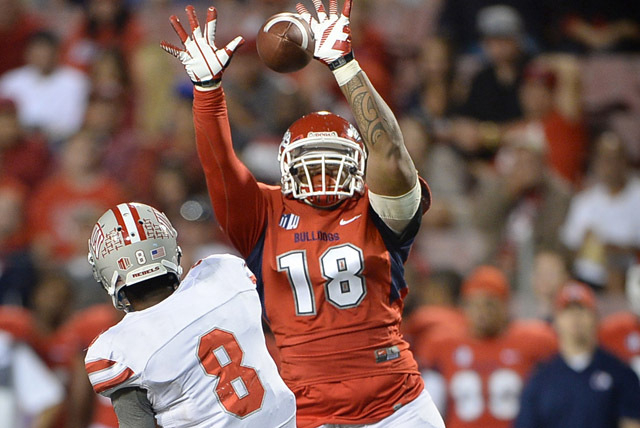 Previous UNLV football coach Mike Sanford was loathe to admit when he was outcoached, instead blaming "execution" for his team's shortcomings.
His successor, Bobby Hauck, admitted the opposing staff got the best of him and his coaches in Saturday's 38-14 loss at Fresno State.
But that's not what's most important. The key is what the Bulldogs' defensive game plan, which stymied UNLV's rolling offense, means going forward.
Will future opponents mimic Fresno State's approach, and will UNLV make the correct adjustments should it face a similar situation again?
"We all study film, and if somebody has success with something, you're going to see it again — offense, defense, kicking," Hauck said. "That's the way it is. We all do the same thing, coaches around the country. I'm sure we'll get tested with things that gave us problems last weekend and the week before and the week before that."
UNLV will see for certain in Saturday's 3 p.m. game at UNR whether Fresno State exposed weaknesses. The Rebels were shut out in the second half of that game, and their 14-point output ended a stretch of four consecutive games of more than 30 points.
And following back-to-back games of at least 568 yards, the Rebels were held to 294.
Hauck said the most notable change the Bulldogs made was in its coverage, going with a two-deep zone more often than expected.
That took away quarterback Caleb Herring's downfield targets, forcing him to settle for more underneath passes. He completed 27 of 42 passes but for just 161 yards.
Hauck said some of the pressure on Herring could have been relieved if not for a running game that gained 133 yards, the Rebels' second-lowest total of the season.
"Every week you see something different, and some weeks you respond to it really well, and some weeks you don't," Hauck said. "New Mexico came out with a whole bunch of different stuff for us, and we really responded well. So you've got to respond to it, and we didn't" at Fresno State.
FOUR-STEP DROP
■ UNLV is preparing to defend UNR quarterback Cody Fajardo, who is in his third season as a starter. But it's not a familiar matchup. Fajardo didn't play in last season's meeting because of back spasms, and his 2011 appearance was cut short after three turnovers in the first five possessions. Fajardo is a dual-threat quarterback, averaging 278.6 yards passing and 56.8 rushing. He also has cleared up the turnover problem; Fajardo has thrown a Mountain West record 187 consecutive passes without an interception.
■ UNLV and UNR will wear "SMS" decals on their helmets to honor the shooting victims at Sparks Middle School. Teacher Michael Landsberry was killed in the shooting A moment of silence will take place before the game, and one of the survivors, 12-year-old Mason Kamerer, is expected to join Gov. Brian Sandoval on the sideline.
■ This is UNLV's fourth game in a row and the fifth in the past six games that is available online. This time, it's on ESPN3, meaning fans should be able to view it, unlike the disaster of the Mountain West Network broadcast at Fresno State that wasn't available until well into the game. For those fans who wonder why so many games have been online and not on TV, it goes back to the collapse of the much-maligned The Mtn., which would have picked up many, if not all, of these games.
■ Rebels sophomore punter Logan Yunker began his college career at UNR. After redshirting, the Arbor View High School graduate transferred to UNLV and sat out last season. He's averaging 42.9 yards per punt, third in the conference.
FOR THE RECORD
■ Should he qualify, Shaquille Murray-Lawrence has a chance to break the Rebels' record for highest rushing average. Raymond Strong in 1976 averaged 7.3 yards per rush, based on a minimum 100 carries. Murray-Lawrence averages 9.7 yards but has just 37 attempts. He will get more opportunities, however, if starter Tim Cornett's right leg injury keeps him sidelined.
■ UNLV leads the Mountain West in pass efficiency defense, giving up a 113.6 rating.
■ The Rebels have lost only two fumbles, the best in the conference and tied for fifth nationally.
INJURY REPORT
POS.PLAYERAREASTATUS
DBSidney HodgeArmOut
FBMax JohnsonLegOut
DLAsten KokiLegOut
OLAlex NovoselBackOut
PKNicolai BornandLegDoubtful
RBTim CornettLegDoubtful
DLSonny SanitoaArmDoubtful
WRMaika MataeleArmQuestionable
OLAndrew ObergArmQuestionable
WRAaron CriswellArmProbable
WRDevante DavisLegProbable
DBMike HorseyArmProbable
RBS. Murray-LawrenceArmProbable
LBIggy PorchiaLegProbable
RBAdonis SmithArmProbable
WRAnthony WilliamsUnd.*Probable
*=undisclosed
Contact reporter Mark Anderson at manderson@reviewjournal.com or 702-387-2914. Follow him on Twitter: @markanderson65.