Reynolds trades in court for field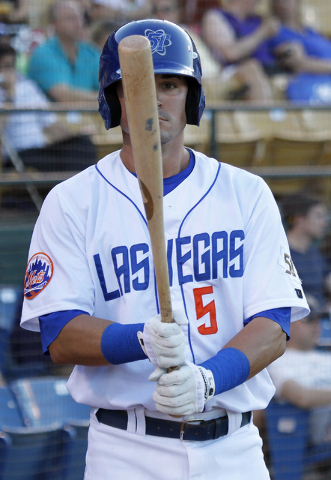 Before he was called up by the 51s this season, the only time infielder Matt Reynolds had been to Las Vegas was to play in a high school basketball tournament.
A four-year starting point guard for Bishop Kelley High in his native Tulsa, Okla., Reynolds was recruited by Kansas and Iowa State, among others, to play college basketball before deciding to play baseball for the University of Arkansas.
"It was tough to give up basketball, but I just decided that baseball was my best chance in the future," the 6-foot-1-inch Reynolds said Tuesday before going 2-for-5 with an RBI single, a run and a stolen base in the 51s' 7-5 loss to the El Paso Chihuahuas at Cashman Field. "I love baseball equally as much as basketball and thought I could make a career out of it, so I'm here now."
After earning first-team All-Southeastern Conference honors and third-team All-America honors and helping the Razorbacks to the College World Series, Reynolds was the Mets' second-round draft pick in 2012.
He has made a rapid rise through the minor league ranks, reaching Triple A in his second full season.
After struggling to a .226 average for Single-A St. Lucie (Fla.) last year, he bounced back to bat .355 this season in 58 games for Double-A Binghamton before he was summoned to Las Vegas on June 19.
"I just wanted to come in and show what I was capable of," Reynolds said. "I was pissed off last year at how I performed and worked my butt off this offseason training."
Reynolds, 23, worked with hitting instructor Rick Strickland, a Mets scout based in St. Louis, every other week in the offseason, driving five hours each way from his home in Fayetteville, Ark.
"I'd work out in Fayetteville for a week, then drive to St. Louis and stay up there for a week," he said. "I'd hit twice a day and probably take 500 swings a day. It's paying off. I'm glad I did it.
"He helped me with my swing a lot, just helping me stay through the ball a lot longer instead of getting in and out of the zone like I was last year."
Reynolds also has adjusted his outlook on the game.
"Last year I kind of beat myself up if I had a rough game," he said. "This year I just take a positive attitude to the field and every at-bat. Even if I strike out, I try to find a positive in the at-bat, if I took a close pitch or something like that."
Making a smooth transition to Triple A, Reynolds hit .400 in his first 15 games for the 51s and was batting .344 through 26 games before a 1-for-25 skid dropped his average below .300.
"You're facing a lot of veteran pitchers (in Triple A) who have been around the game for a long time. They know how to pitch," he said. "They can spot all their pitches, and when they find a hole in your swing, they attack it until you show you've made an adjustment — and I was struggling for the past couple of weeks because they found I was having trouble hitting the inside pitch."
After working with Las Vegas hitting coach George Greer on handling inside pitches, Reynolds recently regained his groove and has raised his average to .309.
Busting out of his slump in a big way, Reynolds is 8-for-17 with a triple, his first two homers — including a decisive three-run drive in Sunday's 6-5 win over Salt Lake — and six RBIs in his past four games.
"The past few games, I've been squaring up the ball on the inside part of the plate, and now I'm starting to get pitches back over the outside part of the plate where I prefer to hit," he said. "It's been a good learning experience and helped me get better."
Reynolds, who has played shortstop and second base this season, has exceeded 51s manager Wally Backman's expectations.
"He's a grinder. He's a kid that's been pushed pretty hard (through the system)," Backman said. "I know he can play shortstop and second, so he's definitely a prospect for us. It's just a matter of getting more games under his belt.
"Last year and this year he's been on the fast track. He was on the radar screen coming out of A ball, where he had an off year. He's made some adjustments, and he's knocking at the door right now."
While he still loves basketball, Reynolds has no regrets about the path he chose.
"It was pretty easy to see which sport I had a better future in," he said.
■ NOTES — Las Vegas native Donn Roach, a former Bishop Gorman and College of Southern Nevada standout, is slated to start today for the Chihauhaus. The right-hander is 2-4 with a 5.26 ERA in nine starts for El Paso. He opened the season with the San Diego Padres, going 1-0 with a 4.75 ERA in 16 appearances. … Mets righty Jacob deGrom, who started the season with the 51s, was named the co-National League Player of the Week after going 2-0 with a 0.68 ERA in two starts for New York. … Matt den Dekker doubled twice among his three hits, and Josh Satin had two hits and two RBIs for Las Vegas (62-50).
Contact reporter Todd Dewey at tdewey@reviewjournal.com or 702-383-0354. Follow him on Twitter: @tdewey33.