March 29, 2014 - 10:31 pm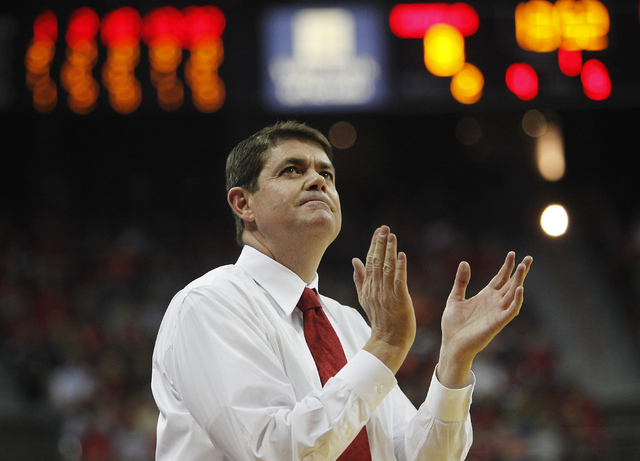 It might be that Dave Rice never seriously considered leaving Las Vegas. The truth, proven by his actions, is he never wanted to leave.
Rice was looking for a reason to remain as UNLV's basketball coach, and athletic director Tina Kunzer-Murphy and Don Snyder, the school's acting president, gave it to him Saturday.
A day after Rice received a surprising six-year contract offer from South Florida, he parlayed it into a new deal that provides him more job security at UNLV.
Kunzer-Murphy and Snyder announced they will recommend that Rice receive a two-year contract extension through the 2018-19 season, pending approval by the Nevada Board of Regents. Rice's current contract has three years left at $700,000 per year.
"I just want to talk about being the coach at UNLV," Rice said. "The administration is pleased with the progress they have seen both on and off the floor, and I'm pleased they see our positive future."
The Rebels finished the season 20-13 and missed the NCAA Tournament for the first time in Rice's three years. He has a record of 71-32 since being hired in April 2011 by former athletic director Jim Livengood.
A contract extension for Rice had been debated in recent months but gained little momentum until South Florida stepped forward with its offer of a six-year contract for $1.3 million per year, according to sources.
That was all it took to get the negotiating ball rolling.
A news release from UNLV stated that Rice's extension recommendation will include an incentive package that will provide additional compensation opportunities based upon the program's academic and athletic success.
No other details of the contract, such as a possible raise or buyout figure, were made available.
"I have great respect for Coach Rice and the job that he has done at UNLV," Snyder said in a statement. "The extension that we are proposing will provide a great opportunity for our program going forward. While there were some disappointments this past season, I am excited about the future of the program under Dave's leadership."
Kunzer-Murphy said Friday night that Rice had a "solid offer" from South Florida, and she met with Snyder the next morning to discuss the extension.
Rice rejected the South Florida offer before noon. He declined to elaborate on the courtship that created intense speculation about his next move and the Rebels' future. Kunzer-Murphy was contacted by several candidates interested in Rice's job, if he were to leave.
"I'm excited about our guys who are here and I'm excited about the recruits coming in," Rice said. "We certainly know that we need to get better."
Rice, a UNLV graduate and a reserve on the Rebels' 1990 national championship team, is coming off his worst season and he has not won a Mountain West title or an NCAA Tournament game as a head coach.
Last summer, his most heralded recruit, freshman Anthony Bennett, was the No. 1 pick in the NBA Draft. Rice also recently put together UNLV's most impressive recruiting class since the late 1980s, headlined by Findlay Prep shooting guard Rashad Vaughn.
Dwayne Morgan, a 6-foot-7-inch forward from Baltimore, and Goodluck Okonoboh, a 6-9 forward from Wilbraham, Mass., each signed a letter of intent in the fall. Vaughn, a McDonald's All-American, made a verbal commitment on Feb. 11 and cannot sign until mid-April.
If Rice had departed, his incoming recruiting class —ranked as one of the nation's top five — likely would have splintered and left the Rebels in a bad spot next season. But, now, that's a moot talking point.
The focus shifts to UNLV junior starters Khem Birch and Roscoe Smith. Birch is considering entering the NBA Draft. Smith has not said if he will return.
"I have maintained contact with our guys, through texting and on the phone," Rice said.
"Obviously, we've got a couple of guys with decisions to make. When I met with them, I advised them to take their time."
Contact reporter Matt Youmans at myoumans@reviewjournal.com or 702-387-2907. Follow him on Twitter: @mattyoumans247.