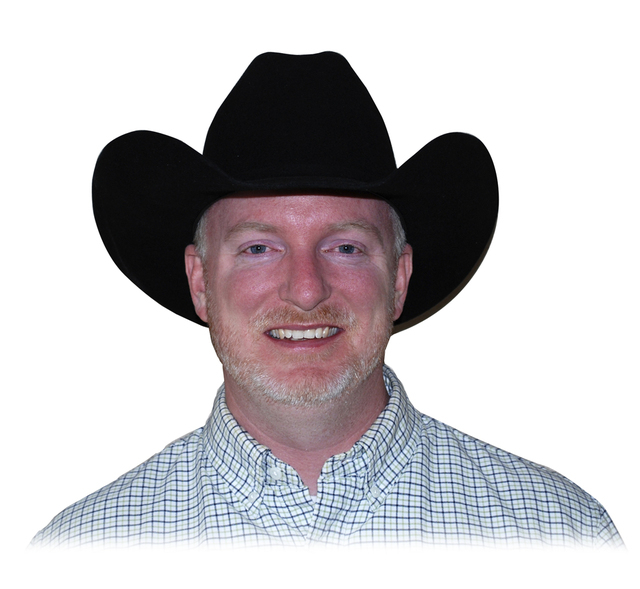 It's that time of year again!
Las Vegas residents no doubt have noticed the influx of thousands of visitors clad in cowboy hats and boots and Wrangler jeans this week. There's a good reason for that, as the Wrangler National Finals Rodeo is back yet again.
Starting today and for the next nine days, the Thomas &Mack Center will be flooded with rodeo fans from around the globe as the $6.25 million rodeo takes place in "Sin City" for the 29th installment of the prestigious season-ending rodeo, an event without parallel in the Western world.
I'm happy to be back for my 10th Wrangler National Finals Rodeo and with the Las Vegas Review-Journal for the second consecutive year as a guest columnist. Last year, I did my best to give R-J readers an inside look at the monumental rodeo, and it was a heap of fun writing about everything from first-time contestants and the Justin SportsMedicine Team to the Wrangler NFR Exceptional Rodeo and Military Night.
I'll be doing the same this year, although with varying and different topics and stories than what I covered last year. There are so many aspects to this event that the storylines are seemingly endless, so I'll have no trouble finding interesting things to write about.
More than 170,000 fans file into the Thomas &Mack Center every year, and the rodeo has been sold out for 270 consecutive performances. Las Vegas becomes "Cowboy Town" while the rodeo is taking place, and it's entertaining to see how far the casinos go to roll out the red carpet for Wrangler NFR contestants and fans each year.
As usual, there are dozens of great stories to look for at this year's rodeo. Chief among those involves Trevor Brazile, the reigning "Top Dog" of rodeo and face of the sport.
The 10-time world champion all-around cowboy once again has a healthy lead in the all-around standings, and he is a virtual lock to win his record 19th championship this year. That would put him No. 1 on the sport's all-time list for most gold buckles, one ahead of 18-time World Champion Steer Roper and Hall of Famer Guy Allen.
Family is supremely important to those in the Western and rodeo worlds, and so there are always family ties to talk about at the Wrangler NFR every year. For instance, Brazile's wife, Shada, qualified for her first Finals in the barrel racing, so there will be two Braziles competing at the Thomas &Mack Center.
World champion brothers Cody and Jesse Wright are one-two in the saddle bronc riding world standings and will duke it out over 10 nights to see who adds another consecutive year. It's the 55th Wrangler NFR and am thrilled to be a part of the gold buckle to their trophy case. Another Wright brother — there are seven total — Jake, also is competing in the saddle bronc riding and came in ranked seventh in the world, so he has a chance to win it all as well.
In the bareback riding, Bobby Mote, Kaycee Feild and Will Lowe have combined to win nine of the last 12 world titles, and they are first through third, respectively, in the world standings heading into tonight. It will be some shootout among the trio of champs, as well as a host of other challengers in that event.
With six of the top seven-ranked steer wrestlers coming into this year's rodeo without world titles,it is likely that event could see a first-time winner. Casey Martin leads the way, but bulldoggers Trevor Knowles, Matt Reeves, Jule Hazen, K.C. Jones and Hunter Cure also are itching for their first world titles.
Team roping will be a nail-biting battle yet again, and the champions in the heading and heeling could come from different teams. Clay Tryan leads the headers, with Jade Corkill ranked No. 1 among heelers, but it could be anyone's title to take.
Tuf Cooper — the son of Hall of Famer Roy Cooper — isn't exactly a "lock" to win his third straight tie-down roping gold buckle, but he's in great shape to do just that. He leads second-place Tyson Durfey by $37,179 and has been exceptional at the Thomas &Mack Center since first qualifying as an 18-year-old in 2008.
Barrel racer Mary Walker was the darling of the Wrangler NFR last year, winning the world title on her first try as a 54-year-old first-time qualifier just more than a year after losing her son in an auto accident and breaking her pelvis and hip in a nasty fall with her horse. She'll be back to defend her title this year and enters tonight's action in second place, just more than $10,000 behind three-time World Champion Sherry Cervi.
No bull rider could touch J.W. Harris from 2008-10, when he won three straight gold buckles in emphatic style. After finishing second to Cody Teel by a mere $1,056 last year and second in 2011 as well, Harris enters tonight's opening round with a $31,298 lead over second-place Tyler Smith and a burning hunger to continue building his legacy after back-to-back near-misses.
One of the coolest things about the Wrangler NFR is how accessible the contestants are during their time in Las Vegas.
Unlike the NFL's or Major League Baseball's championship events, rodeo contestants can be found at events around town every day during the rodeo's run, and fans have great chances to meet them and get up close and personal.
The first big example of that happens at 10 a.m. today at the Las Vegas Convention Center. Fans can go to Cowboy FanFest, located adjacent to the Cowboy Christmas Gift Show in the North Hall, and get autographs from world champions Cody Teel, Brazile, Feild and Walker as they help kick off the second annual FanFest.
Cowboy Christmas and FanFest — which offer free admission — are a barrel of fun and provide everything from great shopping, live music and autograph sessions to tasty food, stage shows and even a bull riding competition. They are must-sees for rodeo fans and Vegas residents alike.
These next 10 days are going to be a whirlwind, and Las Vegas will be rocking with excitement, and I can't wait to help bring it to you every day in the R-J's pages.
Buckle up folks, because it's going to be a great ride!
A freelance writer based in Colorado Springs, Colo., Neal Reid spent six years as editor of the ProRodeo Sports News. His writing has appeared in USA Today, Newsday, Western Horseman, American Cowboy and the Denver Post, among others. Follow him on Twitter @NealReid21.