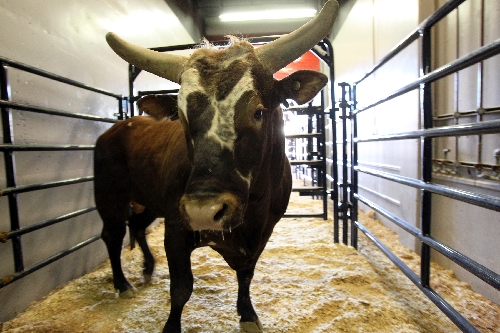 Football has Tom Brady, basketball's got Kobe Bryant, and Jimmie Johnson is the man in NASCAR.
Bull riding has Bushwacker.
The 1,500-pound American Bucking Bull has become the talk of this week's Professional Bull Riders World Finals at the Thomas & Mack Center. On the one hand, every rider wants a chance to ride him. On the other, there's not a cowboy who doesn't dread such a draw.
"When you know you're going to ride the rankest bull in the world in 24 hours, you don't sleep that good," said Oklahoman Cord McCoy, who was bucked off the 5-year-old beast in just 3.39 seconds Friday in Round 3 action. "I'd never been on him, but I'm just like every other bull rider. For three years, I've watched him take down the top riders week in and week out."
McCoy knew heading into the night that his odds of going eight seconds on the bull were not good, as Bushwacker has bucked off 28 consecutive riders and has not been successfully ridden in 13 tries this year.
But the riders maintain a love-hate relationship with Bushwacker, who was last season's rookie bull of the year. Because a portion of each score is based on the bull's performance, they know the payoff for a good ride is likely to be high.
"The first two times I got him, I actually picked him in the draft," said PBR rider J.B. Mauney, who has attempted to ride Bushwacker a record five times, with three attempts coming in the Touring Pro Division and two in the Built Ford Tough Series. "He was unridden, so I figured I wanted to be the one to ride him. It hasn't worked out yet."
Indeed not. In fact, Mauney has been fortunate to leave the arena in one piece on more than one occasion.
"Three of the five times, he's jerked me down and hit me in the face," said the 24-year-old rider from Mooresville, N.C. "Just a few shaving scars."
Fans love Bushwacker. His image appears on posters throughout the Thomas & Mack, and T-shirts featuring the bucking beast are selling at a brisk rate.
Bushwacker's popularity is no fluke. He was the high-marked bull in nine of his 12 events heading into this week's competition and is ranked No. 1 with four of the top five scores this season.
In fact, McCoy said Bushwacker's caliber already contends with legendary bulls such as Bodacious, the Charbray that dominated Professional Cowboys Rodeo Association riders until his retirement in 1995.
"Twenty years from now, people are still going to be talking about Bushwacker," McCoy said.
Will he ever be ridden? He actually was once, by Thiago Paguioto in the 2009 World Finals. But he was only 3 years old then and had not matured into the fierce machine he is today.
Mauney remains a believer, and he anxiously awaits his next opportunity.
"You've got to be a cowboy about it," said Mauney, who lasted just over 6 grueling seconds on Bushwacker at Lake Charles, La., earlier this season. "You've got to be strong down and keep your hand shut. If he gets straight up on you, you're going to meet his head."
McCoy was aware of those requirements Friday, but they're not as easy to pull off as one might think. He would, however, welcome another attempt.
"The odds are definitely stacked against you when you draw Bushwacker," McCoy said. "But all you have to do is stay on him to win first and put your mark on history."
Bushwacker, who was the top-scoring bull with 48.5 points on Friday, was not the only tough ride of the night. Only 10 cowboys had successful rides, led by Paulo Ferreira, who scored 91 points. Justin Koon was second with 89.75 points, and Robson Palermo scored 87.5 points to claim third.
Brazilian Silvano Alves closed in on the season title by becoming just the second rider to go eight seconds on YoYo this season. With a score of 82.75 Friday, he leads the series with 12,974.25 points. Countryman Valdiron Oliveira remained in second place with 10,987.25 points, and Palermo, another Brazilian, is third with 9,439.75 points.
Round 4 competition starts today at 6 p.m., with the finals scheduled for Sunday at 11:30 a.m.
AUSTRALIAN HOSPITALIZED
Australian PBR rider Jason O'Hearn, who entered the World Finals on Thursday as an alternate rider, was in critical but stable condition at University Medical Center on Friday night.
O'Hearn was bucked off Hot Stuff in Thursday's second round of competition and suffered a skull fracture when he was kicked in the back of the head by the bull.
PBR officials expected O'Hearn's full recovery and projected he would be allowed to leave UMC in "a couple of days."
LAS VEGAS REVIEW-JOURNAL