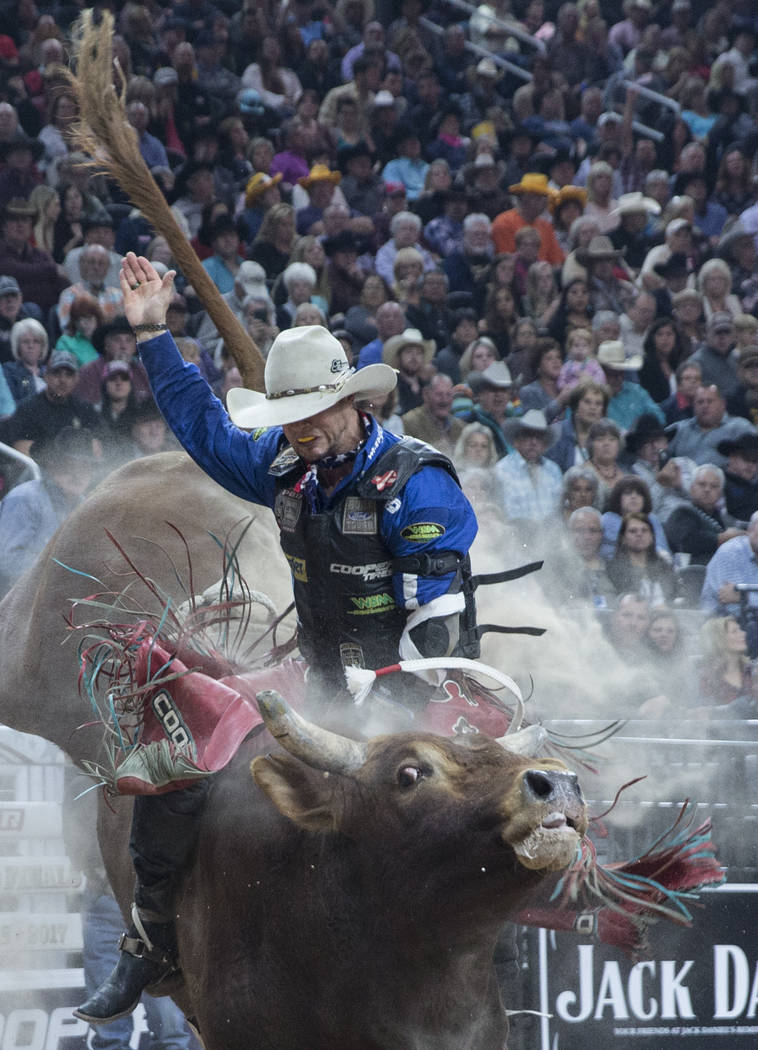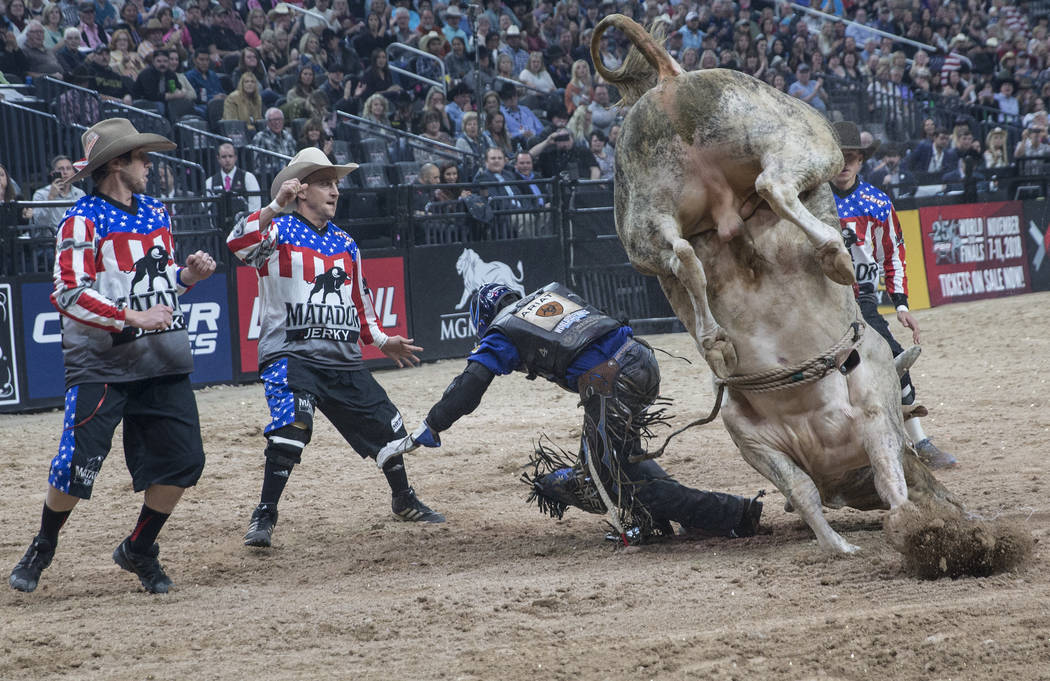 Life hasn't changed much for Cooper Davis in the past year — or so he says.
He paid down his house, and sometimes he gets noticed at the airport, but mostly it's the "same old, same old" for the 23-year-old from Jasper, Texas.
"It's cool to be noticed, but I want to be known as just the same old guy that I always have been," Davis said.
That "same old guy" is the one who made a come-from-behind run at the PBR World Finals a season ago to overtake Kaique Pacheco and become a world champion.
Davis is back in Las Vegas but faces an uphill battle Sunday as he tries to retain his title.
It's been an inconsistent year for Davis, but he's third in the world standings after the fourth day of the World Finals, 454.17 points behind leader Jess Lockwood. The final round begins at 12:45 p.m. Sunday at T-Mobile Arena.
Davis is tied for seventh in the event standings after riding but not receiving points Wednesday, getting bucked off Thursday, scoring 90 on Friday and getting bucked off Saturday.
He has come on strong in the second half of the season after a slow start to begin the year.
"When I was 18 and really just starting to go to PBRs and things like that, it was always in the back of my mind to win one, but to win one that early, it really, to be honest with you, took the fire away from me in the first half of the season," Davis said. "Now I know the significance of it. I've had time to cherish it and really want it again. To win it that early, it takes some getting used to because it's not something I think a guy expects that early in his career."
There has been an additional layer of pressure on him as the defending champion. That started at the Monster Energy Buck Off at New York's Madison Square Garden — the first event of the year.
"Whenever I walked into New York this year, I felt all kinds of awkward because I'm not normally the guy that had that big target on his back and everybody's coming to get you," Davis said. "I like to kind of hang back and sneak up on them, but when you're ahead, man, it gets tough on a guy that doesn't like that light."
It's something Davis will have to get used to, as he's still near the beginning of a promising career.
In 2015, Davis was the runner-up in the PBR Rookie of the Year standings. He capped the year with an event win at the World Finals.
Then, the next year, he reached the pinnacle of his sport.
And even if he doesn't repeat this year, he'll likely have that target on him again at some point.
"You can take positives from it, but it's not a success unless you win it, so I can take bits and pieces of this year if I don't end up winning and say, 'Well, that's something I'll cherish forever,' but at the end of the day what it boils down to is a gold buckle," Davis said. "That's what we're ultimately after."
Contact Betsy Helfand at bhelfand@reviewjournal.com. Follow @BetsyHelfand on Twitter.
If you go
What: PBR World Finals
When: 12:45 p.m. Sunday
Where: T-Mobile Arena
Tickets: pbrfinalsweek.com
Saturday: The top three riders in the standings — Jess Lockwood, Derek Kolbaba and Cooper Davis — were bucked off. Lockwood had won each of the first three rounds.
Jose Vitor Leme turned in the top ride, riding Big Dutch for 90.5 points.