Former Rookie of the Year Kaique Pacheco looking to add PBR world title
November 2, 2016 - 10:50 pm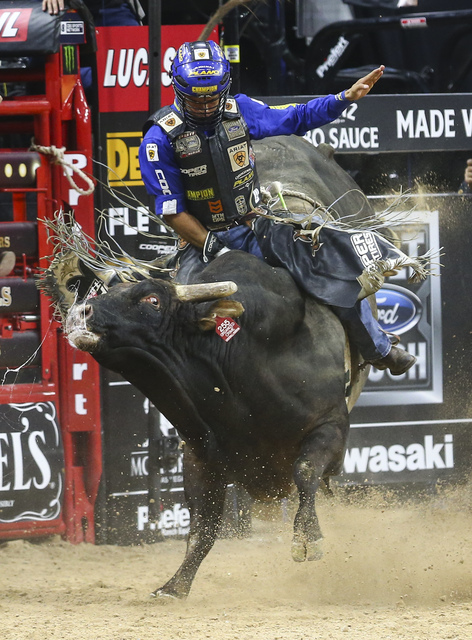 The top 10 riders in the Professional Bull Riders standings took the stage Wednesday morning at Toshiba Plaza ahead of the World Finals at T-Mobile Arena.
And of those 10, three were younger than 25.
"We've got some fresh young new faces in the PBR," CEO Sean Gleason told the crowd at a news conference. "We have a number of guys that are under 23 years old, so we've seen some new talent come in."
And perhaps the best of that new talent is 22-year-old Brazilian Kaique Pacheco, who has commanded attention as a rising star.
Pacheco was last year's Rookie of the Year. This year, he entered the World Finals in first place in the standings after spending nine of the past 11 weeks there.
In the first night of competition, Pacheco posted a score of 84.25 and held onto first place.
If he wins the World Finals, Pacheco would be the second person to be crowned Rookie of the Year, followed by a world title. Fellow Brazilian Silvano Alves accomplished those feats in 2010 and 2011.
Pacheco finished second — the highest a rookie has finished — in last year's standings, behind J.B. Mauney.
This year, he's at the top, along with Cooper Davis, also 22, and Mauney.
"We have the tightest race in our history at the top of the race, and they're all within effectively one round of changing the lead, which they've done all season," Gleason said. "Each one of them has held the No. 1 position this season in the world standing."
Pacheco, of course, hopes that lead still will stand at the end of Sunday and will do everything in his power to take home the title.
"(I) just want to do a good job," he said through a translator. "(I'm) very calm."
The calmness makes sense given he's been around the sport for most of his life. He's been riding since he was 12 and started professionally at 17. He takes after his father, uncle and grandfathers, who all also rode.
He still gets advice from his dad.
And as one of the Brazilians competing, he also can seek help from some older Brazilian mentors, including Alves.
"Since it's just a few Brazilian riders in the United States living here, (we) do help each other just like a little family," Pacheco said. "If they see something wrong, they go ahead and they give the hint, but (we) … help (each other)."
These days, it doesn't seem as if Pacheco needs much advice, though.
Coming into the World Finals, he was tied with Davis and Ryan Dirteater for the most event wins and has spent his fair share of time in first place.
Now, he just has one more event in front of him.
"(It would be) a big accomplishment for (my career)," he said. "It's (my) dream."
Contact Betsy Helfand at bhelfand@reviewjournal.com. Follow @BetsyHelfand on Twitter.
PBR World Finals
When: 6:15 p.m. Thursday, 6:15 p.m. Friday, 7:15 p.m. Saturday, 12:45 p.m. Sunday
Where: T-Mobile Arena
Tickets: From $36 for P6 to $1,000 for Elite Seats
Website: pbr.com