Nearly unrideable Bushwacker becomes three-time champion
October 27, 2014 - 7:41 am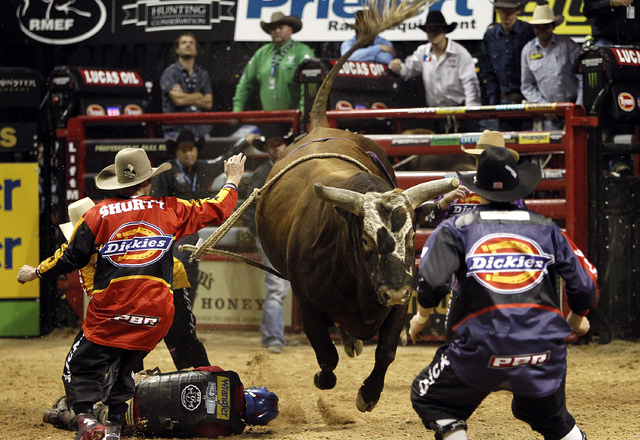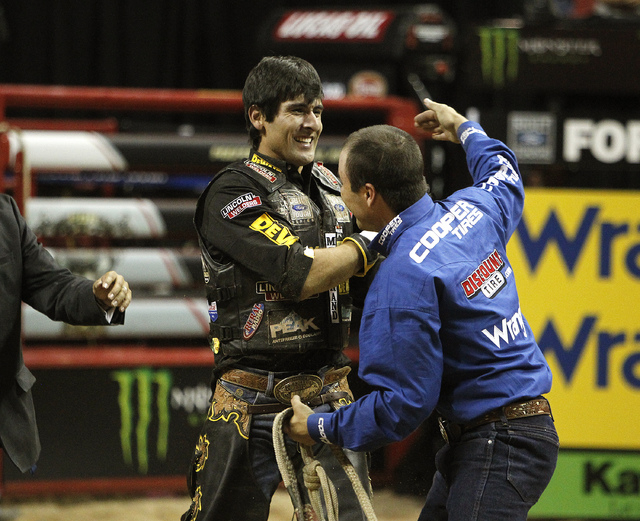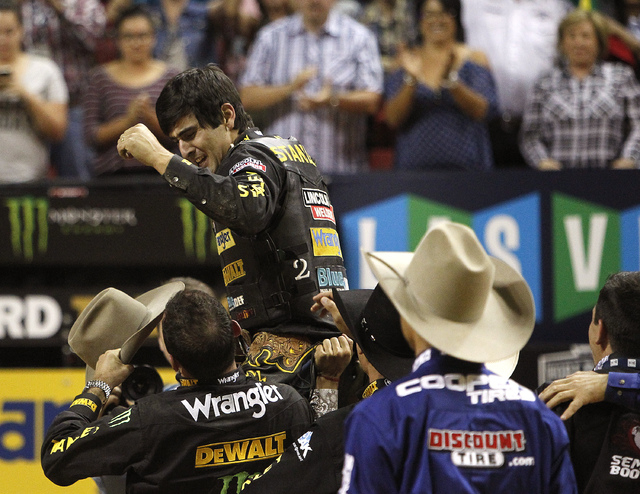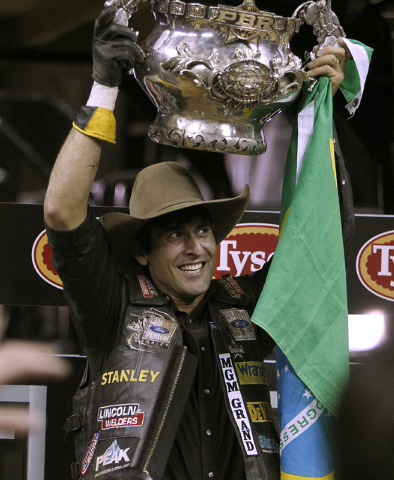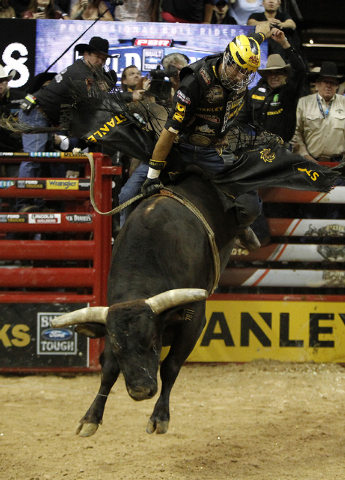 Arguably the best bucking bull ever, Bushwacker capped his career in style Sunday by winning his third Professional Bull Riders world title at the PBR World Finals at the Thomas &Mack Center.
Bushwacker — who joined Little Yellow Jacket as the only two three-time PBR world champion bulls — finished with a flourish in the final round. The 1,750-pound bull bucked off 2004 PBR world champion Mike Lee for a score of 46.50 points in front of a crowd of 17,204, then stepped on him for good measure before leaving the building.
The 8-year-old, who bucked off 64 of 66 riders in his PBR career — including his final 20 after J.B. Mauney ended his 42 consecutive buck-off streak last year — will be put out to stud by owner Julio Moreno.
"He'll stay in a pen for a couple weeks and I can pet him, probably," Moreno said, jokingly. "But after that he'll go out with some cows."
Asteroid had a chance to edge Bushwacker for the world title but came up short in the final ride of the event against Silvano Alves, who rode Asteroid for 87.25 points to punctuate a perfect performance at the Finals.
The only rider to stay on all six of his bulls for eight seconds, Alves won the event title and the world title, joining fellow Brazilian Adriano Moraes as the only two three-time world champions in PBR history.
Alves, 26, trailed countryman Joao Ricardo Vieira by a little more than 500 points entering the 21st annual Finals here but shot past him with the help of the 2,500 bonus points that are awarded to the event winner to claim his third world title in four years.
Only the second rider to go 6-for-6 at the Finals (joining Mauney) and fourth rider to win the Finals title and world title in the same year, Alves overcame a miserable start to his season en route to the championship.
In fact, he didn't lead the PBR standings all year. Until Sunday.
"It really means a lot to me because at the beginning of the year, I wasn't riding that great," Alves said through a translator. "Thankfully I was able to stay healthy and come from behind. Thank God I was able to ride all six of my bulls this year because it means a lot to me to win this championship again."
Alves, who also rode Hokey Pokey for 85.5 points Sunday, rode his final 11 bulls this season and led the PBR Series with 50 rides overall.
The Finals was the only event won this season by Alves, who earned $1.27 million at the Finals — including $1 million for winning the world title and $250,000 for the event title — to run his career earnings to $5.25 million, which makes him the richest Western athlete ever.
Vieira, the 2013 PBR Rookie of the Year, rode only two of six bulls here and settled for second in the world standings. Matt Triplett placed third, and Mauney finished fourth.
Mauney took second in the event standings despite suffering a broken jaw Saturday when he butted heads with Bruiser at the end of his 93.25-point ride, which won the round.
Mauney, who won three rounds and rode five of six bulls in the Finals, rode both of his bulls with a broken jaw Sunday, winning the short-go with a 94-point ride on Percolator.
J.W. Harris, the four-time Professional Rodeo Cowboys Association bull riding world champion, earned Rookie of the Year honors in his first foray into the PBR. Harris, who took third in the Finals, rode four of six bulls and won two rounds, including Sunday's fifth round, when he scored 90.5 points on Pound the Alarm.
Bushwacker also bucked off Brady Sims on Thursday. Besides Mauney, who surpassed $5 million in career earnings with his gutsy Finals effort, Elko's Markus Mariluch was the only other PBR rider to stay aboard Bushwacker, who was more than 300 pounds lighter at the time than he is now.
"When he started as a classic bull here in 2009, he was like a 1,400-pounder," Moreno said. "I sent him to (late PBR stock contractor) Kent Cox and he made him the big superstar he is today, 1,750."
Moreno said the key to Bushwacker's success was simple.
"He has a big heart," he said. "He likes to buck."
Contact reporter Todd Dewey at tdewey@reviewjournal.com or 702-383-0354. Follow him on Twitter: @tdewey33.