PBR's Last Cowboy Standing, Helldorado Days ride into Las Vegas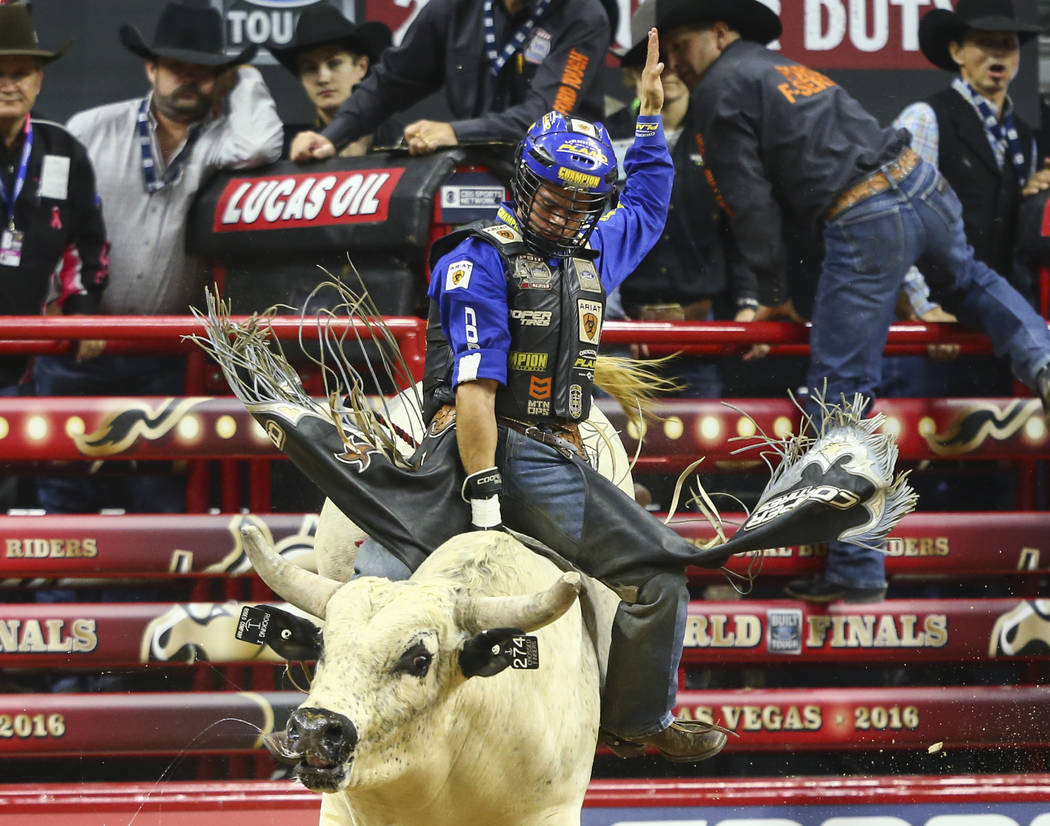 Sean Gleason didn't want to give the wrong answer when asked whom he considers the favorite in the Professional Bull Riding competition this weekend in Las Vegas.
"I'm pulling for all 40 guys," he said. "I'll refrain from picking."
Gleason's political response is understandable. He's the PBR's CEO after all.
The PBR is back in town for its major event, Last Cowboy Standing, at which the top 40 bull riders in the world battle to collect standings points and a first-place prize of $100,000.
For the third straight year, the PBR will collaborate with the World Champions Rodeo Alliance to host the long-running Helldorado Days.
Last Cowboy Standing will headline the weekend of western sports at the Thomas & Mack Center. The annual PBR event takes place at 7:45 p.m. Friday and Saturday. The competition will be shown on CBS Sports Network.
To advance to the next day, riders must make the eight-second buzzer against the rowdiest bulls. The competition continues until one cowboy remains, the man who rode the most bulls consecutively.
Not many would have complained if Gleason named Kaique Pacheco the favorite. The Brazilian was the "Last Cowboy Standing" the past two years.
Pacheco, fifth in the world standings, has plenty of competition. Fellow Brazilian Claudio Montanha Jr. is atop the leaderboard, and Tennessee's Cody Nance has won three events this season and is ranked third.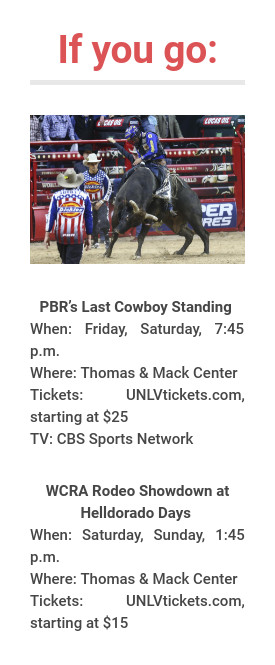 "This time of year, they're all beat up and definitely hurting because they've been riding nonstop since the first of the year," Gleason said. "So my guess is going to go to the guy that feels the best and is the healthiest."
The WCRA Rodeo Showdown at Helldorado Days will include the seven standard rodeo events — bareback riding, saddle bronc riding, steer wrestling, team roping, tie-down roping, barrel racing and bull riding. The rodeo starts at 1:45 p.m. Saturday and Sunday.
The PBR will return to the Thomas & Mack Center after a two-year hiatus. The PBR World Finals were on the UNLV campus for more than 20 years before moving to T-Mobile Arena in 2016 and will return there in November.
Last Cowboy Standing was at the Las Vegas Village from 2015 to 2017.
The PBR, in its 25th year, continues to grow in popularity.
"We've set 12 attendance records in the cities we've visited so far this year, and we're doing exceptionally well and having one of our better years in our history," said Gleason, who has worked for the PBR for 18 years. "We've seen phenomenal growth in the last three to four years, and it continues for our 25th anniversary."
Contact Gilbert Manzano at gmanzano@reviewjournal.com. Follow @GManzano24 on Twitter.