PRCA champ Sage Kimzey experiences first PBR World Finals
November 2, 2017 - 11:17 pm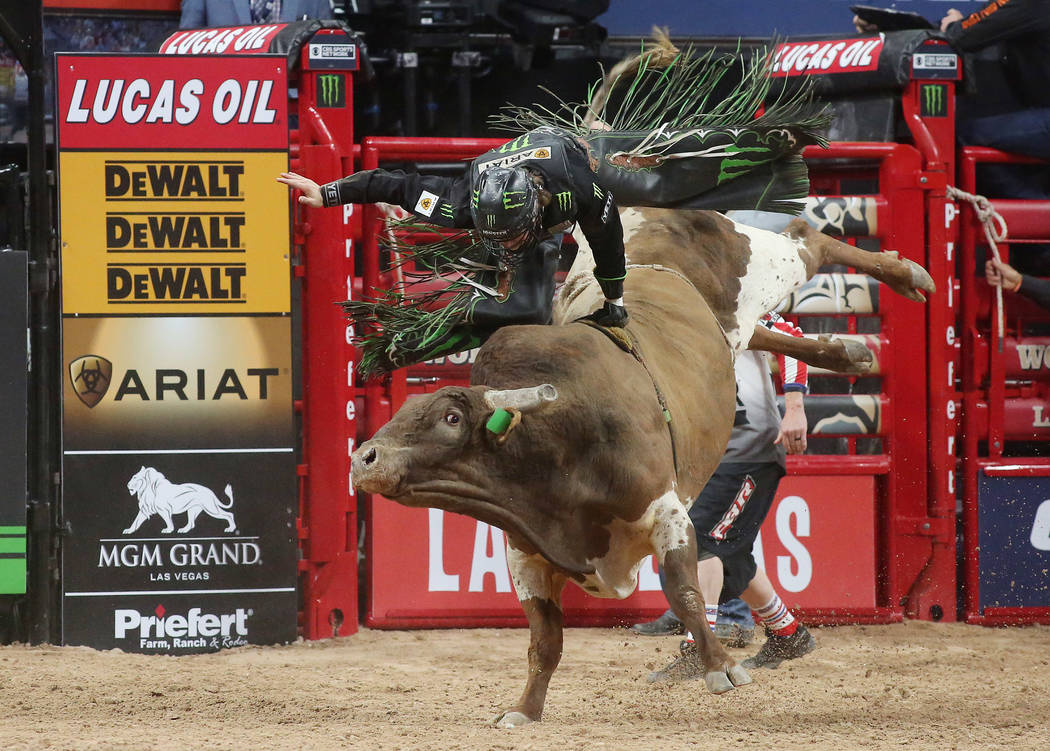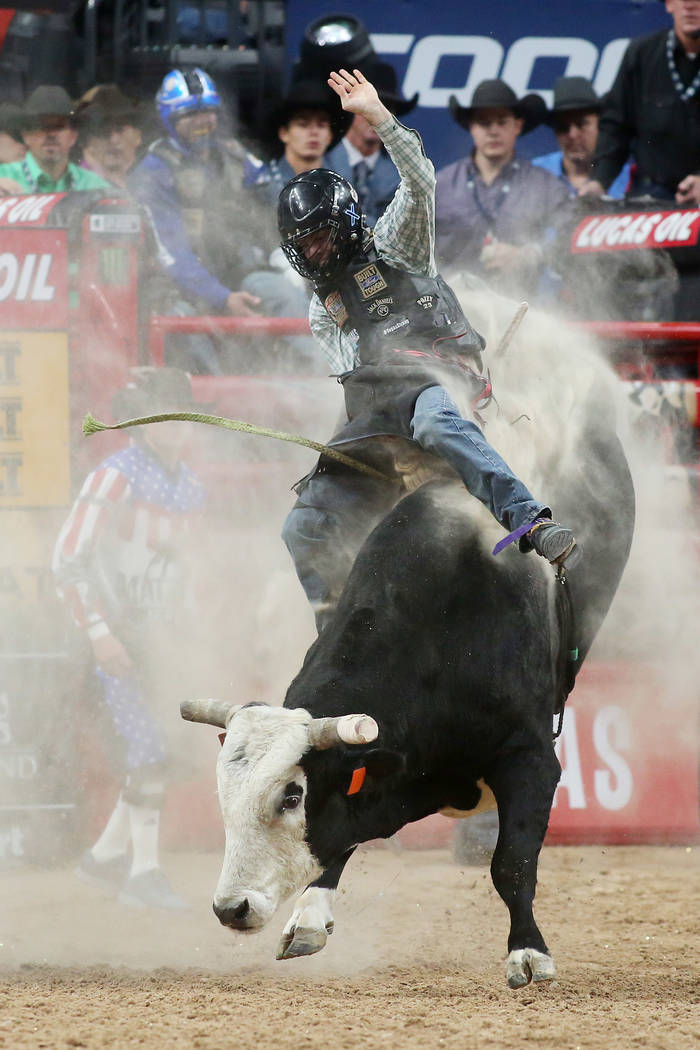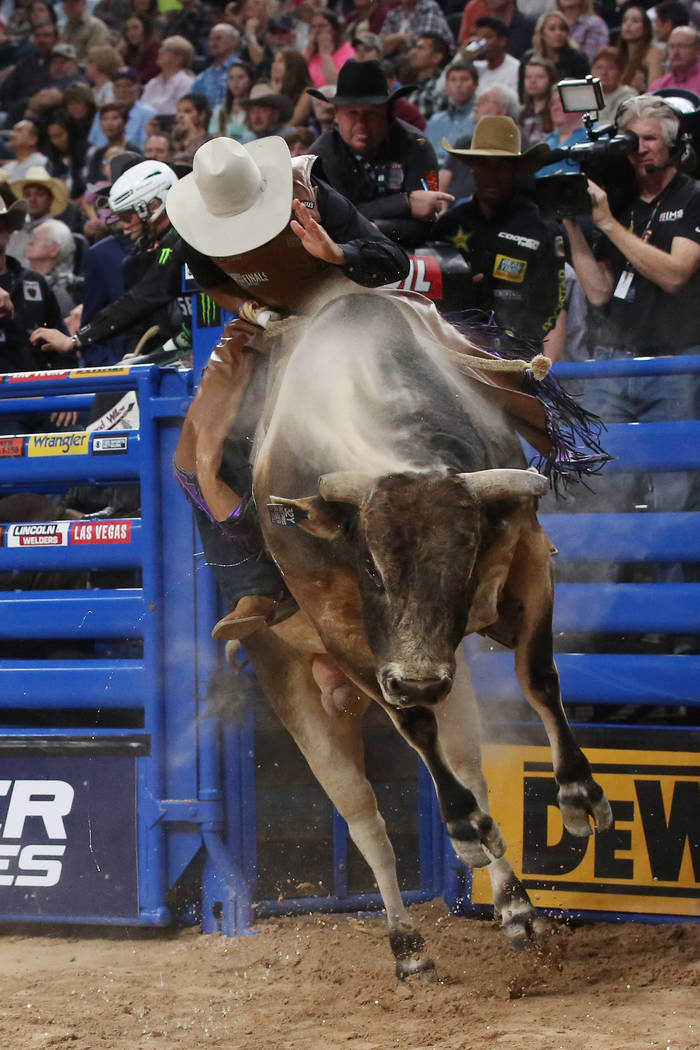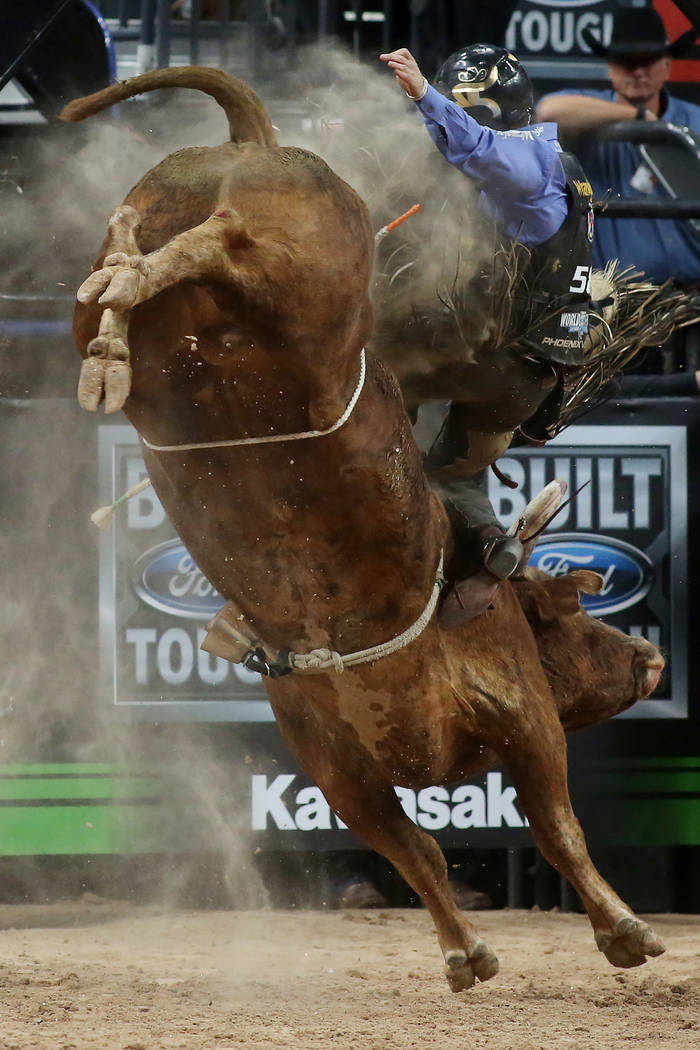 Sage Kimzey rode into the PBR World Finals with seemingly all the confidence in the world.
Though it is his first World Finals, he had every reason to be confident.
Kimzey, the reigning three-time PRCA World Champion, has had success since he burst onto the scene, and the 23-year-old from Strong City, Oklahoma, will enter next month's National Finals Rodeo again as the top-ranked bull rider.
But before that, he has a chance to make some noise at the PBR World Finals.
And he intends to do so.
Kimzey earned an automatic bid to the World Finals after winning the Velocity Tour Finals last weekend at South Point Arena.
"I really expect to have a bunch of success here. I have a lot of experience in Vegas in high-pressure situations with being at NFR and everything," Kimzey said. "It's something that's always kind of been in the back of my mind to make the PBR Finals, and I like getting on really good bulls for a bunch of money."
Kimzey was bucked off quickly Thursday but on Wednesday, he placed sixth in the first round of competition with an 87, earning 50 event points. After two days of competition, he sits in 10th place.
"He obviously proved he's one of the best bull riders in the world this past weekend, riding all of his bulls at the Velocity Tour Finals," PBR CEO Sean Gleason said shortly before the Finals began. "I think that if he can keep that momentum moving forward and he wins some round or places high in some rounds and scores some points, it's obviously going to have an effect on the world standings."
Though Kimzey has said he doesn't currently have plans to shift from PRCA to PBR, he said competing in the World Finals were "kind of like a bucket list thing," for him.
There's also a bit of extra motivation at the event. While Kimzey said he thinks the competition level is about the same, some others don't share that opinion.
"I think that they think that (PBR is) the only good bull riding, and that's just not the case," Kimzey said. "There's great bulls and great bull riders in the PRCA."
A strong showing from Kimzey could help quiet some of that chatter.
"I think there's a lot of talk about PBR vs. PRCA and CBR and I think that talk is mostly one sided, and I don't think that it's rightfully so," Kimzey said. "And definitely I think there's a lot of people out here that just want to see if I can compete over here, which is definitely a very clouded, one-sided opinion, I think. But definitely, it'll be just a good week for the fans and for me."
Contact Betsy Helfand at bhelfand@reviewjournal.com. Follow @BetsyHelfand on Twitter.
If you go
What: PBR World Finals
Where: T-Mobile Arena
When: Friday, Saturday night; Sunday afternoon
Tickets: pbrfinalsweek.com
Jess Lockwood, 20, from Volborg, Montana, posted an 89.75 in the second round of the PBR World Finals to move into first place in the World Standings. Lockwood has earned 600 points with round wins both Friday and Saturday.
Derek Kolbaba, who was in first place in the standings heading into Thursday, bucked off, as did Eduardo Aparecido, who was in second place, allowing Lockwood to move up. Lockwood has a lead of 22.5 points over Kolbaba.
Claudio Montanha Jr. and J.W. Harris each posted scores of 87.5 on Thursday to move into a tie for third in the event standings behind Lockwood and Fabiano Vieira.