Rousey delivers knockout blow to Mayweather at ESPYs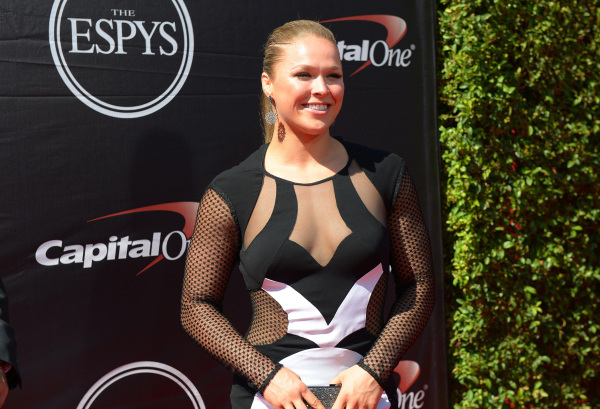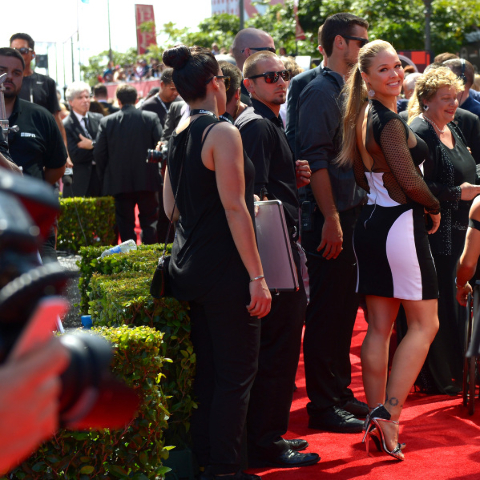 Ronda Rousey, the Ultimate Fighting Championship women's bantamweight champion, has been finishing her opponents inside the octagon in record time with her trademark armbar submission hold.
When it comes to delivering knockout blows outside the cage, she has proven far more patient.
Rousey stole the headlines at the ESPYs on Wednesday when she took a shot at Floyd Mayweather Jr., whom she had defeated in the "Best Fighter" category.
"I wonder how Floyd feels being beat by a woman for once," Rousey said.
The rest of her comment might have revealed the origins of her animosity toward the boxer.
"I'd like to see him pretend to not know who I am now." Rousey continued.
It all started last year when an Internet debate was raging about how Mayweather would do in a mixed martial arts match against Rousey.
Mayweather apparently wasn'€™t thrilled with the conversation and responded that he had never even heard of "him."
"I know for damn sure he knew who I was," Rousey told reporters after winning the ESPY award, according to ESPN.com. "He was running against me for Best Fighter that year, and he had signed MMA fighters, so his feigned ignorance was meant to really be a snarky remark to me.
"I don't let those kind of things slide, but I'm also a patient girl. I'm not the kind of chick you make snarky remarks about. I waited a whole year to say something. And you know what? If I didn't win Best Fighter this year, I would have waited two years or three years."
It'€™s not entirely true she had waited to respond. Rousey previously retorted that the discussion about matching up with Mayweather was complete speculation because he would only fight her if they were dating.
But this time her comment gained far more traction. The timing is also no accident.
Rousey will headline UFC 190 against Bethe Correia on Aug. 1 in Rio de Janeiro.
"It got a big reaction, and I've got a fight to sell," Rousey said. "So great timing, huh? I'm not dumb."
Her comments about Mayweather have led to some Internet blowback, as some Twitter users have been calling her a hypocrite.
Rousey is a friend and avowed fan of Mike Tyson and responded to the critique Thursday on Fox Sports 1's "America's Pregame."
"Mike is a great example, where he has put on so much effort over the years to better himself as a man," she said. "He's owned up to the things he's done. He's denied the things that he hasn't done. He paid his debt to society and almost lost everything for it. I admire that kind of effort and humility out of Mike just as much as I admire his fighting. He really gained my respect as a man. I really hope that Floyd Mayweather grows up to be like Mike Tyson."
Rousey was the first person to win the award besides Mayweather or Manny Pacquiao.