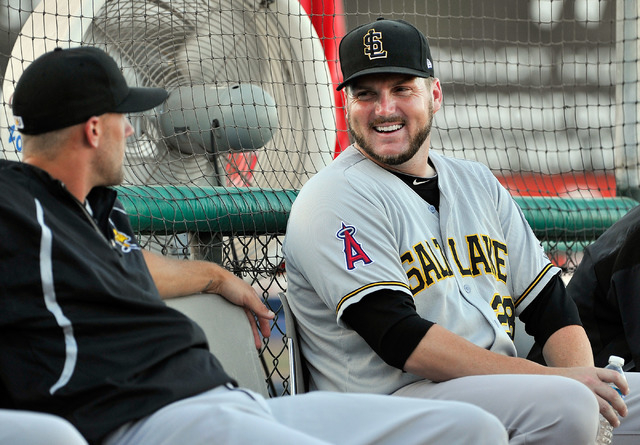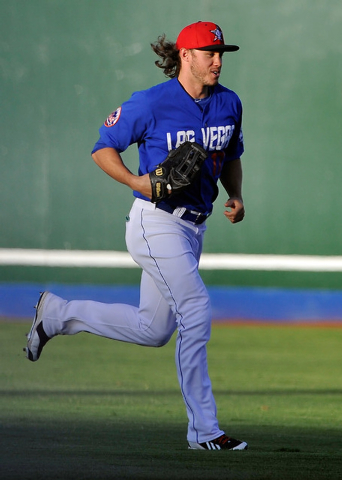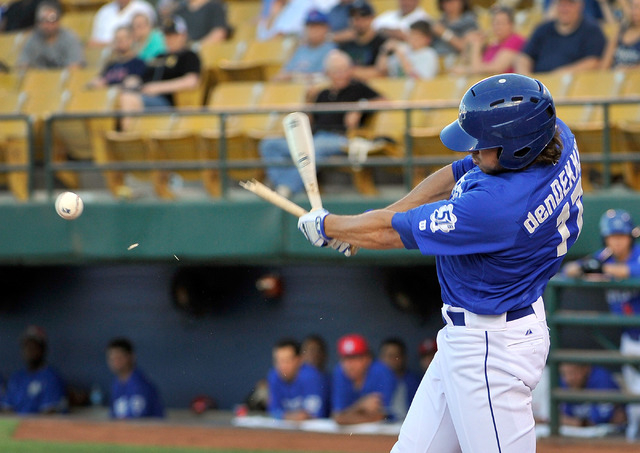 Sometimes it pays to become Facebook friends with a stranger.
Salt Lake Bees relief pitcher Kyler Newby did earlier this year, and now the Bonanza High School product finds himself on the cusp of the big leagues again after seriously contemplating retirement before this season.
Despite putting up solid numbers in his first nine years in the minors — and compiling a 2.70 ERA last season in 60 innings in the Oakland A's farm system — the right-hander was unemployed as spring training approached.
"I had a good year last year, but I didn't get a job," said Newby, 29. "I thought about retiring this offseason. My wife encouraged me to go one more year and just try independent ball. I wasn't really for it."
Newby, who pitched in Triple A in each of the past three seasons, was recruited on Facebook to play for Somerset (N.J.) of the independent Atlantic League by Jon Hunton, the Patriots' closer and director of player personnel.
"I didn't know him," Newby said. "He found me on Facebook."
After firing 11 scoreless innings in 11 games for Somerset, Newby received an offer to pitch for Salt Lake, the Los Angeles Angels' Triple-A affiliate. The crafty veteran has excelled since joining the squad May 28, compiling a 1.53 ERA and 16 strikeouts in 17 2/3 innings over 13 outings.
"I'm off to a good start here, but I've got to keep going and get some more innings under my belt and try to prove to (the Angels) that's it's not a fluke," Newby said Monday at Cashman Field before the Bees' 7-3 loss to the 51s.
Unheralded coming out of Bonanza, the Las Vegas native followed a teammate to Mesa (Ariz.) Community College before getting drafted in the 50th round by the Arizona Diamondbacks in 2004.
Newby was called up to the majors by Arizona in May 2009 — when he suited up for a game against the Florida Marlins — but he didn't play and was sent back to the minors the same day.
He was told after the game that he probably would be called up in September, but that call never came and he's been trying to get back to the big leagues since.
"I kind of would like to get back and at least throw a pitch and say I at least pitched at that level," he said.
Despite compiling a career record of 39-24 with a 3.05 ERA, 64 saves and 636 strikeouts in 581 2/3 innings, the unorthodox Newby — who relies more on control and deception than power — said his unimposing stuff has probably hurt his chances to make the majors.
"Being a 50th-round draft pick, you basically need a sponsor in this game — somebody to say, 'Hey, that's my guy' — but when you're only 89 to 92 mph, not a lot of people are willing to put their name on you," he said. "They want more velocity as a bullpen guy.
"I think I throw 95, but the radar gun says different."
Salt Lake manager Keith Johnson has been impressed with Newby's approach on the mound.
"He's a strike thrower," Johnson said. "He's doing a good job of just attacking hitters, which is something that's refreshing. He's a guy that you need in any bullpen."
Mostly because of injuries and ineffectiveness befalling the Angels' pitching staff this season, the Bees already have used a franchise-record 36 pitchers.
"It's been a long year, as far as pitching's concerned," Johnson said. "But at the same time, that lets you know how much of an opportunity these guys have to pitch in the major leagues from our ballclub.
"If guys come here and do well for a short period of time, there's a chance they can put themselves on the map."
Newby, who also has pitched in the Baltimore Orioles' farm system, is grateful to be back with a big league organization.
"If you have a jersey and an affiliate, there's always a chance. It doesn't matter who you are," he said. "I just hope that my name gets called. If I stay hot, hopefully when there's a call for a hot arm, I'm the arm."
■ NOTES — The Angels optioned former UNLV standout Efren Navarro to Salt Lake on Saturday. Navarro, a former 50th-round draft pick, is batting .297 (11-for-37) in 14 games this season for Los Angeles. A slick-fielding first baseman for most of his career, Navarro started in right field Monday. He went 0-for-4 and is batting .315 for the Bees (34-51). … Allan Dykstra hit a solo homer in the fourth, and Brandon Allen belted a three-run shot in the sixth for the 51s (49-35).
Contact reporter Todd Dewey at tdewey@reviewjournal.com or 702-383-0354. Follow him on Twitter: @tdewey33.