San Diego State wins Mountain West tournament title
Updated March 13, 2021 - 9:49 pm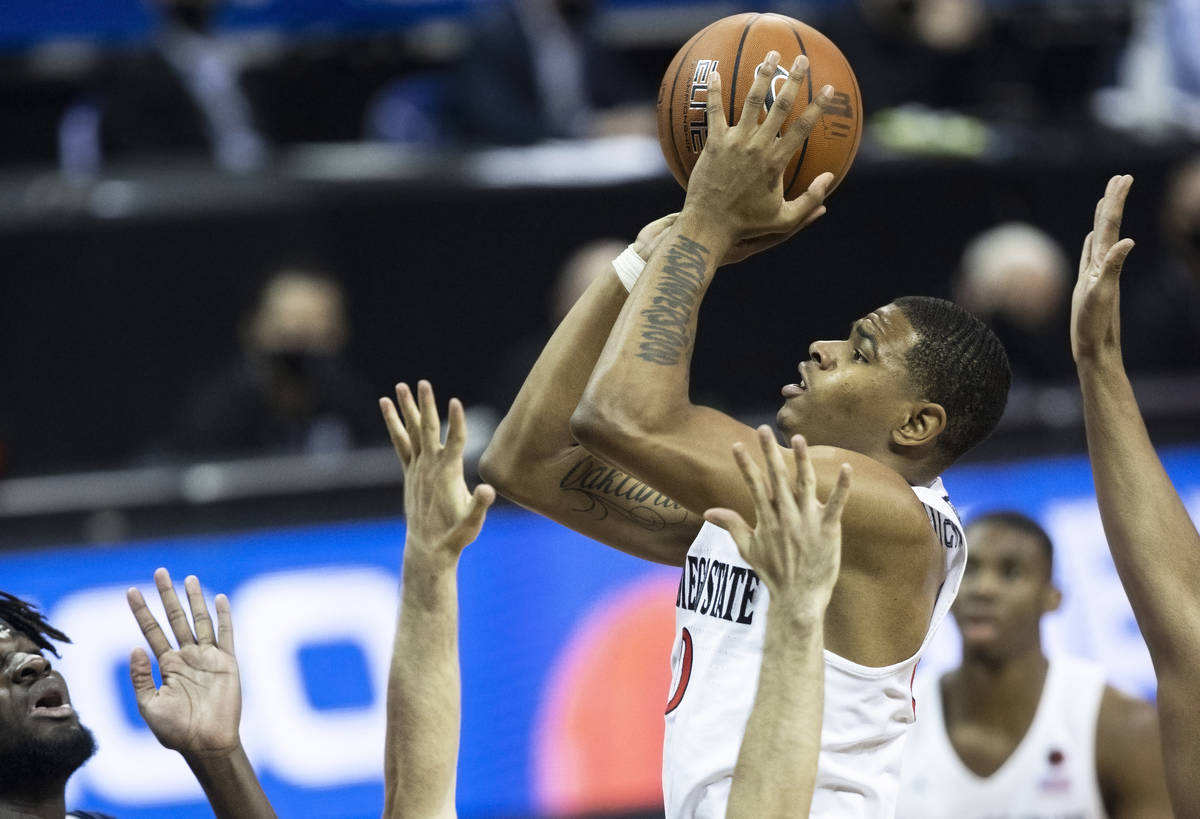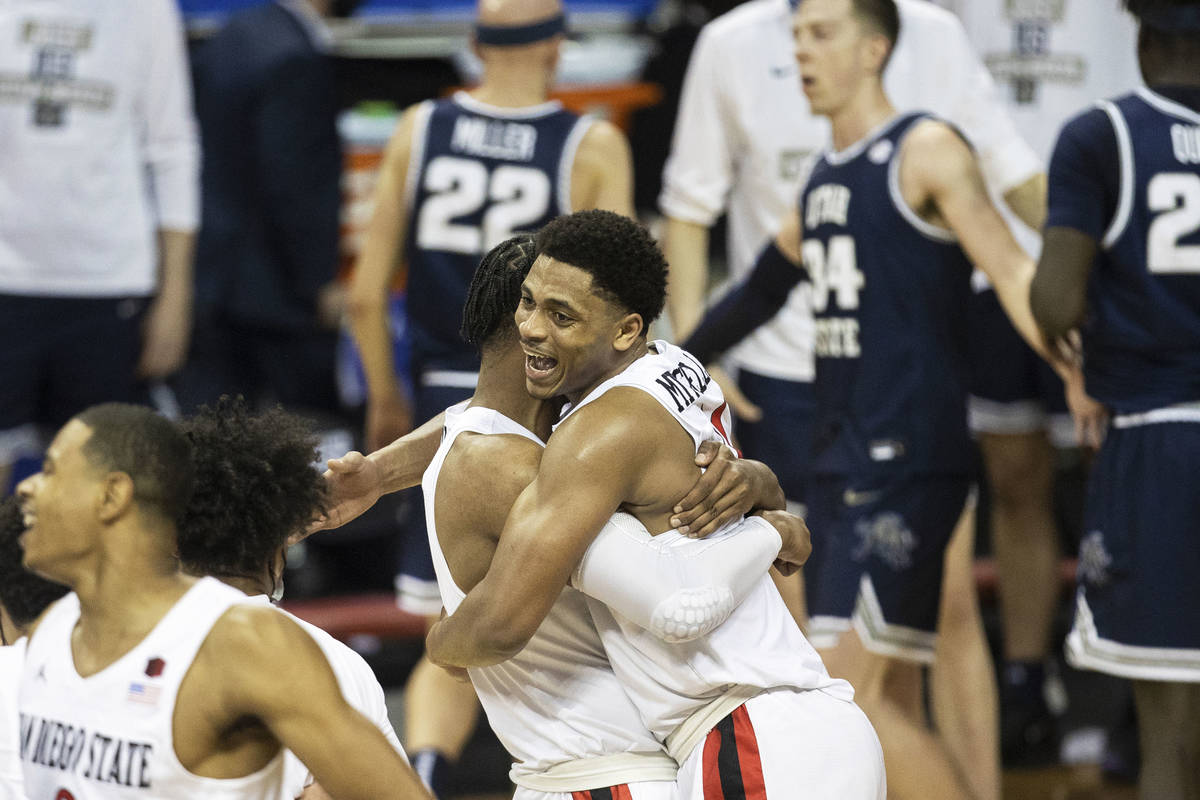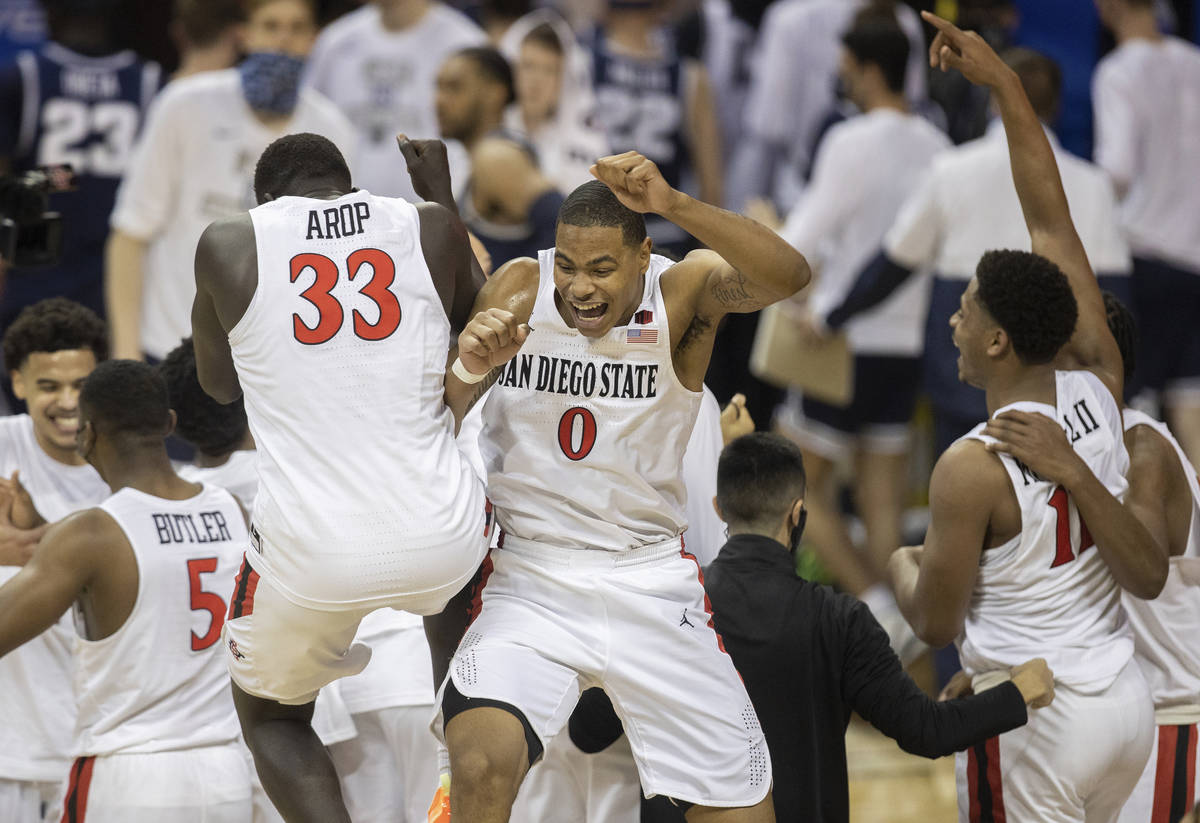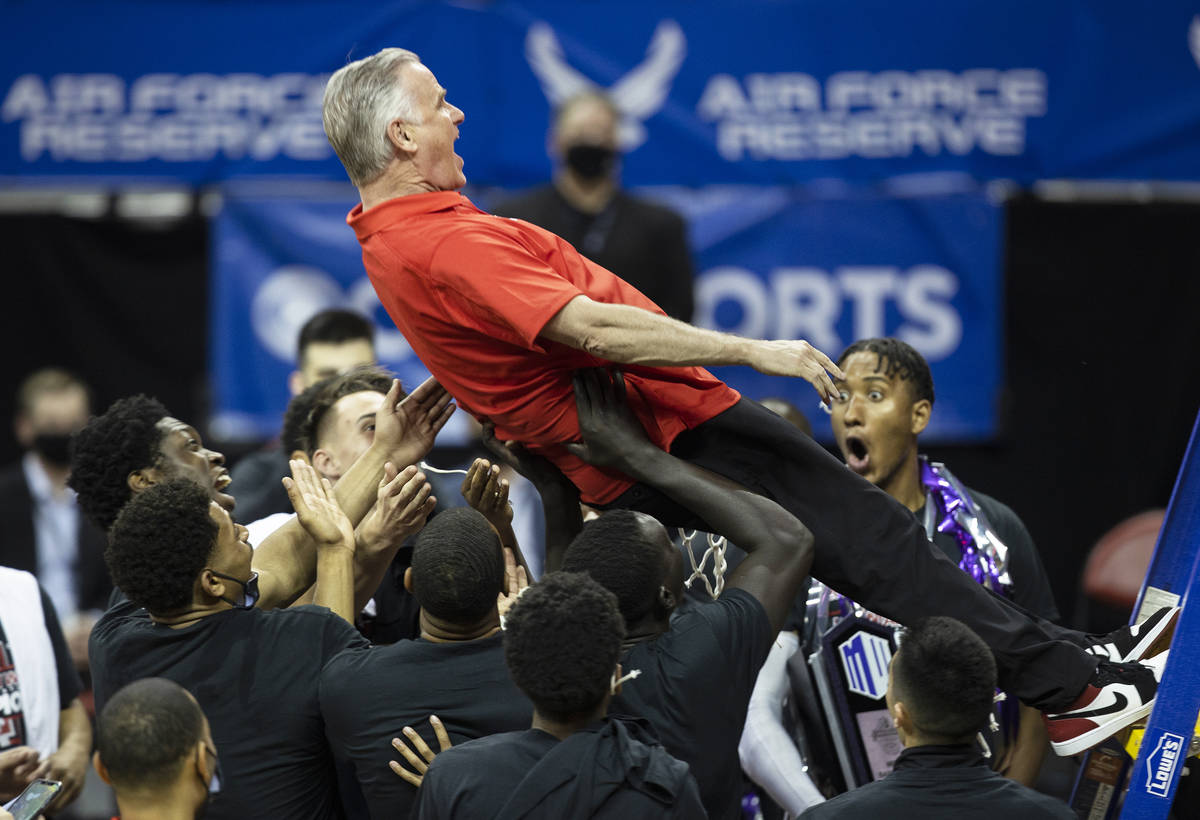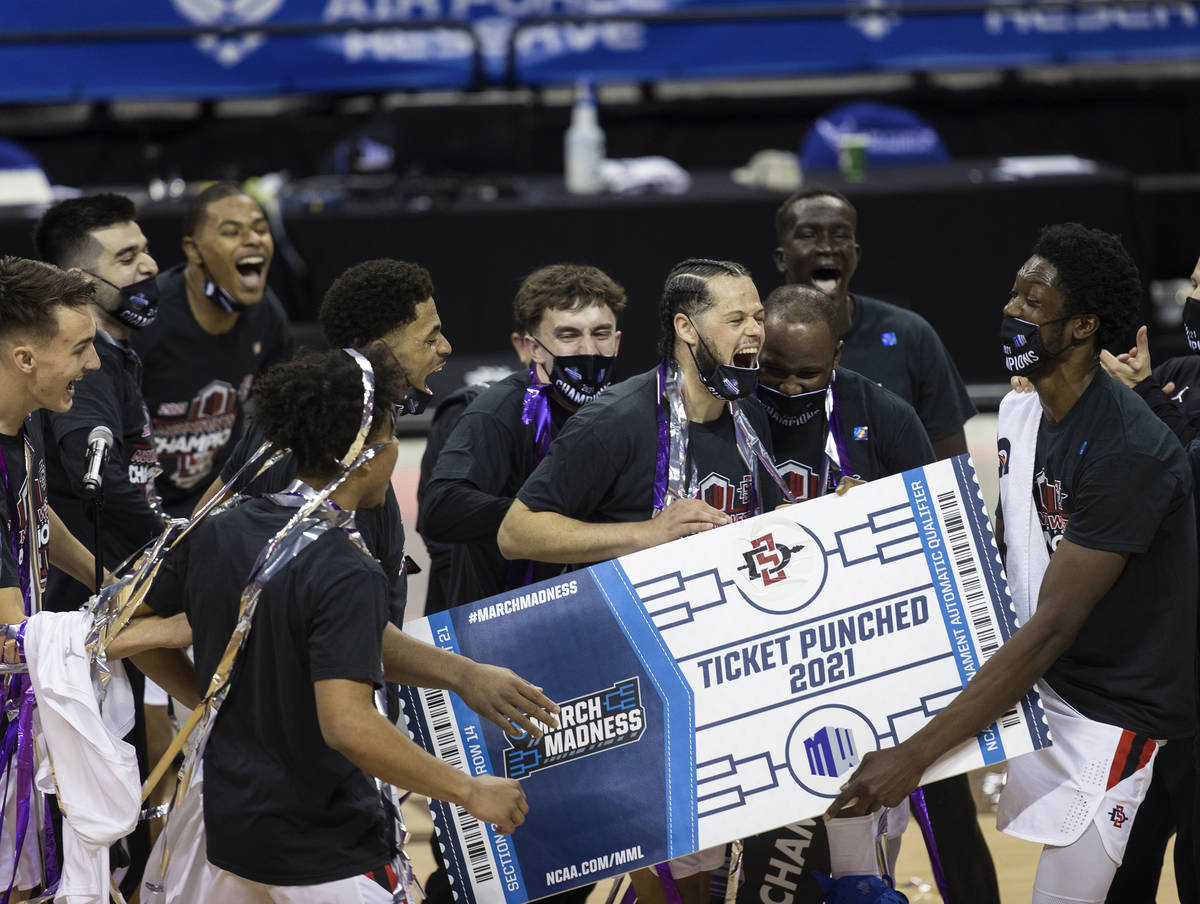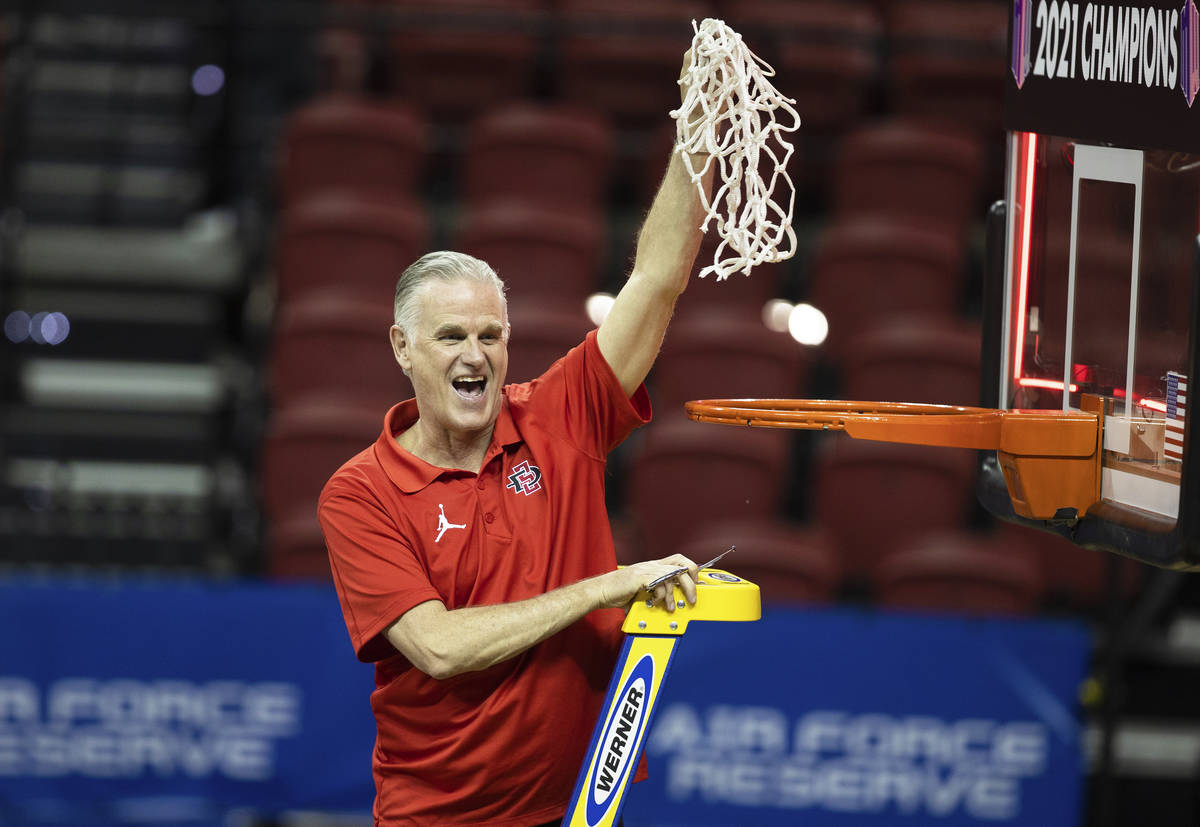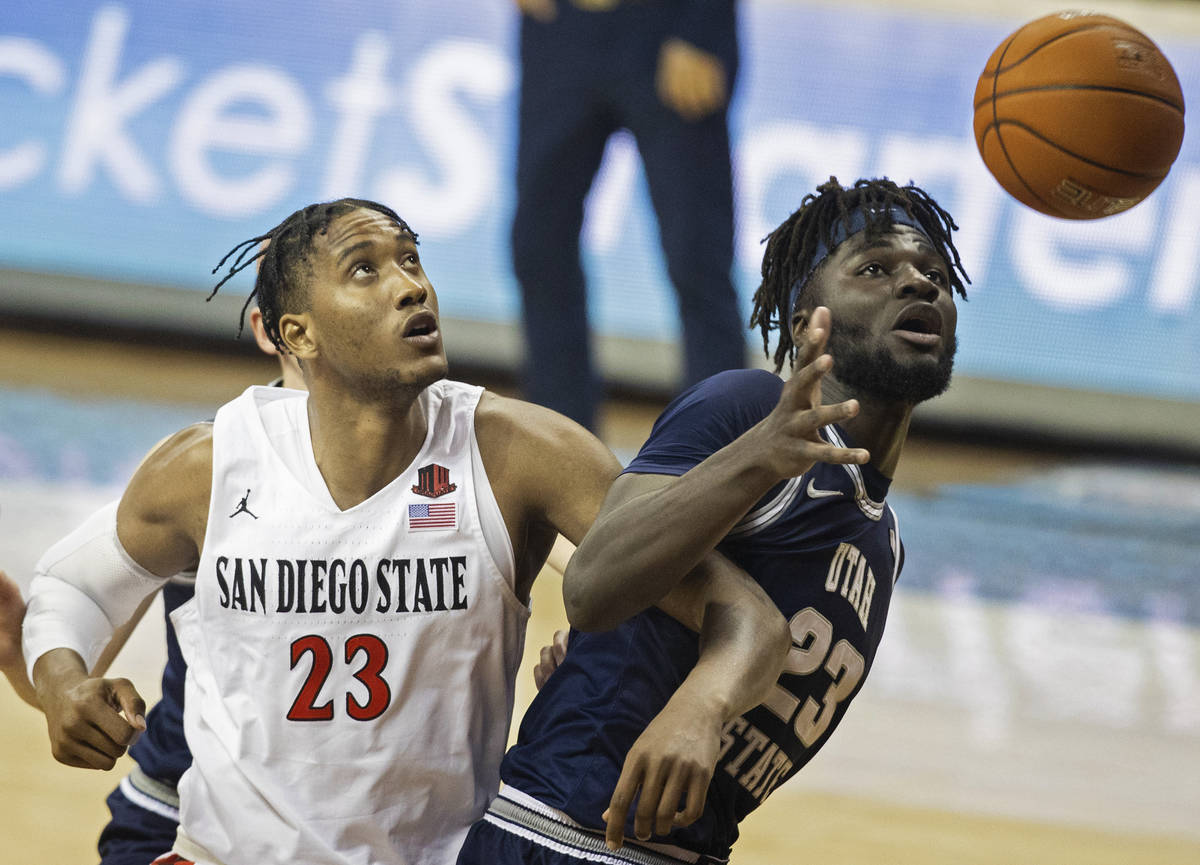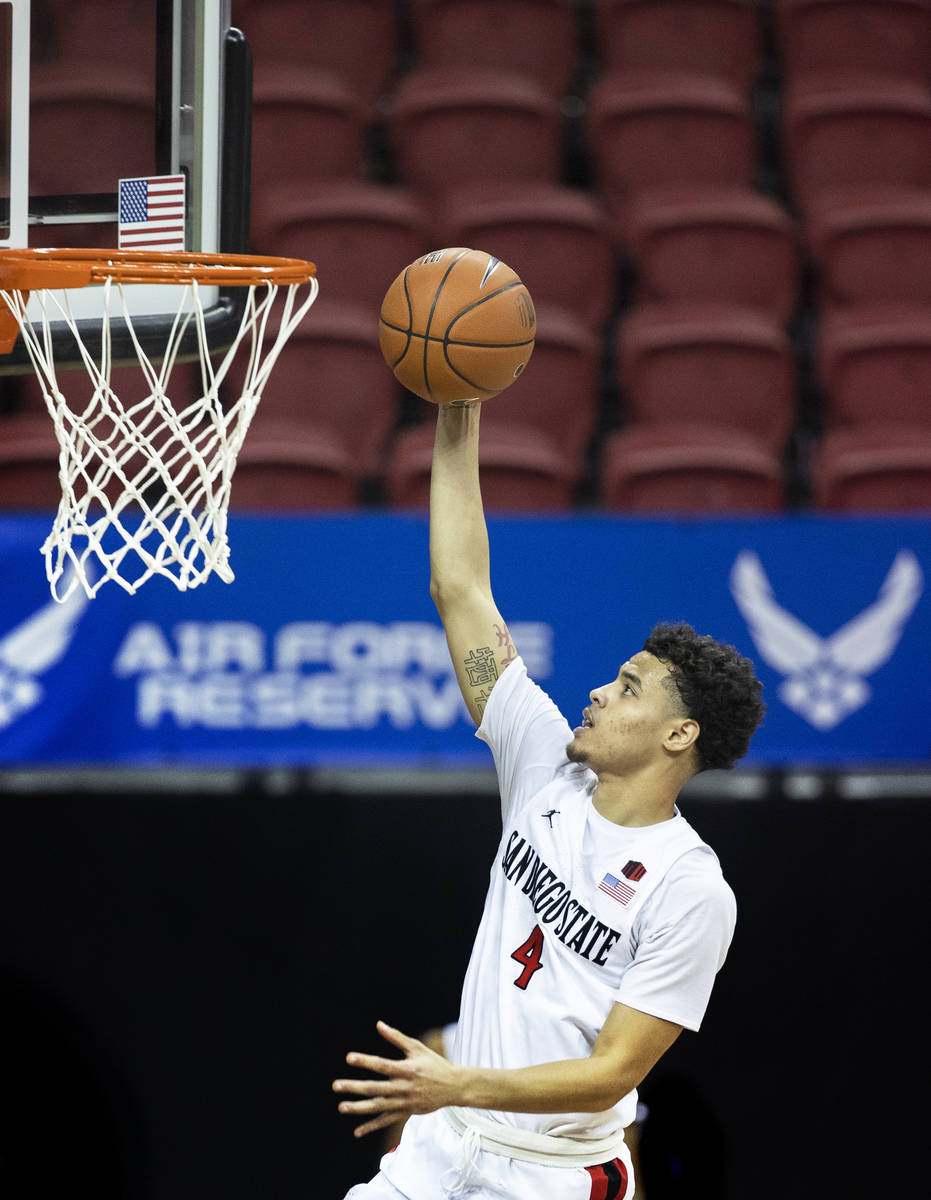 The third time was the charm for San Diego State.
After losing to Utah State in the past two Mountain West tournament championship games, the Aztecs got their revenge Saturday with a 68-57 win to capture the conference crown at the Thomas &Mack Center.
San Diego State senior Matt Mitchell, the league player of the year and tournament MVP, said the team didn't even have to talk about the past two years. Everyone just understood what was at stake.
"Winding down toward the end of the season, our goal was to make it to the championship. We kind of hoped Utah State would be here so we could get our redemption," he said.
Teammate Jordan Schakel was more direct. "We wanted them bad," he said.
Mitchell led the way for San Diego State (23-4) with 14 points. Nathan Mensah and Joshua Tomaic combined for 16 points and 12 rebounds to neutralize Aggies star Neemias Queta, who had to work hard for his 18 points. Queta had six rebounds and three blocked shots after grabbing 13 rebounds and blocking nine shots in a semifinal win over Colorado State.
It was the first time third-year Utah State coach Craig Smith had lost in the Mountain West tournament after winning his first eight games in the event.
"We know that feeling they are having right now, and it's one of the most amazing feelings you can have in college athletics, in all of athletics for that matter," Smith said. "In a game like this with two very even teams and two teams as good as they are defensively, a play here and a play there can really change the game. This time around, they made a few more of those than we did."
Often, it was San Diego State point guard Trey Pulliam making those plays. His impact was felt beyond the 10 points and three assists that showed up in the box score. Pulliam converted a steal at midcourt into a layup to give the Aztecs a 62-54 lead. After a Utah State free throw, he answered with a pull-up jumper in the lane.
"It seemed like he made the answering basket every time they made a run," San Diego State coach Brian Dutcher said. "He kind of created the separation for us with those plays. I know every play he made was timely and important to us for winning today."
The Aztecs' defense took over down the stretch, pressuring Utah State (20-8) into making just one of its final nine shots and not allowing the game to get too close in the final minutes.
The Aggies shot just 37 percent for the game and committed 16 turnovers. The mistakes were a big reason Utah State couldn't mount a rally. San Diego State opened the second half on a 6-0 run to open a 10-point lead. The margin was never less than six or more than 11 the rest of the way.
"It felt like every time we made a run to cut it to six, we would shoot ourselves in the foot," Smith said. "A couple were catastrophic turnovers where I just don't know what we were doing. They get a steal and go the other way. Those are big-time game-changes."
San Diego State has now won the conference tournament a record six times and will enter the NCAA Tournament with the second-longest win streak in the nation at 14.
The Aztecs, who have played in four straight Mountain West title games and seven of the last eight, are now 6-7 in championship games.
Contact Adam Hill at ahill@reviewjournal.com. Follow @AdamHillLVRJ on Twitter.