Schools take notice of Gorman's Powell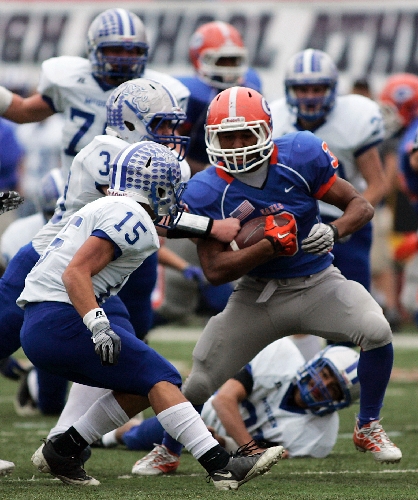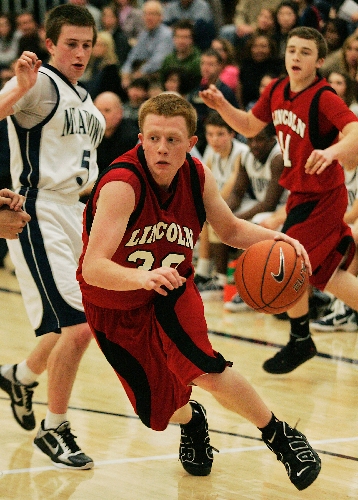 At 5 feet 9 inches and 195 pounds, Shaquille Powell doesn't look like a bruising running back on the surface.
It's a different story when the Bishop Gorman senior-to-be lowers his shoulder as he heads between the tackles.
"I've always been a power back," Powell said. "I'm a hard runner. It takes a lot to bring me down."
Colleges have taken notice. Powell said he has scholarship offers from Arizona State, Illinois, Northern Arizona, UNLV and Vanderbilt.
Powell said the recruiting process is open and he is "not going to count any schools out."
Powell missed five games as a junior because of a hamstring injury, but he still rushed for 1,292 yards and 17 touchdowns on his way to first-team all-state honors as Gorman (13-2) won its second straight Class 4A state title.
Powell became a national name last season in a 28-14 loss at De La Salle (Calif.), where he carried 21 times for 114 yards and two TDs and made a leaping interception while playing cornerback.
"People got the point, that 'This kid can ball,' " Powell said. "I want to play like that every game."
Gorman will open the 2011 season with even higher expectations. MaxPreps.com ranks the Gaels No. 10 in the nation.
■ MCFARLAND SIGNS — Legacy senior girls hurdler Candice McFarland signed with Washington State.
McFarland won 4A state titles this season in the 100-meter hurdles in 14.35 seconds and the 300 hurdles in a state meet-record 42.67.
■ WALKER UPDATE — Lincoln County senior point guard Dantley Walker will leave for his two-year Mormon mission to Spokane, Wash., on Aug. 3, said his father, Greg.
Dantley Walker signed with UNLV on May 5 after becoming the state's all-time leader in points (3,304) and assists (887). He plans to arrive at UNLV in 2013.
■ ANDERSON SIGNS — Mountain View senior point guard Justyn Anderson signed with Chadron State, a Division II school in Chadron, Neb.
Anderson scored 32.4 points per game as a senior to finish as the state's No. 5 all-time scorer with 2,415 points.
■ MORE DECISIONS — Seniors to make NCAA commitments include Arbor View girls soccer player Julia Garcia (Western Oregon), Gorman girls basketball player Amber Lane (Cal State San Bernardino), Faith Lutheran boys basketball player Brett Lubbe (Wisconsin Lutheran College) and Centennial boys lacrosse player Michael Morse (High Point).
Contact reporter Tristan Aird at taird@reviewjournal.com or 702-387-5203.
In-depth high school sports coverage