Silva's competitive fire burns anew
December 23, 2013 - 11:44 pm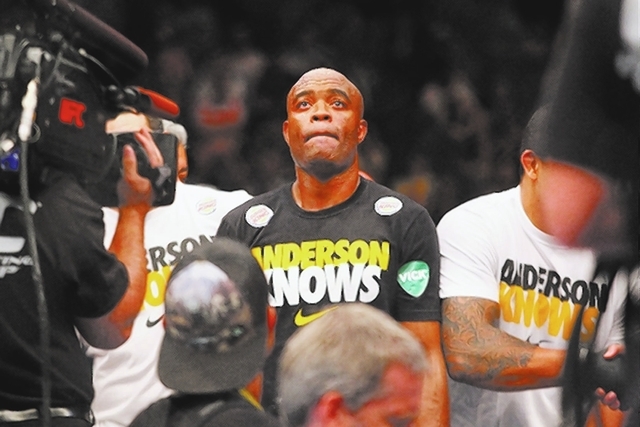 When former UFC middleweight champion Anderson Silva was asked last week whether losing the belt he held for seven years had reinvigorated his passion for the sport, he didn't think very long before answering.
The actual response took even less time.
"Of course," Silva said during a media conference call.
That renewed enthusiasm will be on display Saturday night when Silva gets a rematch with Chris Weidman in the main event of UFC 168 at the MGM Grand.
Weidman ended the longest title reign in Ultimate Fighting Championship history with a one-punch knockout July 6. Silva now gets a shot at redemption.
"I don't think I have anything to prove to anyone," the 38-year-old Brazilian said. "But I'm very motivated.
"The last fight's in the past. I'm really looking forward to this fight, and everything's going to be different."
Silva said in the immediate aftermath of the loss that he felt relieved to no longer bear the burden of the championship belt. The years of pressure of defending the title had clearly taken a toll on him.
He knows simply freeing himself from that stress won't make for a simple fight, though.
"Nothing is easy when you're a UFC fighter," Silva said.
The card also includes a women's bantamweight title fight between Miesha Tate and champion Ronda Rousey.
Though the event is sold out, the organization has announced it will host a closed circuit broadcast of both the preliminary card at 5 p.m. and pay-per-view broadcast at 7 in the Marquee Ballroom at the MGM Grand. Tickets for the viewing are available for $60.
■ 'BIGFOOT' SUSPENDED — UFC heavyweight Antonio "Bigfoot" Silva has been suspended for nine months after testing positive for elevated levels of testosterone in his post-fight drug test following his Dec. 7 draw with Mark Hunt.
Silva, who also was stripped of a $50,000 fight-of-the-night bonus, had been granted a therapeutic-use exemption for Testosterone Replacement Therapy for the fight, but his levels rose above the acceptable limit.
The suspension has set off a public battle between Silva and Dr. Marcio Tannure, the medical director of the Brazilian MMA commission.
Silva, who tested positive for Boldenone in California in 2008, claims he trusted fully in Tannure for his TRT treatments.
"I'm cool because I know that the mistake was not made by me," Silva said in a statement. He also said he is considering suing the doctor.
Tannure has fired back, saying his involvement with Silva was limited and that Silva's personal doctor suggested increasing Silva's testosterone dosage because his levels remained low.
■ DRUGS FOUND IN DEL ROSARIO'S SYSTEM — UFC heavyweight Shane del Rosario died naturally of anoxic encephalopathy, ventricular fibrillation and long QT syndrome, according to a death certificate issued by the Orange County coroner's office obtained by USA Today.
The report, however, also stated a urine screen revealed traces of cocaine, opiates and THC in the 30-year-old's system at the time of his death.
Del Rosario was found unconscious in his home on Nov. 26 and arrived at the hospital in cardiac arrest. His death was announced by his family and the UFC on Dec. 9, though the death certificate lists Dec. 3 as the date of his death.
The report does not list the drugs as contributing factors to del Rosario's death, though no autopsy was performed.
■ CONDIT GETS OPPONENT — During the post-fight news conference at UFC on Fox 9 this month in Sacramento, Calif., UFC president Dana White said he was getting "15 texts a day" from welterweight Tyron Woodley seeking a high-level opponent for his next fight.
White indicated then that he loved Woodley's passion and enthusiasm, but didn't feel he was ready for a matchup against a top contender such as Carlos Condit.
Apparently, Woodley's persistence paid off. White on Friday announced that Woodley indeed will fight Condit at UFC 171 on March 15 in Dallas on the same card in which Johny Hendricks and Robbie Lawler will fight for the welterweight title vacated by Georges St. Pierre.
The Woodley-Condit winner likely will become the first challenger to the new champion.
The original plan was for Condit to face Nick Diaz, but Diaz turned it down.
Contact reporter Adam Hill at ahill@reviewjournal.com or 702-224-5509. Follow him on Twitter: @adamhilllvrj.